The humble egg, recognised around the world and a source of protein and nutrition for millions. If you are an egg lover then it's possible that you've been tempted to cook them up for your spaniel too. But, before you do is this safe and can Cocker spaniels eat eggs?
The good news is that it is perfectly safe for your Cocker spaniel to eat eggs. Eggs are a great source of protein for a dog, they are easy to digest and contain high levels of nutrients that will help to keep a Cocker spaniel fit and healthy.
How many eggs can I feed to my Cocker spaniel?
Although eggs are a healthy treat for a spaniel, a single egg is relatively high in calories so you should serve eggs as though they are a treat.
You should not give your Cocker more than a single egg daily and, when you do you should account for the extra calories and reduce his other food intake – to reduce the risk of him gaining weight.
When introducing a new food such as eggs into your Cocker's diet you should always do so gradually and, if you have  concerns should speak to your vet for professional advice.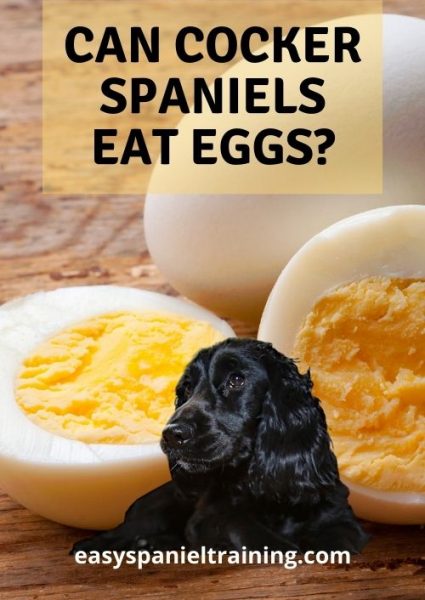 Nutritional benefits of feeding eggs to a dog
Eggs, whether fed raw or cooked to your spaniel, are an excellent source of protein and are rich in amino acids, fatty nutrients and a wide range of vitamins that include vitamin A and B12.
This healthy option also contains a wide range of minerals all of which can support your Cocker spaniel in the development of strong teeth and bones and can help him to maintain healthy skin, coat and eyes.
Egg can also be useful if your spaniel has an upset stomach and a hardboiled egg, mashed up can be a tasty and helpful meal for a dog with diarrhea.
Most commercially produced dog foods contain a form of egg which is often used as a natural binder as they are a safe and healthy ingredient for most dogs.
You should not use egg as the main source of food for your dog but, instead, serve it alongside a purpose made dog food to ensurethat your spaniel has a balanced diet.
Is it good to put egg on my spaniel's food?
You can add eggs directly to your spaniel's food, mix it in with his other food, whether this is wet, raw food or dry, biscuit based food and he'll enjoy it.
Many spaniels enjoy raw eggs but, to reduce any potential health issues from serving raw eggs, it is best to cook the egg before giving it to your dog.
How do I cook eggs for my dog?
The best option for your dog is to give him hard boiled eggs. You can easily mash them up and he can easily chew the flesh. You can also take them out with you whole if you take a trip with your dog and he will enjoy the treat.
Simply place the eggs into a pan of boiling water for 9 to 10 minutes and then run under a cold tap to cool. 
You can either de-shell the cooked eggs or mash them, complete with the shells which are safe for your dog to eat too.
Make sure that you don't add any form of seasoning to your dog's egg, it won't do him any good and he will enjoy the egg just as it is.
Can I give my dog scrambled eggs?
Your spaniel will love scrambled eggs and it is something that I often feed to my two Cockers.
Scramble the egg as much as you can without using butter, salt or milk and try to use organic and free range eggs that haven't been treated with any chemicals or other treatments.
To sum up – Can Cocker spaniels eat eggs?
Eggs are a great addition to a Cocker spaniel's diet. Your spaniel will love the occasional egg on his food and the added treat of scrambled or hard boiled egg will be something that he will enjoy.
They are a natural and healthy option that are suitable for all breeds of spaniels and dogs.
Last update on 2023-12-07 / Affiliate links / Images from Amazon Product Advertising API