If you travel with your working spaniel then at some point you'll probably need to consider what is the best travel crate for a Working English Cocker Spaniel?
If you travel frequently by car or other transport then you'll be looking for a solid and approved crate for your dog.Which crate will be the best? Which will be the best size for your spaniel? Which will be the most secure? Which will be the best travel crate for your English Cocker Spaniel.
Why do you need a travel crate for a working English Cocker spaniel?
When you are travelling by car with your dog it is always worth choosing a travel crate or cage for your English Cocker Spaniel for a number of reasons:
If you use a crate then your English Cocker Spaniel will be able to travel safely in the rear of your car.
Your spaniel will be safe and secure. If you were to be involved in a car accident then your spaniel will be safely protected and secured within the cage.
Without the safety of the crate your spaniel would likely be thrown around inside the car, injuring himself or others.
By using a crate for your English Cocker Spaniel, he will be unable to move around inside the car, making things safer for him and for you.
If he were not in a cage then he could jump around distracting you which could cause an accident.
Using a crate for your spaniel will help you to keep the interior of your car clean. Working English Cocker Spaniels get very dirty during a day in the field. 
A travel crate for a Working English Cocker Spaniel can also be used as a kennel, either in your home or if you go away somewhere, on holiday, camping, on a shooting trip.
A good crate can serve multiple purposes.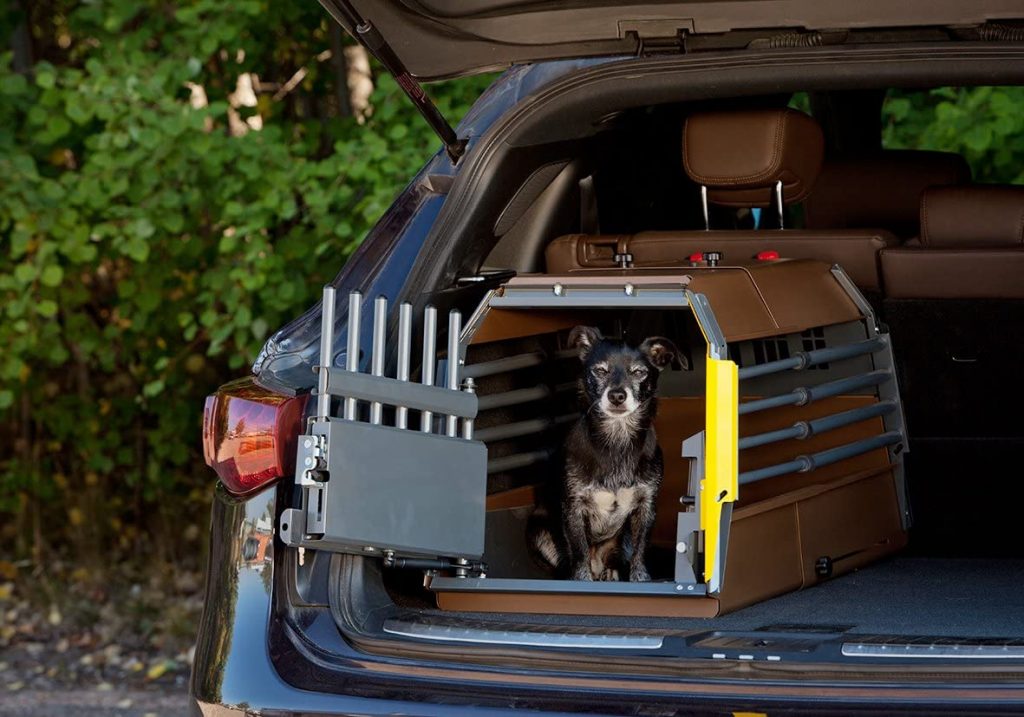 How to choose a travel crate for an English Cocker Spaniel
There is a whole range of travel crates for English Cocker Spaniels that you can find and choosing the correct crate for your dog can seem confusing and time consuming.
The choices are wide and varied with hard and soft cages that have a variety of features and come in different sizes.
When choosing a crate for an English Cocker Spaniel you will need to think about the size and crates generally come in sizes of large (L), Medium (M), and Small (S).
To work out the best sized crate for your English Cocker Spaniel you will need to measure your dog.
Firstly measure the length of your dog, from his nose to the end of his tail.
Take this measurement and add  6 inches to the amount. This is the length of dog crate needed for your Working Cocker.
Next, the height.
With your spaniel standing up, measure his height, from front paw touching the ground to the top of his head, with his head held up.
Add 2 inches to this figure.This is the height of the crate that you will need to get for your Cocker Spaniel.
There is one more consideration that is important that you will have to make before you buy a crate for your English Cocker Spaniel, and that is will the crate fit into your car?
The internal measurements to accommodate your dog will be less than the external measurements. So, check the width and length and measure the trunk of your vehicle before making a purchase.
Which travel crate for a Cocker Spaniel?
One of the most important things to consider when getting a travel crate for an English Cocker Spaniel is that of safety.
As a responsible dog owner you will want to find a crate for your spaniel that is solid, well made and built to last.
If possible a tested and certified dog crate is best but if this is not available then a metal or solid plastic crate should be your priority choice.
Metal and plastic crates are frequently the best solution for English Cocker Spaniels for car travel, they come in a variety of shapes and sizes and are tougher and more resilient than many of the alternative crates and cages.
If you would like to find out more about crash test safety for dog crates then the Center For Pet Safety has some useful resources and information that you will find helpful.
When you are travelling, more often than not, your dog crate will be in the trunk of your vehicle with your English Cocker Spaniel riding along inside.
The most important thing will be to make sure that the crate is secured and cannot slide around.
It can be either wedged, bungeed, weighted  or otherwise secured to stop it from moving when you brake, turn and, hopefully never, if you have a collision.
Crash tested travel crates
There are very few crash tested travel crates available. We've found several here that will provide your dog with as much protection as possible in the event of an accident.
Air travel with a working English Cocker spaniel
Air travel is a common mode of transport and, with air travel becoming more affordable and accessible it's likely that you may travel by air with your dog, perhaps to go to a competition or for some other form of spaniel working event or work.
Or, you may need to travel overseas with your spaniel and for this you'll need to think about how you transport your spaniel.
Why do I need an air travel crate for my English Cocker spaniel?
This is generally due to the requirements of the airline that you are travelling with. 
If your dog is over a certain size then he will have to travel in the hold of the aeroplane in an approved crate or cage.
The IATA ( International Air Transport Association) govern the specifications and types of crates that must be used when transporting dogs via airlines.
The crates that they specify must conform to their requirements and specifications and are generally made from plastic, fibreglass or metal.
The cages also have to comply with standards of security and stability, they must have doors for access and fixing points to secure them and prevent them from sliding around.
Can an English Cocker spaniel travel in the cabin of an aircraft?
Many airlines allow dogs to travel in the main cabin of the aeroplane with their owners.
Airlines tend to differ on their approach to dogs travelling in the main cabin with some requiring the dog to be in a secure cage that will fit beneath the seat in front.
Others no longer permit cages or crates within the cabin but make their decisions upon the size and weight of the dog.
There is almost always an extra charge to take a dog into the main cabin and, as English Cocker Spaniels are medium sized dogs, if you are able then you are likely to pay a premium to take him into the cabin.
It is always the best idea to speak with your chosen airline before you book or decide to travel by air. You may decide to use a different carrier or a different mode of transport.
A road trip with your English Cocker Spaniel could be fun.
Final Words
There are a variety of travel crates available for dogs and your circumstances and needs will help you to determine which type of crate you need.
Read Next
Do dog kennels need to be insulated?
What to do if your dog eats a whole rotisserie chicken
Last update on 2023-05-29 / Affiliate links / Images from Amazon Product Advertising API