The best way to catch a pigeon for dog training is with a trap, either home made or bought.
If you want to use a bird launcher or be consistent with steadiness training for your spaniel, then there's no option, you need to learn how to catch pigeons for dog training to make sure that your training sessions are as productive as you want them to be.
If you choose to use a bird launcher then you are going to need a source of birds to use in the launcher ( unless you use dummies of course ). 
Training dummies will work for a young dog for a while, but, after a period of time, and to progress with your spaniel's training, you will need to progress onto more exciting and live birds, and, you'll need a source of birds for your launcher to keep your training on track.
Why are pigeons good for dog training?
Pigeons are ideal birds for all manner of dog training exercises and work really well when spaniel training for hunting, flushing and steadiness.
Firstly, pigeons are plentiful and, in most countries are classed as vermin, so there is generally no real issue or problem faced when catching them and using them for training.
As long as they are not mistreated most areas appreciate pigeon control.
Pigeons are relatively easy to keep and look after, a simple pigeon coop ( house ) can be made from a shed to keep your birds in.
If your birds are really clever then they'll return after being released during training, otherwise you'll have to catch more.
They are also hardy and tough birds.
Just look around, it doesn't matter where you are in the world, there will be pigeons, more than any other bird.
Bird traps make pigeon catching easy – this is our favourite trap
Are pigeons good birds for launchers?
Pigeons are good birds to use in a launcher as they will generally stay quiet and calm when settled.
Before the invention of bird launchers, many dog trainers would catch pigeons and 'dizzy' them.
This essentially meant that the trainer would spin the bird around carefully in his hands, until the bird went dizzy.
The pigeon could then be placed into deep grass where it would remain until the dog found it, and it would then fly away.
This is the same scenario that we are looking to re-create when we use a bird launcher, only now we have more control.
Also, when pigeons are released, they flush well, flap and make a noise, which is always good for a young dog, and they have a game scent which helps the dog to develop his scenting and hunting ability.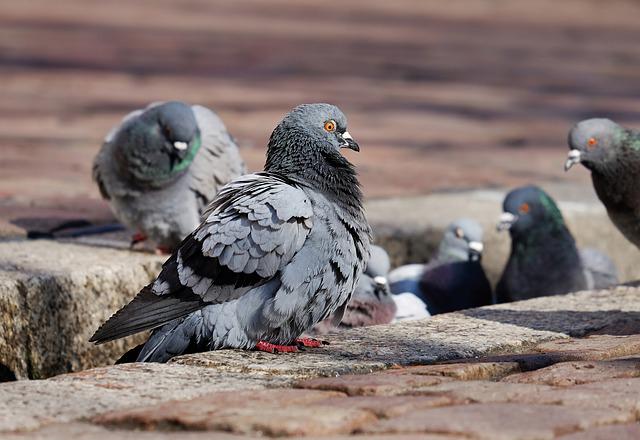 How do you trap pigeons easily?
Pigeons are greedy birds and will eat almost anything.
The easiest way to trap pigeons is with bait and some sort of trap or net.
Birds. however, are generally very cautious creatures and wary of any changes in their environment, so you can't just set a trap and hope to catch a pigeon.
You'll need to take your time.
Firstly, you will need some form of bait. Bread is pretty good as is cooked rice that you might have left over from the kitchen.
You can also use a purpose produced grain to catch pigeons such as this Green Split Peas Grain on Amazon.
Taking your 'bait' sprinkle it onto the ground in the area where you are going to put a trap and do this for about 4 days before you get your trap out.
The pigeons will come and eat the grain and, if you are observant, you'll get a good idea of the time that they visit to feed.
After a few days, take your pigeon trap and place it in the area where the pigeons have been feeding, BUT, don't set it yet.
The pigeons won't come back for a day or two after the appearance of the trap ( as they won't like it ).
Just keep putting the bait out until they ignore the trap.
After about 3 days, add your bait, bread, grain, to the trap and put less outside.
The idea now is to get the pigeons into the trap so we can catch them for dog training.
The only step now is to be patient.
The key rule from this point one is to check the trap at least twice a day as you do not want to have a bird stuck in there for longer than necessary, you should also leave the trap in the same spot for at least a week before considering moving it to another area.
What is the best bait to trap pigeons?
Pigeons tend to be scavengers but whole grain is considered to be the best bait as smaller birds cannot eat the large grains.
You have several choices for pigeon bait which include whole grains, figs, popcorn, sunflower seeds, peanuts and bread.
How to catch a pigeon with a box?
To catch a pigeon with a box you will need:
A box, a heavy cardboard box will do the job.
A stick
Some string or cord
Some of your bait ( that the pigeons have got used to eating ).
Taking your box, place it in the area that you have been baiting with your grain/bread etc.
Get your stick and tie one end of the cord around it. The cord will need to be about 20 to 30 feet long.
Then, get your stick and prop one side of the box up with it, reel out the cord, and go and hide behind a bush/tree..somewhere where you can see the box easily.
You'll then need to be patient and wait.
When the pigeons arrive, wait until one goes under the box to eat the grains, and then, pull then cord to release the stick – the box will fall and hopefully catch the pigeon!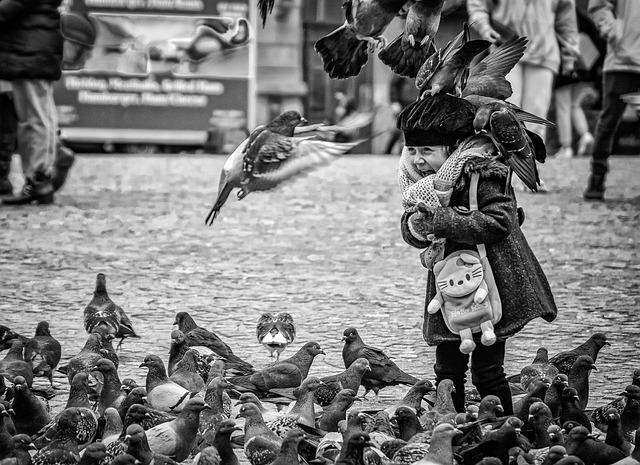 How do you catch a pigeon by hand?
It's not easy. Birds have great eyesight and often even better reactions.
Keeping your eye on the pigeon that you want to catch, get down low and slowly approach the bird from the rear.
The hand that you plan to capture the bird with will need to 'hover' above the bird and, once ready, in a fast downward motion, you grab the bird carefully but firmly.
Good luck with that.
Can you pick up a pigeon?
Yes, unless you have some sort of allergy then it is perfectly safe to pick up a pigeon.
The best way to pick a pigeon up is two handed, one hand will need to go underneath the pigeon's chest while the other hand goes across the bird's back to hold it's wings down so that it doesn't flap around.
You'll need to be firm but gentle so that you do not injure the bird. Do not let  it flap or it will hurt itself.
Pigeon Traps For Dog Training
Catching pigeons manually isn't the easiest of activities and chances are that if you need to catch pigeons for dog training then you'll spend more time pigeon catching than you will training your spaniels.
If you don't fancy using a box, your hands or hiding behind bushes to catch a pigeon for your dog training then you'll be pleased to know that there is a range of pigeon traps available that will do the job for you.
Best Pigeon Traps For Dog Training
If you are going to use pigeons for your spaniel training and are thinking of using a bird launcher then you'll need a supply of pigeons.
It's possible to buy homing pigeons that you can use, but these can be expensive both to buy, house and feed.
Apart from catching pigeons manually ( which is often a challenge ) the best option is to use a humane bird trap and we've reviewed some of the most effective traps that can be used for catching pigeons quickly and easily to help you with your dog training sessions.
Top 3 Best Pigeon Traps Review
Bird B Gone Pigeon Trap with Shade, Food and Water Containers
Durable and well suited for long term use in all conditions
Bird B Gone is the world's leading manufacturer of bird control products.
Based In California, US, the business specialise in the development and production of humane bird control products which include traps, spikes, netting, deterrents and a whole range of products to control pigeons and other birds.
The business was formed in 1992 and has grown to become a world leader in humane bird control solutions.
Product Introduction
This pigeon trap is a rectangular wire cage that has a trap door.
The cage has a shade to protect the bird and also comes with a water container and food dispenser.
Features
This pigeon trap is an ideal way to catch pigeons for use with your dog training and your bird launcher.
The trap will catch and hold a maximum of 12 pigeons and the attached feeder and water containers make sure that the birds are safe until the trap is emptied.
The trap has a total of 3 doors for trapping, all of which are one way to prevent captured birds from escaping.
A center door on the top allows for easy access to take the birds out.
The trap also has a sunshade to protect the pigeons while they are in the cage.
This trap weighs 10 pounds.
Read More Customer Reviews For The Bird B Gone Pigeon Trap Over On Amazon

Pied Piper Pigeon Trap Model 603
Excellent choice for commercial and private use
No products found.
Pied Piper are based in Texas, US and manufacture around 200 to 300 humane bird traps daily.
They have been supplying humane birds traps since 1986 and now ship their products all across the United States of America.
In addition to traps the business also manufacture a wide range of agricultural equipment and parts.
Product Introduction
This trap is a wire trap that is for the humane capture of birds.
There is a one way door on the top of the trap which is used for the safe removal of birds, and two spring doors on the sides for the capture of birds.
Product Features
This automatic humane bird trap is constructed from 14 gauge galvanized 1 x 1 steel mesh.
The trap has two one way sprung steel rod gates and a top hatch for easy removal of birds.
It comes pre-assembled and will hold 15 pigeons maximum.
This is an ideal trap to use for capturing pigeons if you are able to place it in a sheltered area and inspect regularly. 
Read More Customer Reviews For The Pied Piper Pigeon Trap Over On Amazon

No products found.
Kness Bird Trap, 17-1/4 in. L, 12-1/4 in. W
Kness are a leading business in the field of humane pest control and bird capture. 
Their Kage All Bird Traps are humane traps designed to capture a range of birds, including pigeons which can then be later released or relocated, or, in the case of a dog trainer, used in a bird launcher and then released safely.
Each Kness product is hand tested before being shipped and the company pride itself on only using the highest quality materials for construction.
Kness was founded in 1924 and the business is based in the mid western USA.
Product Introduction
This Kness Bird Trap is a mesh cage type trap that can be used to catch a range of birds including pigeons.
Features
The trap is made from heavy duty, powder coated and galvanized steel mesh which is rust and corrosion resistant for years of use.
The trap is coloured green which means that it will blend in well when in use.
This trap will hold a maximum of 12 pigeons making it ideal as a set and leave trap to collect a quantity of birds for your training and later release.
Read More Customer Reviews For The Kness Pigeon Trap Over On Amazon

Final Words
We've looked at and considered a few of the pigeon traps that are available.
All of these traps are humane traps, safely capturing pigeons without injuring them.
They will all provide you with the opportunity to catch pigeons which you can then quickly use for your dog training sessions, either in a bird launcher or by 'dizzying' the pigeon.
Our top bird pigeon trap is the Bird B Gone Trap – the provision of food, water and shade, helps the birds to be comfortable after they have been captured, and, in our view this was a great addition to an already great trap.
Last update on 2023-11-25 / Affiliate links / Images from Amazon Product Advertising API