Many people that buy Cocker Spaniels are novice owners with wonderful intentions for their dogs and puppies.
The training of spaniels is not difficult but, for many, understandably, the conflict of ideas, advice and suggestions, can be confusing. For the newcomer to Cocker Spaniels this mass of information is often unhelpful and counter productive. Sometimes some basic pointers can help to get potential spaniel trainers onto the right tracks.
Here are 25 Cocker spaniel training tips that will help you to be successful with your Cocker Spaniel puppy.
Making yourself the 'centre of interest' to your pupil is the singularly most important aspect of all Cocker spaniel training.
A dog must be healthy to be happy, and happy to be trained.
Let common sense control your progress when training your spaniel.
Some people have a gift for Cocker spaniel training, others haven't. But remember learning is always possible. Find out as much as you can.
Learn everything that you can about your dog's mind and temperament. Invest in your own learning so that you can pass this onto your spaniel.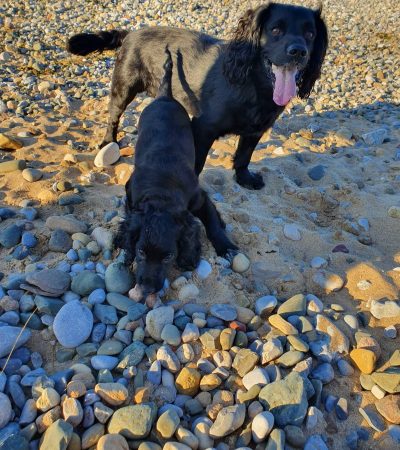 Learn to be sympathetic, always be tolerant but firm.
Be fair with your dog and always consistent.
Don't expect a young dog to perform wonders. Puppies and dogs learn from repetition of each lesson.
Don't overdo retrieving with a spaniel – either for real, in training or practice.
Dropping to shot is the basis of steadiness when out in the field.
Don't teach your dog the power of the gun until he is steady, or, at the very least until he is under good control.
Sale
Training Spaniels
Hardcover Book
Joe Irving (Author)
English (Publication Language)
176 Pages – 07/12/1993 (Publication Date) – Quiller Publishing (Publisher)
Avoid bad habits like the plague.
Faults that develop in your spaniel are normally caused by the trainer – you.
Be observant – the best age range to establish training is between five months and eighteen months.
Don't make your spaniel jealous of other dogs – the only exception here is if he is a poor retriever – this can sometimes work wonders.
A Cocker spaniel that is a natural and keen retriever is  valuable asset – treasure and nurture it.
Don't take away the dog's flair and sparkle by overtraining.
Take your time – spaniel training is not a race – if your friend's dog is in front of yours then the chances are he's rushing and heading for a fall. Don't rush training.
Let your dog's natural ability develop at its own pace. 
At no time must you punish your spaniel when retrieving something – to do this will create all manner of problems that will be difficult to fix.
In all areas of training offer praise and encouragement. Never be harsh and never lose your temper – to do so can be disastrous.
Be just and do no lose your temper.
Working more than one spaniel either two or a larger team is rewarding and great fun.
Avoid using artificial aids if possible, the trainer that can fool a puppy every time has yet to be born.
Your Cocker spaniel should learn to be successful and he should expect to be successful, he will then be successful and so will you.
Be confident, take your time, don't panic. If you struggle take a break and find out the answer. Learn and learn and learn.
The biggest tips?
When training a Cocker it's important to take your time and to be patient.
Your training needs to be consistent and regular – 10 minutes a day is much better for your dog than 2 hours at the weekend.
Keep your sessions short and interesting and always end the session by doing something that your spaniel can do and enjoys doing.
It's a marathon and not a sprint when training Cockers.
Last update on 2023-12-07 / Affiliate links / Images from Amazon Product Advertising API