Running with your dog is a great way to bond with them and get some exercise and it can be a great way for them, and you, to burn off some calories and improve fitness levels.
Cocker spaniels, like all of the spaniel breeds, enjoy some variety in their exercise routines and, if you enjoy running, your spaniel will enjoy the exercise and the time spent together. You'll need to consider the terrain that you run on and the distance and weather conditions before you take your dog with you.
How far can you run with a Cocker spaniel?
Cocker spaniels were originally working dogs and you'll need to remember this when planning your running routine.
A Cocker Spaniel will be perfectly happy with a two or three mile run two or three times a week with some different forms of exercise, such as walks and training, on the other days.
It's important that you gradually introduce your spaniel to running with you, over a gradual period, so that you don't overdo it.
If your dog is overweight, is recovering from an injury or has not undertaken any real activity for some time then you need to build him up slowly before taking him for a long, sustained run.
Type of terrain that you run on is important for your spaniel
The type of ground that you run on is an important factor to consider when taking your Cocker spaniel running.
Tarmac, pavements and other solid surfaces associated with 'road running' are not the best surfaces for any breed of dog to run on.
The impact levels associated with running on these types of surfaces can affect the joints of dogs ( in a similar manner that they affect humans ) – this can be compounded in dogs as, unlike humans, they do not wear impact absorbing footwear when running.
Off road running, such as fell running, running on the beach and running on other softer surfaces, that can absorb some impact, should be your choice when taking your Cocker spaniel running.
You should always consider your dog's well being when running, particularly his paws and in addition to the above it is wise to avoid gravel type tracks that can cause cuts and abrasions and other paw injuries.
Many runners get dog boots for their pets which can reduce the risk of injuries to paws and doggy ankles when running and exercising, these are widely available and can often be found online, in different sizes, at reasonable prices.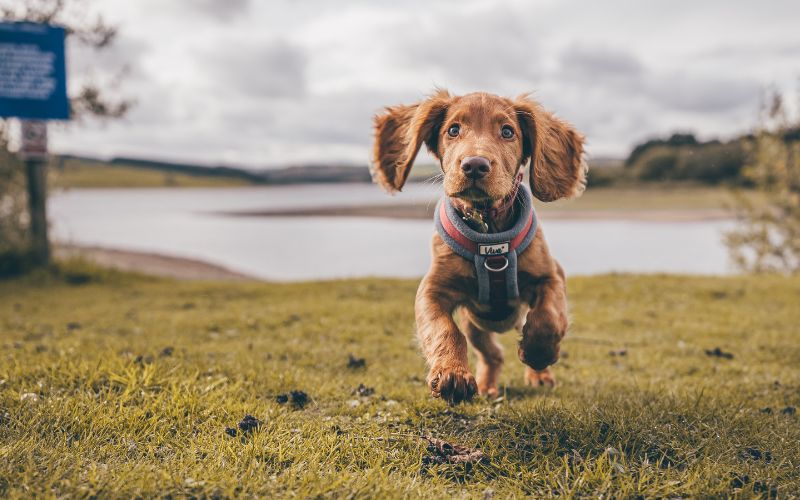 Popular dog boots
MOKCCI Truelove Waterproof Dog Boots
MOKCCI dog boots are made of high-quality waterproof material, which is durable and comfortable for your dogs.
The rubber soles will give your dog better control and protect paws from the cold weather and sharp stuff.
The ergonomic design with inner breathable mesh is very comfortable and lightweight.
Your dog can wear these long-term for hiking, hunting, running and walking.
The boots have convenient straps which make them easy to put on and take off.
They also have reflective strips for night time visibility to help to keep your dog safe if you are out after dark.
Sale
RUFFWEAR Dog Boots for Everyday Use (Set of 2)
Ruffwear's Set of 2 dog boots for everyday use are designed to protect your dog from abrasive surfaces, hot asphalt, snow, ice and road salt.
They're also great for sore or wounded paws – no licking.
The boots have a high-traction soles – can be used indoors to prevent slipping/paw dragging and damage to floors.
The boots come in sizes Small (5-9 lbs), Medium (10-19 lbs) and Large (20-49lbs).
They're easy to put on with an adjustable hook and loop ankle closure for a secure fit.
Can I run with my Cocker spaniel when the weather is bad?
Yes, you can run with your spaniel in most weather conditions – but if the ground is wet and slippery then you should be careful.
If it's really cold, say under 5 degrees Celsius, then you should probably avoid brining your dog out for a run. The same would apply to very hot conditions – over 25 degrees Celsius.
Your spaniel will enjoy running when it is raining lightly and the temperature is not too warm or cold – in the main the same type of conditions that would suit and be enjoyable for you.
What age should I start taking my spaniel running?
You need to wait until your spaniel is fully grown – around 18 months to 2 years old – before you take him running.
If he is much younger than this then you can run the risk of causing him injury as his bones and muscles are still growing and developing and the actions and impacts of running could affect his future health.
Should I feed my spaniel before taking him running?
You should avoid giving your spaniel anything to eat for at least an hour before you go running.
Dogs can suffer from a potentially fatal condition which affects their stomachs if they exercise too much on a full tummy so don't feed him before you go out.
When you return, after your run, make sure that he has access to lots of fresh and clean water and give him his meal at least an hour after your run.
What do I need to take with me when I am going running?
You should have a couple of dog water bottles on you to give your spaniel a drink during your run.
You'll also need an lead that is suitable for running with – the common types that most people use, attach to your waist, allowing you to run as normal while keeping your dog safe.
The Barkswell Hands Free Lead is a popular choice – you can read about it here on Amazon.
It is also a good idea to have some form of dog first aid kit with you, just in case your spaniel experiences an injury.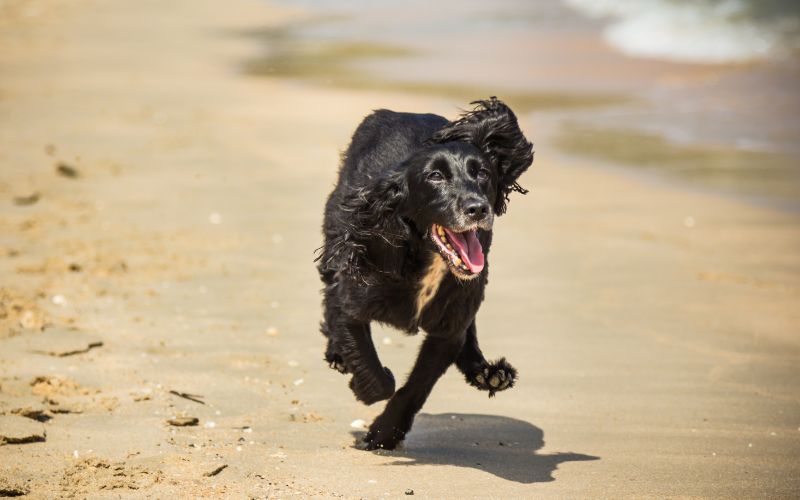 FAQs
At what age can I start running with my Cocker Spaniel?
It's generally recommended to start running with your Cocker Spaniel once they've reached skeletal maturity, typically around 12 to 18 months old. This helps to avoid potential damage to their growing joints and bones. However, always consult your vet before starting any new exercise regime with your pet.
How much running is healthy for a Cocker Spaniel?
Cocker Spaniels are an active breed and generally benefit from at least an hour of exercise per day, which can include running. However, each dog is unique, and their exercise needs can vary depending on factors such as age, health, and overall fitness level. It's crucial to gradually increase the running distance and speed to allow your pet to adjust to the new activity.
Are Cocker Spaniels good running partners?
Yes, Cocker Spaniels can make excellent running partners. They are energetic, eager to please, and love being active. As a smaller breed, they may be better suited to shorter, more frequent runs than long-distance marathons. Their friendly and sociable nature also makes them great companions during outdoor activities.
What precautions should I take when running with my Cocker Spaniel?
Always ensure your Cocker Spaniel is well-hydrated and avoid running in excessively hot conditions, as dogs can easily overheat. Pay attention to signs of fatigue or discomfort, and always have rest days between runs to allow your dog's body to recover. Also, it's important to keep them on a lead unless you're running in a secure, traffic-free area.
How can I train my Cocker Spaniel to be a good running partner?
Start by getting them used to walking on a lead. Gradually increase the pace to a jog and then to a run, ensuring your dog is comfortable and happy at each stage. Consistent commands can help them understand when to start running, slow down, or stop. Remember to reward good behaviour with treats or praise to reinforce positive habits. Additionally, training them to avoid chasing wildlife or other distractions will make your runs smoother and more enjoyable.
Final Words
Your Cocker spaniel will enjoy running with you providing that you introduce him to the activity gradually and carefully.
Don't overdo it, consider the weather conditions and the surfaces that you will run on and be prepared to change your routine to accommodate your dog.
Running is a great way for you and your spaniel to keep fit and reduce weight.
If done with your dog in mind you'll have a great running partner.
Last update on 2023-12-08 / Affiliate links / Images from Amazon Product Advertising API