Running with your dog is a great way to bond with them and get some exercise and it can be a great way for them, and you, to burn off some calories and improve fitness levels.
Cocker spaniels, like all of the spaniel breeds, enjoy some variety in their exercise routines and, if you enjoy running, your spaniel will enjoy the exercise and the time spent together. You'll need to consider the terrain that you run on and the distance and weather conditions before you take your dog with you.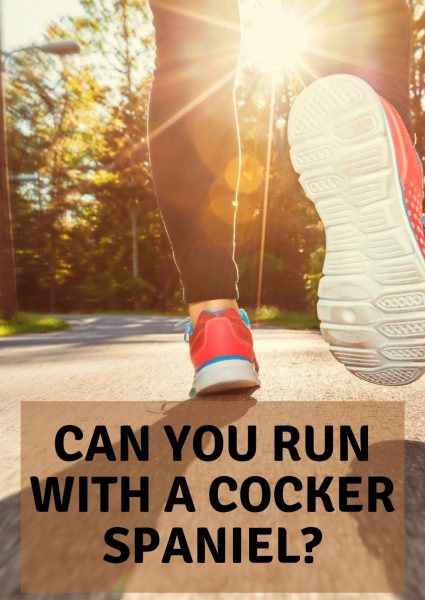 How far can you run with a Cocker spaniel?
Cocker spaniels were originally working dogs and you'll need to remember this when planning your running routine.
A Cocker Spaniel will be perfectly happy with a two or three mile run two or three times a week with some different forms of exercise, such as walks and training, on the other days.
It's important that you gradually introduce your spaniel to running with you, over a gradual period, so that you don't overdo it.
If your dog is overweight, is recovering from an injury or has not undertaken any real activity for some time then you need to build him up slowly before taking him for a long, sustained run.
Type of terrain that you run on is important for your spaniel
The type of ground that you run on is an important factor to consider when taking your Cocker spaniel running.
Tarmac, pavements and other solid surfaces associated with 'road running' are not the best surfaces for any breed of dog to run on.
The impact levels associated with running on these types of surfaces can affect the joints of dogs ( in a similar manner that they affect humans ) – this can be compounded in dogs as, unlike humans, they do not wear impact absorbing footwear when running.
Off road running, such as fell running, running on the beach and running on other softer surfaces, that can absorb some impact, should be your choice when taking your Cocker spaniel running.
You should always consider your dog's well being when running, particularly his paws and in addition to the above it is wise to avoid gravel type tracks that can cause cuts and abrasions and other paw injuries.
Many runners get dog boots for their pets which can reduce the risk of injuries to paws and doggy ankles when running and exercising, these are widely available and can often be found online, in different sizes, at reasonable prices.
Popular dog boots
MOKCCI Truelove Waterproof Dog Boots
MOKCCI dog boots are made of high-quality waterproof material, which is durable and comfortable for your dogs.
The rubber soles will give your dog better control and protect paws from the cold weather and sharp stuff.
The ergonomic design with inner breathable mesh is very comfortable and lightweight.
Your dog can wear these long-term for hiking, hunting, running and walking.
The boots have convenient straps which make them easy to put on and take off.
They also have reflective strips for night time visibility to help to keep your dog safe if you are out after dark.
MOKCCI Dog Boots
Waterproof material with Non-slip soles give your dog better control and protect paws from the cold weather and sharp stuff .
Ergonomic design and inner breathable mesh is very comfortable and lightweight .Your puppy can long-term wear it for hiking,hunting and walking .
Convenient straps keep shoes easy to put on and take off .
Reflective line ensure good visibility at night and keep your puppy's safety.
According to the size chart at left and choose the correct size.Pls choose the larger size in between size .
Neuwee Non Slip Dog Boots
NeuWee Dog Boots are made of high quality material.
They are comfortable, durable and breathable. The boots are specially designed for dogs with thick fur or long nails to protect their paws from snow, ice, mud, stones and other harmful surface.
It's easy to put on the dog shoes. Two adjustable straps make it fit well without falling off easily.
Sale
NeuWee Non Slip Dog Boots
Size 5 - Please measure the size of your dog's paw according to the chart before placing an order, then you can choose the right size for your dog for the most comfortable fit.Please according to the size chart and choose the correct size, if your dog is in-between sizes, select the larger size. S( 5.5cm L x 5cm W/2.17" L x 1.97" W),M( 6cm Lx 5.5cm W/2.36" L x 2.17" W), L(7cm L x 6.5cm W/ 2.76" L x 2.56" W), XL( 8cm L x 7cm W/3.15" L x 2.76" W), XXL( 9cm L x 8cm W/3.54" L x 3.15" W)
Extra Extend Design - Wide split seam top opening makes very easy and quick to put on the dog shoes. Two adjustable straps to ensure a tight fit and not easy to fall off.
Non Slip - Made of the hard non-slip sole to provide stability on tile and sand, to protect your pet feet from sharp or other harmful surface, and keep the cute dog clean. Dog can walk on slick flooring. Great for pools to prevent liner tears and scratches while swimming.
Waterproof - The blue part is made of waterproof fabric, which can be waterproof to a certain extent, but be careful not to soak in water. Wind resistance while keeping breathable.
Reflective Straps - The dog shoes are fastened firmly by 2 straps, 2 straps are long and adjustable, capable to prevent slipping off and supply a customized tightness for secure closure, also keep dog safe at night.
RUFFWEAR Dog Boots for Everyday Use (Set of 2)
Ruffwear's Set of 2 dog boots for everyday use are designed to protect your dog from abrasive surfaces, hot asphalt, snow, ice and road salt.
They're also great for sore or wounded paws – no licking.
The boots have a high-traction soles – can be used indoors to prevent slipping/paw dragging and damage to floors.
The boots come in sizes Small (5-9 lbs), Medium (10-19 lbs) and Large (20-49lbs).
They're easy to put on with an adjustable hook and loop ankle closure for a secure fit.
Ruff Wear Dog Boots
Set of 2 weather-resistant dog boots for everyday use, For paw protection and rehabilitation after injury, Ideal for wet and cold weather, Suitable for small breeds
Protection from abrasive surfaces, hot asphalt, snow, ice and road salt, Great for sore or wounded paws – no licking, High-traction soles - can be used indoors to prevent slipping/paw dragging and damage to floors
Size: 51 mm /2 in – measurement across widest part of paw when bearing weight, Smaller size when in doubt, Adjustable hook and loop ankle closure for secure fit with no slippage, Redesigned wide gusset opening for easy on/off
Flexible, long-wearing outsole for protection and traction, New weather-resistant ripstop upper for keeping out moisture, dirt and debris, Machine wash with mild detergent and air dry
Contents: Ruffwear Weather-Resistant Dog Boots for Everyday Use (Set of 2), Size: 51 mm/2 in, Weight: 50 g, Twilight Grey, Summit Trex, P15401-025200
Can I run with my Cocker spaniel when the weather is bad?
Yes, you can run with your spaniel in most weather conditions – but if the ground is wet and slippery then you should be careful.
If it's really cold, say under 5 degrees Celsius, then you should probably avoid brining your dog out for a run. The same would apply to very hot conditions – over 25 degrees Celsius.
Your spaniel will enjoy running when it is raining lightly and the temperature is not too warm or cold – in the main the same type of conditions that would suit and be enjoyable for you.
What age should I start taking my spaniel running?
You need to wait until your spaniel is fully grown – around 18 months to 2 years old – before you take him running.
If he is much younger than this then you can run the risk of causing him injury as his bones and muscles are still growing and developing and the actions and impacts of running could affect his future health.
Should I feed my spaniel before taking him running?
You should avoid giving your spaniel anything to eat for at least an hour before you go running.
Dogs can suffer from a potentially fatal condition which affects their stomachs if they exercise too much on a full tummy so don't feed him before you go out.
When you return, after your run, make sure that he has access to lots of fresh and clean water and give him his meal at least an hour after your run.
What do I need to take with me when I am going running?
You should have a couple of dog water bottles on you to give your spaniel a drink during your run.
You'll also need an lead that is suitable for running with – the common types that most people use, attach to your waist, allowing you to run as normal while keeping your dog safe.
The Barkswell Hands Free Lead is a popular choice – you can read about it here on Amazon.
It is also a good idea to have some form of dog first aid kit with you, just in case your spaniel experiences an injury.
The Kurgo Portable Dog First Aid Kit is small enough to fit into a pocket while running.
Kurgo Dog First Aid Kit, 50 Piece Pet Medical Kit, Compact & Portable, Durable Material, Paprika Red
50 PIECES INCLUDED: Dog first aid kit includes gauze, antiseptic towelettes, sting relief, tweezers, and much more. Please see product description for more details of the exact contents
GREAT FOR EVERY ADVENTURE: Don't worry about your doggy getting injured on your next hike - be prepared with this medical kit. Includes a first aid book to troubleshoot emergencies
DURABLE MATERIAL: Dog first aid kit is made of Oxford 600D fabric with twill tape binding for durability. Easy to clean: remove contents, machine wash gentle or hand wash, and let air dry
PORTABLE AND TRAVEL FRIENDLY PET FIRST AID KIT: Portable pet first aid kit is travel friendly and easy to store: slip it in your car or your backpack. Hook closure allows kit to be hung from door, hook or tree when opened, and features an integrated bottle opener
ORGANISED SPACIOUS COMPARTMENTS: Dog first aid kit has three interior mesh compartments and 1 exterior zipper pocket to keep everything organised
Final Words
Your Cocker spaniel will enjoy running with you providing that you introduce him to the activity gradually and carefully.
Don't overdo it, consider the weather conditions and the surfaces that you will run on and be prepared to change your routine to accommodate your dog.
Running is a great way for you and your spaniel to keep fit and reduce weight.
If done with your dog in mind you'll have a great running partner.
Read Next
Last update on 2022-03-02 / Affiliate links / Images from Amazon Product Advertising API