Cocker spaniels like all breeds of dogs go through stages of growth and development and the number of teeth that a Cocker has will vary according to his age.
A healthy and fully grown adult Cocker spaniel typically has 42 teeth formed from a combination of incisors, canine, molars and pre-molars on both the upper and lower jaws.
It is normal to find some spaniels that have more than the standard 42 teeth so if you manage to count your dog's teeth, and find that he has a few more, this is nothing to be worried about.
Teeth appear - Weeks 2 to 4
A spaniel puppy's teeth begin to appear from around 3 weeks of age. While he is this young he will still be with his mother and the breeder, so for most owners this appearance of milk teeth will not be an issue as they will not yet own the dog.
The puppy's teeth will begin to appear around the same time that his eyes open and he begins to wobble around while starting to walk.
By this time your spaniel puppy will normally have all of his puppy or milk teeth.
Most dog breeds have 28 puppy teeth. As his teeth begin to settle, the breeder will begin to introduce the puppy onto soft puppy foods, weaning him away from his mother.
Time spent with his mom will be reduced. Nursing puppies with sharp puppy teeth can be a painful experience for the mother.
Weeks 8 onwards - Leaving for a new home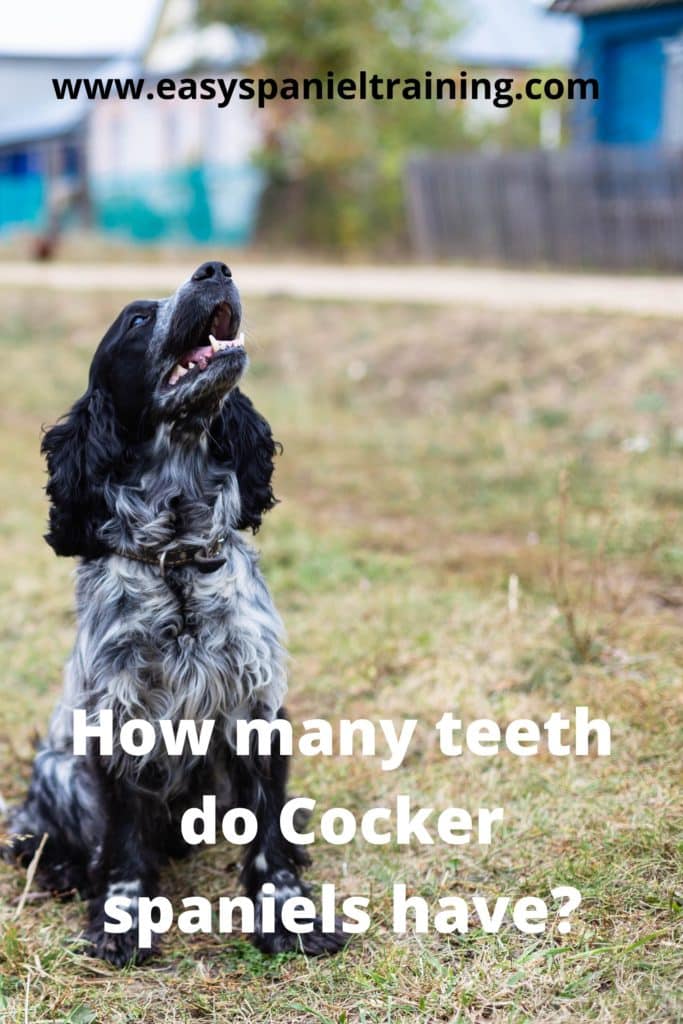 From around week 8 onwards, most breeders have found or are in the process of finding new homes for their puppies.
As the puppy grows older he will begin to lose his first teeth and the new owner will often find little bits and pieces of puppy teeth on the floor.
The teething process is often painful for puppies, just as it is for a human baby, and you'll find that the puppy will often chew things to try and help with the discomfort.
It is a good idea to get some tough teething toys for your puppy to chew on rather than have him chewing your shoes or furniture.
To help him with the discomfort you can take a small towel, wet it with clean water and tie it into a knot. Put the towel into the freezer for an hour or so until it is frozen, and then give it to your puppy to play with. The fibrous nature will provide him with something good to chew and the cold will relieve the pain.
It's also a good idea, when you get your new Cocker spaniel home, that you arrange a check up at the vet's.
Your vet will check his teeth and gums and listen to his heart and breathing to make sure that he is fit and healthy.
One other thing that you will notice is that your puppy will probably nip. This is not a sign of aggression.
Just as we use our hands to explore, touch and feel, dogs and puppies use their mouths. Your puppy is using his mouth as a way of exploring the world and he doesn't know how hard he is allowed to grip things. He also has very sharp puppy teeth that can be painful.
All you need to do if your puppy gets a bit rough is to let him know that he is biting too hard. Just say 'ouch!' or similar and discourage him from nipping.
It is important to be consistent and to discourage your puppy from touching humans with his teeth, for obvious reasons, we don't want him to grow into an adult who has been allowed to bite.
By the time your puppy is 6 months old, he will have lost all of his puppy teeth and his adult teeth should all have grown in.
Most adult dogs have 42 teeth.
If you find that your puppy has any of his baby teeth left then you should speak to your vet and they will advise on the correct course of action if they feel that any is necessary.
How to keep a Cocker spaniel's teeth healthy
Just like people, your spaniel's teeth can get dirty, tartered and damaged if they are not cared for properly.
Unlike people, dogs, don't use their tongues or claws to pick bits of food out from between their teeth and, if this is left, then it can cause plaque and bad breath – I've found that Poodles tend to have the smelliest breath of them all – spaniels generally are okay but you need to keep and eye on things.
Poor dental hygiene in dogs can lead to the same consequences faced by humans who don't care for the teeth.
The most obvious way to clean your spaniel's teeth is with a toothbrush and doggy toothpaste ( don't use human toothpaste on your dog's teeth – it can really upset his tummy and make him unwell – you should get a paste that has been specifically produced for dogs ).
You should use a soft toothbrush and gently work the toothpaste into your spaniel's teeth. You'll need to use one hand to hold your dog's lips back while the other manipulates the brush across the teeth.
In addition to using a toothbrush, you can get specially designed chew toys that will satisfy your spaniel's desire to chew and chomp while and, at the same time, they'll clean his teeth.
There are also various edible treats that you can get :
Pedigree Dentastix are very good and you can find them here on Amazon
these are designed to clean your dog's teeth as he eats them.
Bones too can help to keep your dog's teeth clean, the gnawing action of your dog helps to get rid of plaque and other dental debris – just make sure that you give him the right types of bones.
For more information about the importance of keeping your dog's teeth clean and how to inspect and clean your spaniel's teeth , watch the video below.
ARK NATURALS PRODUCTS FOR PETS 326070 12-Ounce Breath-Less Chewable Brushless Toothpaste, Small/Medium
ProDen PlaqueOff Powder 60g
Pedigree DENTASTIX Fresh Large Treats for Dogs - 1.52 Pounds 28 Treats
Vet's Best Dental Gel Toothpaste and Toothbrush Kit for Dogs
ARK NATURALS PRODUCTS FOR PETS 326070 12-Ounce Breath-Less Chewable Brushless Toothpaste, Small/Medium
ProDen PlaqueOff Powder 60g
Pedigree DENTASTIX Fresh Large Treats for Dogs - 1.52 Pounds 28 Treats
Vet's Best Dental Gel Toothpaste and Toothbrush Kit for Dogs
Cocker spaniels have 42 teeth and providing that you help your dog with his dental hygiene, he should keep most of his teeth throughout his adult life.
Like people, spaniels can suffer from dental and gum problems and these are things that you should always see your vet about for professional diagnosis and treatment.
Last update on 2021-01-15 / Affiliate links / Images from Amazon Product Advertising API