Dogs exhibit a range of behaviours that may be driven by instinct, dietary deficiencies, or underlying health issues. Eating dirt is no exception. While it's challenging to pinpoint a single definitive reason why dogs engage in this behaviour, several factors contribute to their dirt-eating tendencies which include habitual behaviour, nutritional deficiencies and instinct.
Dogs are known for their curious behaviours, and one peculiar habit that often leaves pet owners scratching their heads is their tendency to eat dirt.
It may seem strange and unappetising to us humans, but for dogs, this behaviour is surprisingly common.
In this comprehensive article, we will delve into the reasons behind why dogs eat dirt, explore various theories and opinions, and provide insights into how to address this behaviour.
Reasons why dogs eat dirt
Instinctive Behaviour
Dogs have an innate inclination to explore their environment and satisfy their natural instincts. This includes sniffing, digging, and yes, sometimes even tasting dirt.
Dogs, particularly puppies, use their mouths to explore the world around them, similar to how human babies do.
This instinctual behaviour may lead them to ingest small amounts of dirt out of curiosity.
Nutritional Deficiencies
One possible explanation for a dog's dirt-eating behaviour is an underlying nutritional deficiency.
Dogs may consume dirt in an attempt to supplement their diet with essential minerals or nutrients they are lacking.
It's important to note that this behaviour is more commonly observed in dogs that are fed low-quality or imbalanced diets.
Providing a well-balanced, nutritious diet is crucial to ensure your furry friend receives all the necessary nutrients, thus reducing their inclination to eat dirt.
Compulsive Behaviour
Some dogs develop compulsive behaviours as a result of anxiety, stress, or boredom. This can manifest in various ways, and eating dirt might be one such behaviour.
Compulsive dirt-eating may serve as a coping mechanism for dogs experiencing psychological distress or a way to alleviate boredom.
Identifying the underlying cause of anxiety or stress and providing appropriate outlets for mental stimulation can help reduce this behaviour.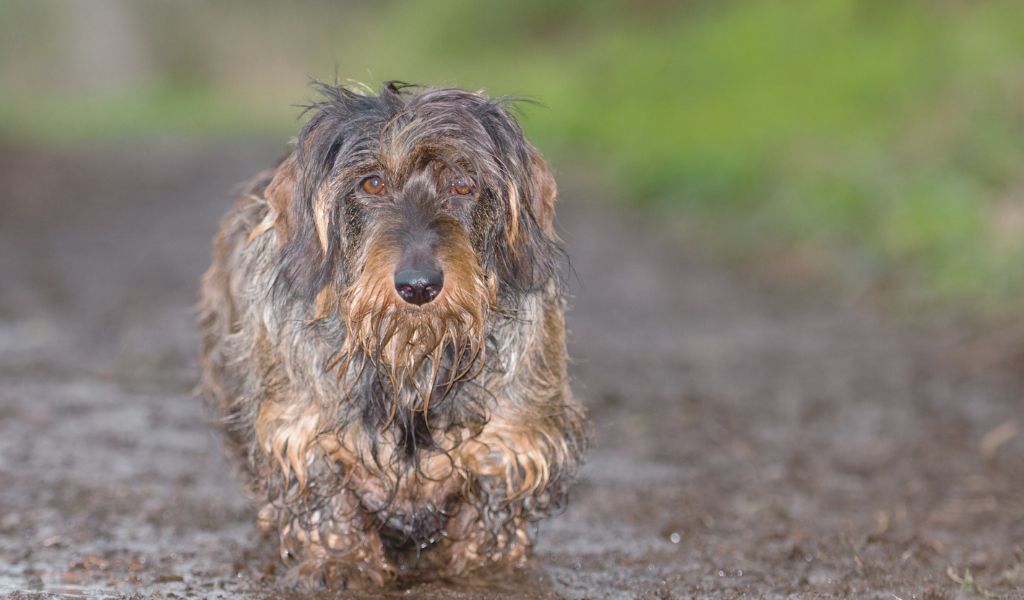 Pica
Pica is a condition characterised by the ingestion of non-food items, including dirt, by animals.
While the exact cause of pica in dogs remains uncertain, it is believed to stem from a combination of medical, behavioural, and environmental factors.
Dogs with pica may consume dirt due to a lack of appetite control, gastrointestinal disorders, or as a result of certain medications they are taking.
Consulting with a veterinarian is crucial to diagnose and address pica effectively.
Is eating dirt harmful to dogs?
While ingesting small amounts of dirt is generally not harmful, excessive dirt consumption can lead to health issues such as gastrointestinal irritation, blockages, or the ingestion of harmful substances. It's best to discourage this behaviour to ensure your dog's well-being.
How can I prevent my dog from eating dirt?
To prevent your dog from eating dirt, ensure they have a nutritionally balanced diet, provide ample mental and physical stimulation, and redirect their attention to more appropriate activities such as interactive toys or games.
Can eating dirt be a sign of an underlying health problem?
Yes, excessive dirt-eating can be a symptom of an underlying health issue. If your dog's dirteating behaviour is persistent or accompanied by other concerning symptoms such as vomiting, diarrhoea, or weight loss, it's crucial to consult with a veterinarian for a thorough examination and proper diagnosis.
Are there any natural remedies to deter dogs from eating dirt?
Some natural remedies that may help deter dogs from eating dirt include adding taste deterrents, such as apple cider vinegar or bitter apple spray, to the areas they frequent. Additionally, providing alternative chew toys or treats can redirect their attention away from dirt.
Can training and positive reinforcement help address dirt-eating behaviour?
Absolutely! Training your dog using positive reinforcement techniques can be effective in curbing unwanted behaviours. Rewarding your dog for engaging in desired behaviours and redirecting their attention away from dirt will help break the habit over time.
Should I be concerned if my dog occasionally eats dirt?
Occasional dirt consumption is generally not a cause for concern. However, it's important to monitor the frequency and quantity of dirt ingested. If it becomes excessive or is accompanied by abnormal symptoms, seeking professional advice is recommended.
Conclusion and final thoughts
Understanding why dogs eat dirt is a complex puzzle with various contributing factors.
Whether it's rooted in instinctual behaviour, nutritional deficiencies, compulsive tendencies, or underlying health issues, addressing this behaviour requires patience, observation, and sometimes professional guidance.
By providing a balanced diet, mental and physical stimulation, and ensuring your dog's overall well-being, you can help discourage their dirt-eating habits.
Remember to consult with a veterinarian if you have any concerns about your dog's behaviour or health.