Sprocker Spaniels are one of the most popular dog breeds in the world. They are intelligent, loyal, and loving pets, and they make great companions for families and individuals alike.
However, many people wonder if they are easy to train.
The answer is not as simple as yes or no, as it depends on several factors, including the individual dog's personality, age, and previous training experiences.
In this article, we will explore the question of whether spaniels are easy to train, and provide you with a guide to spaniel training.
Sprocker Spaniels are intelligent dogs that are easier to train than many other breeds. However the training of any dog is dependant upon the dog's personality, age, and previous training experiences, but with patience and the right approach you'll be able to train a Springer successfully.
Are Spaniels Easy to Train?
The short answer is, it depends. Spaniels are intelligent dogs and are capable of learning a wide range of commands and behaviours.
However, they can also be strong-willed and independent, which can make training a challenge, especially for first-time dog owners.
Here are some factors to consider when training your spaniel:
Personality
Spaniels have different personalities, and some may be more eager to please than others.
Some may also be more stubborn or independent, which can make training more difficult.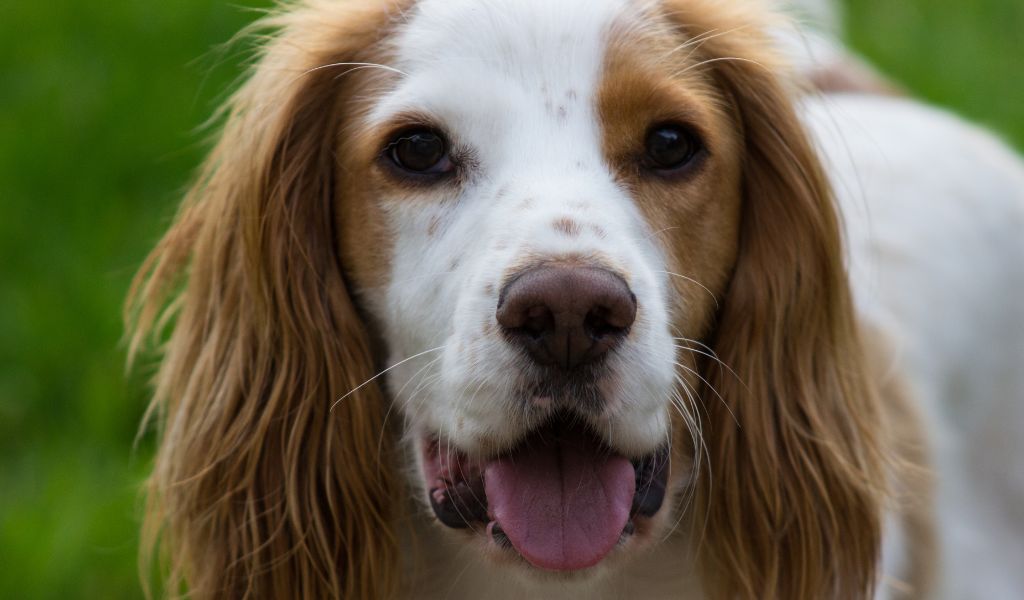 Age
Younger spaniels tend to be more receptive to training and can learn new behaviours more quickly than older dogs.
However, older spaniels can still learn new behaviours with patience and consistency.
Previous Training
If your spaniel has had previous training, it may be easier to train them as they may already know some basic commands and behaviours.
However, if they have learned bad habits, it may take longer to untrain those behaviours and replace them with new ones.
Tips for Training Your Spaniel
Start Early
The earlier you start training your spaniel, the easier it will be to teach them new behaviours and habits.
Puppies as young as 8 weeks old can begin basic obedience training, such as sit, stay, and come.
Be Consistent
Consistency is key when training your spaniel.
Use the same commands and rewards every time you train your dog, and make sure everyone in your household is using the same techniques.
Sale
Training Spaniels
Hardcover Book
Joe Irving (Author)
English (Publication Language)
176 Pages – 07/12/1993 (Publication Date) – Quiller Publishing (Publisher)
Use Positive Reinforcement
Positive reinforcement is one of the most effective training techniques for spaniels.
Reward your dog with treats, praise, and affection when they exhibit good behaviour, and ignore or redirect bad behaviour.
Keep Training Sessions Short
Spaniels have short attention spans, so keep training sessions short and fun.
Aim for 10-15 minute sessions, several times a day, and make sure to end each session on a positive note.
Be Patient
Training your spaniel takes time, patience, and lots of repetition.
Don't expect your dog to learn everything overnight, and be prepared to adjust your training techniques if something isn't working.
FAQs:
Q: What commands should I teach my spaniel?
A: Start with basic obedience commands, such as sit, stay, come, and heel. You can also teach your spaniel more advanced commands, such as shake, roll over, and play dead.
Q: How long does it take to train a spaniel?
A: Training time varies depending on the dog's personality, age, and previous training experiences. Some spaniels may learn new behaviours quickly, while others may take longer.
Q: What should I do if my spaniel exhibits bad behaviours during training?
A: If your spaniel exhibits bad behaviours during training, such as barking, jumping, or chewing, remain calm and redirect their behaviour. For example, if your dog starts chewing on a toy instead of listening to your command, redirect their attention back to the training activity. 
Final thoughts
Training your spaniel can be a challenging but rewarding experience.
While it may not be easy, with the right techniques, patience, and consistency, you can train your spaniel effectively and enjoyably.
Remember, every dog is different, and what works for one spaniel may not work for another.
With some trial and error and lots of positive reinforcement, you can help your spaniel become a well-behaved and obedient companion.
So, are spaniels easy to train? The answer is, it depends, but with the right training techniques, you can teach your spaniel to be a well-behaved and loyal companion.
Last update on 2023-12-07 / Affiliate links / Images from Amazon Product Advertising API