Are you the proud owner of a Cavalier King Charles spaniel? If so, then you know that these regal and loyal dogs need to be taken care of properly.
A major part of keeping them healthy is providing them with proper nutrition and to do this properly they need to have the right type of dish.
Cavaliers have short snouts and long ears, and the wrong type of dog bowl will mean that your pet will be unable to eat properly and will also end up with messy ears.
So, what type of dish best meets your pooch's needs?
To help answer this question, we have uncovered the very best dog bowls for all types of cavaliers.
Keep reading to learn which options are suitable for their diet and lifestyle.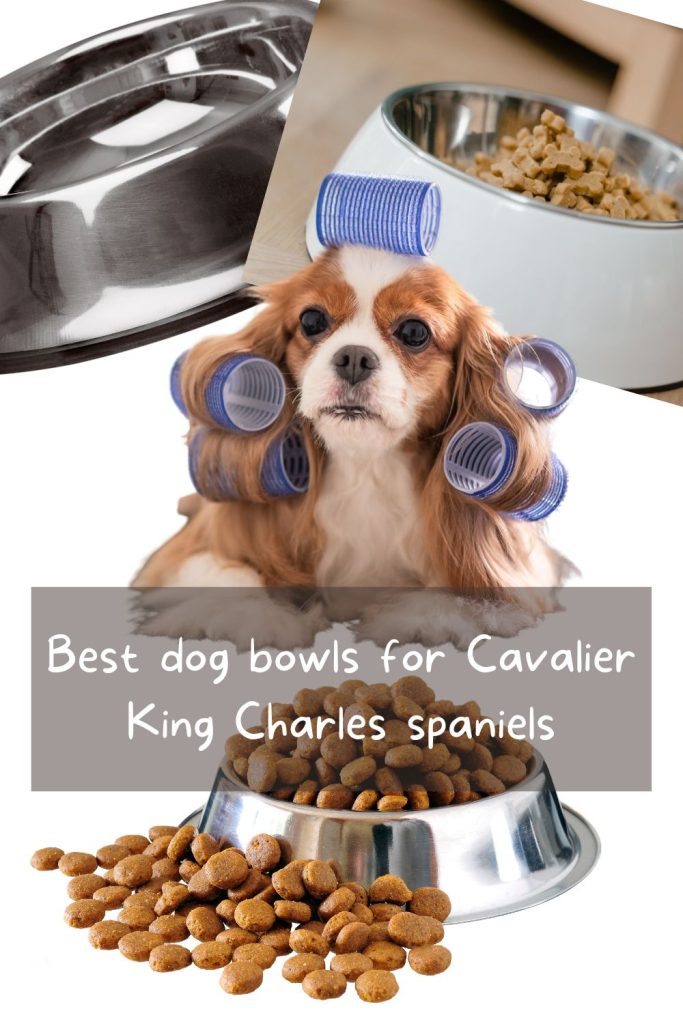 Dog bowls for a Cavalier King Charles spaniel
If you need a quick answer then the table below is the best choice. For more detailed information on each item, scroll down to the descriptions.
Cavaliers, like all long eared breeds, will dangle their ears in their food unless they have a specially designed bowl.
Treat your Cavalier King Charles Spaniel to the perfect bowl.
This plastic dish is designed with them in mind, making it a great gift for any pet-loving family. Show how much you care by giving this thoughtful present that will keep your CKC fed and happy for years to come.
Instant Gifts Cavalier King Charles Spaniel Feeding Bowl
Keep your Cavalier's water or food contained in style with a Cavalier King Charles Spaniel Resin Dog Bowl.
This bowl features playful caricatures of the beloved breed, and the materials used offer superior strength and durability, making it the perfect addition to your pup's feeding routine.
In addition to being lightweight, these bowls won't break or chip like ceramic alternatives.
Enjoy the convenience of having a pet-friendly and rust-resistant feeder with maximum capacity in 2000ml.
This adjustable bowl panel suits all breeds, from puppies to older dogs, making it an ideal choice.
It is also lightweight so you can easily move it anywhere indoors or outdoors – even during rainy days thanks to its solid wood frame.
With easy cleaning and filling bowls made of stainless steel, attending to your Cavalier's needs has never been simpler.
PawHut Dog Bowls Adjustable Raised Pet Feeder with 2 Removable Stainless Steel Bowls for Small Dogs
£47.99


£

36.99
 out of stock
Featuring solid pine wood and rust-resistant stainless steel bowls, this raised dog feeder is designed to stand the test of time.
With a large bowl volume of 1250ml, it's perfect even for larger Cavaliers.
Plus with adjustable height settings – as well as an angle that can be adjusted on the surface – you're sure to get just right your pet's eating habits healthier while taking pressure off their neck and joints.
PawHut Raised Dog Bowls with Stand Adjustable Raised Pet Feeder
The Mason Cash Cane Spaniel Bowl is crafted from durable ceramic, measuring 8.3 cm tall by 20 cm wide to provide the perfect vessel for canine meals or drinks while protecting their delicate feathered ears.
And no more mess–you can say goodbye to wet ears and spills on the floor when you get one of these stylishly practical bowls.
This classic Stainless Steel Dog Bowl is hygenic and easy-to clean making it perfect for your Cavalier's mealtime.
It is dishwasher safe so you don't have to worry about any cleaning hassles post dinner.
With dimensions of 8x25x25cm, it's an ideal size for even the hungriest pup in town.
7. Petface 15 inch Stainless Steel Spaniel Bowl
The Petface Stainless Steel Spaniel Bowl is specially designed to provide a comfortable eating experience for longer eared breeds.
It's stainless steel construction means it won't absorb unpleasant odours or be tough to clean.
With 15cm diameter, you're sure that each mealtime is as pleasant as possible.
Give your pup the lap of luxury with a one-of-a kind, handmade solid oak dog bowl.
Completely personalized and equipped with two stainless steel bowls that can be simply lifted out for easy cleaning.
Perfectly sized at 40cm x 22 cm 10 cm – plus they're even fitted with non slip feet so you don't have to worry about any mealtime accidents.
This handmade stoneware bowl is designed especially for long eared breeds like Spaniels and Scent Hounds.
Crafted on a traditional potter's wheel, each one-of-a-kind bowl features an exquisite combination of glazes in five gorgeous hues – from Midnight to Candyfloss.
Every piece is unique thanks to little variations occurring during its firing process – so you know that no other doggy diner looks quite like yours.
From the heart of England comes handmade stainless steel pet bowls.
Crafted with care, these non-skid dishes feature two sizes to choose from – large (21cm diameter) and medium (18 cm diameter).
Perfect for any pup's dining pleasure.