The simple answer is, it depends. Not all dogs are built the same, and while some might thrive in long-distance running, others might struggle. Factors such as the breed of dog, it's age and fitness levels all play a part in a dog's ability to run for long distances.
The Ultimate Guide: Can a Dog Run a Marathon?
Marathons have long been a test of human endurance and determination. But what about our four-legged companions?
Can they join us in this gruelling 26.2-mile challenge? Let's delve into the fascinating world of canine athleticism.
Physical Capabilities of Different Dog Breeds
Different breeds have varying physical capabilities.
For instance, Greyhounds are built for speed but not necessarily for long distances. On the other hand, breeds like the Border Collie or Labrador Retriever have more stamina.
The Importance of Training and Preparation
Just like humans, dogs need proper training before attempting a marathon. This includes building their stamina, understanding their pace, and ensuring they're in top physical condition.
Risks and Benefits of Marathon Running for Dogs
Running can be a fantastic exercise for dogs, promoting cardiovascular health and muscle strength. However, there are risks involved, such as joint issues or heat exhaustion.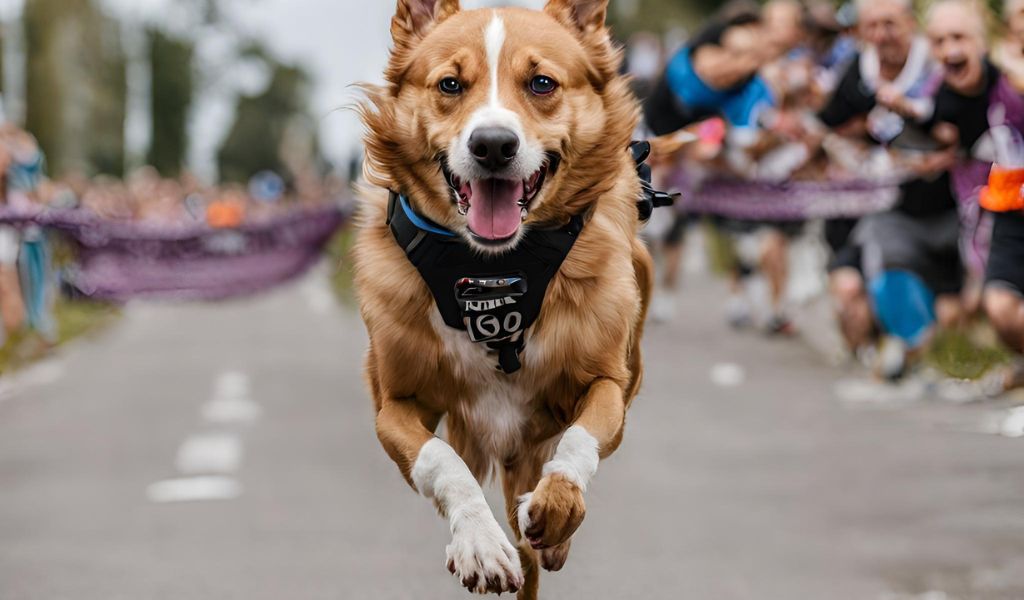 Understanding a Dog's Physiology
To truly grasp if a dog can run a marathon, we need to understand their physiology.
The Canine Cardiovascular System
Dogs have a robust cardiovascular system, but it's essential to ensure their heart is in good condition before any strenuous activity.
Muscle Composition and Endurance
A dog's muscle composition plays a crucial role in their endurance capabilities. Regular exercise can help improve this endurance over time.
Hydration and Nutrition Needs
Dogs need ample water and the right nutrition, especially when training for or running a marathon.
Selecting the Right Breed for Long Distances
If you're considering training your dog for a marathon, breed selection is crucial.
Breeds Built for Stamina
Breeds such as the Siberian Husky or Alaskan Malamute are known for their endurance, making them more suitable for long distances.
Breeds to Avoid for Marathon Running
Short-nosed breeds like Pugs or Bulldogs might struggle with long distances due to their respiratory systems.
Training Your Dog for a Marathon
Training is a journey, and it's essential to be patient and consistent.
Starting Slow and Building Endurance
Begin with short distances and gradually increase as your dog builds stamina.
Recognising Signs of Fatigue
Always monitor your dog for signs of tiredness or discomfort. If they show any, it's time to rest.
Proper Gear and Equipment
Ensure your dog has the right gear, including a comfortable harness and protective paw wear.
Safety Precautions and Considerations
Safety should always be a priority.
Weather and Climate Factors
Avoid running in extreme temperatures. Early morning or late evening runs are best during hot days.
Rest and Recovery
After a long run, ensure your dog gets ample rest and recovery time.
Veterinary Check-ups and Health Monitoring
Regular vet check-ups are essential to ensure your dog remains in top health.
FAQs
What's the longest distance a dog has ever run?
Some dogs have been known to run ultra-marathons, covering distances over 50 miles.
How do I know if my dog is fit for a marathon?
A thorough vet check-up and understanding your dog's breed and capabilities are essential.
Are there marathons specifically for dogs?
While most marathons are for humans, there are dog-friendly races and events worldwide.
How often should I train my dog for a marathon?
Start with 3-4 times a week, ensuring you give them rest days in between.
What should I feed my dog when training for a marathon?
A balanced diet with high protein content is essential. Consult your vet for specific recommendations.
Can older dogs participate in marathons?
Age plays a role in a dog's capability. While older dogs might have the spirit, their physical capabilities might be limited.
Conclusion: To Run or Not to Run?
While the idea of running a marathon with your furry friend is enticing, it's essential to understand the risks and benefits.
With proper training, care, and understanding, some dogs can indeed tackle the marathon challenge. However, always prioritise your dog's health and well-being above all.