Dogs are intelligent and curious animals and looking out of the window satisfies their curiosity and their natural canine instincts of looking out for prey and potential threats – such as the postman.
The 7 Reasons Why Dogs Can't Resist the Window View
We've all seen it: a dog perched by the window, gazing intently at the world outside.
Whether it's a bustling city street or a quiet suburban neighbourhood, our furry friends seem to be endlessly fascinated by what's happening beyond the glass.
But why do dogs love looking out of the window? Let's embark on a journey to understand this endearing behaviour.
Why do dogs love looking out of the window?
The Canine's Natural Instincts
Dogs, by nature, are curious creatures. Their ancestors, wolves, were always on the lookout for potential prey or threats.
This instinctual behaviour has been passed down through generations, making window-watching a natural pastime for our domesticated pals.
The World Outside: A Visual Treat
For dogs, the outside world is like a constantly changing movie. People walking by, cars zooming past, birds flying – it's a visual smorgasbord that keeps them entertained and engaged.
Monitoring Their Territory
Dogs are territorial animals. By watching from the window, they're essentially keeping an eye on their domain, ensuring no intruders step foot on their turf.
Curiosity: A Dog's Best Friend
Just as humans are drawn to the latest gossip or news, dogs are curious about the happenings in their environment.
The window provides a perfect vantage point for them to satisfy this innate curiosity.
The Sounds and Scents of the Outside World
While we might think dogs are only visually stimulated, their acute sense of hearing and smell also play a role.
The sounds and scents wafting in through an open window can be just as intriguing as the sights.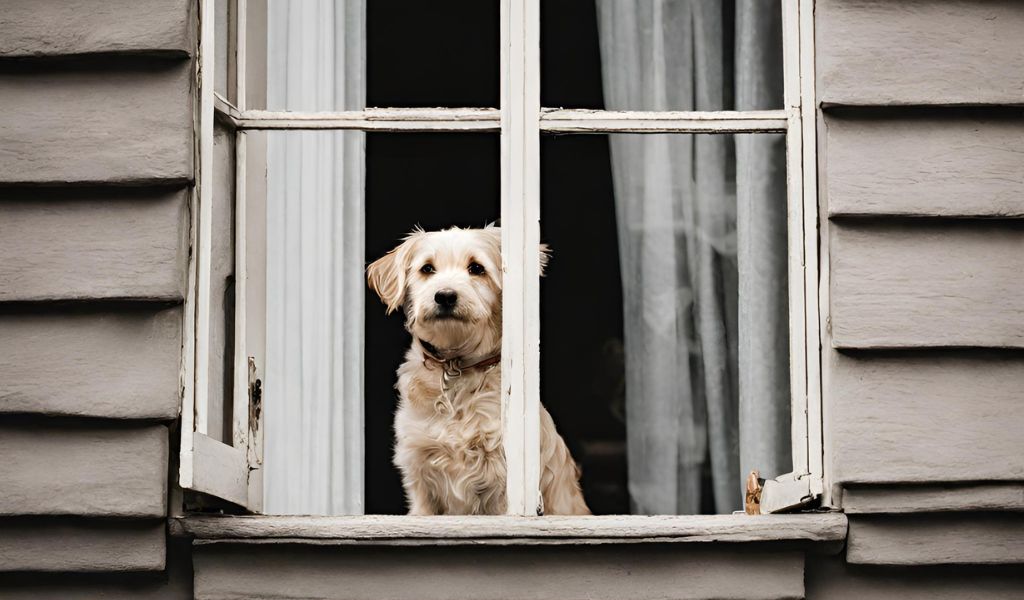 The Science Behind It
Dogs' Visual Perception
Dogs perceive the world differently than we do. Their eyes are designed to detect motion, making the moving scenes outside especially captivating.
The Role of Dopamine
When dogs spot something interesting outside, their brain releases dopamine, a feel-good chemical.
This positive reinforcement encourages them to keep watching.
Sensory Stimulation and Mental Health
Just like humans, dogs need mental stimulation. Observing the world outside provides them with this necessary engagement, keeping their minds sharp and active.
Benefits of Window Watching for Dogs
Mental Stimulation
As mentioned earlier, the act of watching provides dogs with much-needed mental engagement, warding off feelings of boredom.
Reducing Anxiety and Boredom
For dogs left alone at home, the window becomes a source of entertainment, helping alleviate feelings of loneliness or anxiety.
Strengthening the Bond with Owners
When owners take the time to engage with their dogs, pointing out sights or sounds from the window, it can strengthen the bond between them.
Potential Concerns and Solutions
Overstimulation and Stress
While window-watching can be beneficial, too much stimulation can lead to stress. It's essential to monitor your dog and ensure they have quiet times too.
Safety Concerns
Ensure that windows are secure and that dogs can't accidentally fall out or get stuck.
Addressing Obsessive Behaviours
If your dog becomes overly fixated on the window, it might be time to introduce new toys or activities to divert their attention.
Should I stop my dog from looking out of the window?
Whether or not you should stop your dog from looking out of the window depends on several factors:
Behavioural Concerns: If your dog becomes overly agitated, barks excessively, or displays signs of stress or aggression when looking out of the window, it might be a good idea to limit or manage this behaviour.
This can prevent your dog from becoming overly stressed or developing negative associations with things they see outside.
Safety Concerns: Ensure the window or area is safe. If the window is open, make sure there's no risk of your dog jumping out or getting stuck.
If it's a low window, ensure that the dog isn't pushing or leaning too hard against it, which could break the glass or damage the frame.
Neighbourhood Disturbances: If your dog's behaviour while looking out of the window is causing disturbances to neighbours (e.g., excessive barking at people walking by), it might be courteous to manage the behaviour.
Stimulation and Enrichment: On the positive side, looking out of the window can provide mental stimulation for dogs. It can be a way for them to observe their environment, which can be especially beneficial for indoor dogs or those who don't get out as often.
Obsessive Behaviour: If your dog spends an excessive amount of time at the window and seems to be developing an obsession, it might be worth redirecting their attention to other activities. Obsessive behaviours can sometimes indicate that a dog is bored or anxious.
Privacy: If you're concerned about privacy, you might not want your dog drawing attention to a particular window, especially if it's at the front of your house.
If you decide you'd like to manage or limit your dog's window-watching:
Provide Alternatives: Offer toys, puzzles, or other forms of enrichment to keep your dog entertained.
Training: Use positive reinforcement to reward your dog for staying away from the window or for being calm when they do look out.
Manage the Environment: Use curtains, blinds, or window films to limit visibility if needed. You can also rearrange furniture so it's not as easy for your dog to reach the window.
Is it stimulating for dogs to look out of the window?
Certainly! For many dogs, looking out of the window can be quite stimulating. Here's why:
Visual Stimulation: Dogs are naturally curious animals. Watching the world go by – whether it's people walking, cars passing, birds flying, or other animals moving about – can provide them with a lot of visual stimulation.
Mental Engagement: Trying to understand and interpret the various activities and movements outside can be mentally engaging for dogs. They might be trying to figure out what a person is doing, or they might be tracking the movement of a squirrel or a bird.
Territorial Instincts: For some dogs, looking out of the window is a way of monitoring their territory. They want to know who or what is approaching their home, and they might bark or become agitated if they see something they perceive as a threat.
Social Connection: Dogs are social animals. Seeing other dogs or people can be a way for them to feel connected to the outside world, even if they're not directly interacting with it.
Routine and Anticipation: If a dog has a routine where they often see their owner coming home at a certain time, or they get excited when the post arrives, they might look out of the window in anticipation of these events.
However, it's worth noting that while many dogs enjoy looking out of the window, it can also be a source of stress for some, especially if they become overly territorial or anxious about things they see outside.
If a dog seems to be getting overly agitated or stressed when looking out of the window, it might be worth considering ways to limit their access or distract them with other activities.
FAQs
Why do some dogs bark at people or animals they see outside?
This is often a territorial response or a reaction to something they perceive as a threat.
Is it okay to let my dog watch the window for hours?
Moderation is key. While it's okay for dogs to enjoy the view, ensure they also have other forms of stimulation and rest.
Can window-watching replace walks or playtime?
No, while it's a form of mental stimulation, physical exercise and direct interaction are crucial for a dog's well-being.
How can I make the window-watching experience better for my dog?
Consider placing a comfortable perch or bed by the window and occasionally opening it to let in fresh air and sounds.
Are certain breeds more inclined to watch out the window?
While all dogs can enjoy the view, breeds with a strong prey drive or guarding instincts might be more inclined to window-watch.
Should I be concerned if my dog shows no interest in the window?
Every dog is unique. As long as they're getting stimulation and engagement in other ways, there's no cause for concern.