Clumber Spaniels are much loved for their calm demeanour, gentle temperament, and of course, their beautiful, silky coats. However, keeping that coat lush doesn't happen without effort. This guide provides comprehensive tips on how to groom a Clumber Spaniel to keep them both looking great and feeling comfortable.
Understanding Clumber Spaniel Coats
Characteristic of the Clumber Spaniel breed, this canine has a dense, straight coat.
Though their fur is weather-resistant, it requires regular maintenance to prevent matting and other potential skin issues.
Before you start grooming your Clumber Spaniel, it's essential to understand what their coats need for optimal health and appearance.
Brushing Your Clumber Spaniel
A Clumber Spaniel's coat needs weekly brushing to detangle knots and remove any loose fur or dirt.
Use a slicker brush designed for long coats to do the job right. Always start from the head and work your way down, following the direction of hair growth.
This will keep your dog's fur looking its best and help prevent the matting that can lead to skin issues.
Professional Dog Grooming Kit
PREMIUM DOG GROOMING CLIPPERS FOR THICK COATS – Professional Dog Clipper perfect for pet owners with thick-coated dogs. It works with its double-sided stainless steel blades and low vibration design to provide a safe and pressure free grooming experience, and these dog clippers professional for thick hair come with a complete puppy grooming kit!
Bathing Your Clumber Spaniel
Naturally, as active dogs, Clumber Spaniels may get messy from time to time. However, bathing them too frequently can strip their coats of natural oils, leading to dry skin.
As a rule of thumb, bathe your Clumber Spaniel every 6-8 weeks, unless they're exceptionally dirty. Use a gentle dog shampoo to protect their sensitive skin and rinse thoroughly to avoid soap residue.
Taking Care of Clumber Spaniel Ears
Clumber Spaniels have adorable long ears that unfortunately, can easily trap dirt, moisture, and debris, making them prone to infections.
Regularly check your dog's ears for redness, swelling or an unpleasant odour. If you observe any of these symptoms, consult your vet immediately.
For prevention, clean the outer area of your dog's ears weekly using a vet-approved dog ear cleaning solution.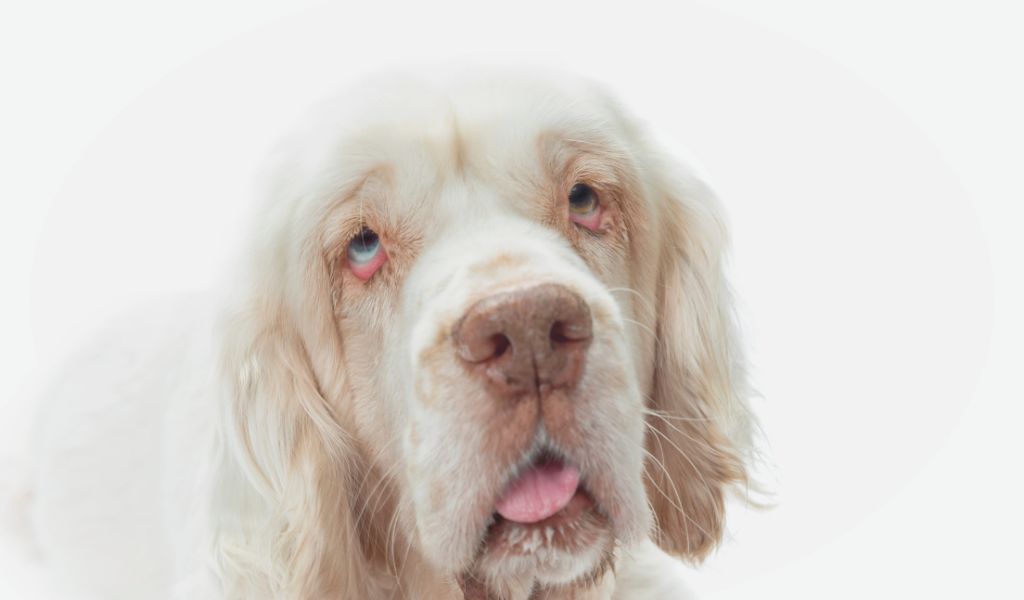 Clipping Your Clumber Spaniel's Nails
Keeping your Clumber Spaniel's nails trimmed is essential for their comfort and overall health. Long nails can tear or split, causing pain and potentially leading to infections.
Get a comfortable nail clipper or grinder meant for dogs and trim your pet's nails every 3-4 weeks.
If the thought of cutting your dog's nails makes you nervous, your local groomer or vet's office can provide professional help.
Dental Care for a Clumber Spaniel
As with any dog, dental care is crucial for the overall health of your Clumber Spaniel.
Regular brushing can significantly reduce the risk of periodontal disease.
Use a dog-safe toothpaste and start with short, gentle brushing sessions, gradually increasing time as your dog gets comfortable with the process.
Regular Professional Grooming
While at-home grooming is essential for a Clumber Spaniel's everyday maintenance, regular visits to a professional groomer are also recommended.
They can provide deep-cleaning baths, haircuts, and other services that might be too tricky to tackle at home.
To Sum Up
In the end, the effort you put into grooming your Clumber Spaniel will not only keep them looking their best but can significantly contribute to their overall health.
Regular grooming routines also provide an excellent opportunity for bonding.
With patience, care, and the right tools, you'll have a well-groomed and happy Clumber Spaniel to share your life with.
Last update on 2023-09-23 / Affiliate links / Images from Amazon Product Advertising API