Every pet-owner understands that exercise is an essential part of the care regime for our four-legged friends. Particularly, if you are the proud parent of a Cavalier King Charles Spaniel, you would know that these adorable pets are brimming with energy that needs to be channelled appropriately.
The Benefits of Regular Exercise for your Cavalier King Charles Spaniel
This breed is well known for its effortless charm, striking coat, expressive eyes and a propensity to gain weight if not managed well.
Therefore, the role of regular exercise cannot be understated for these dogs.
Improved Physical Health
Regular exercise helps maintain optimal weight, keeping obesity and the plethora of associated health problems at bay.
Along with balanced nutrition, it supports heart health, joint health, and overall energy levels.
Enhanced Mental Well-being
Being naturally agile and inquisitive, regular workouts can offer the much-needed mental stimulation for this breed.
Mental boredom or inactivity can lead to destructive behaviours such as excessive barking or chewing.
Deepened Bond
Moreover, an exercise routine can deepen your bond with your Cavalier King Charles Spaniel as these activities entail quality time spent together.
How to Incorporate Exercise in your Spaniel's Routine
Incorporating an exercise routine can be both fun and beneficial.
Here are six effective exercises for your little companion.
Regular Walks: Ideal for maintaining overall health.
Playing Fetch: An excellent way to stimulate both their physical and mental faculties.
Dog Sports: Agility and Flyball are great for their competitive spirit.
Mental Stimulation Games: Puzzles and hide & seek provide good mental workouts.
Dog Park Visits: They can socialize while enjoying various play structures.
Swimming: It's a low impact exercise that's good for their joints and enormously fun.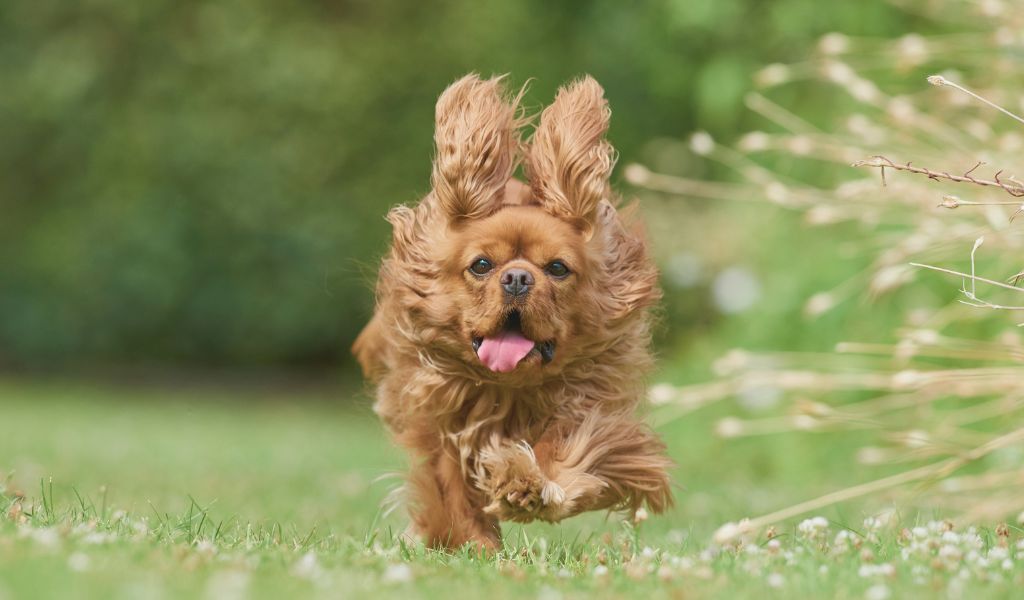 Tips to Ensure a Safe Exercise Routine
While we understand the importance of exercise, it is equally crucial to keep it safe and fun-filled.
Here are some tips to ensure that:
Start Slow: Especially with puppies.
Stay Hydrated: Ensure clean water is always available during exercise.
Beware of Extreme Temperatures: Too cold or too hot weather can be harmful.
Regular Vet Checks: Regular checks can ensure your Spaniel is fit enough for the exercises.
FAQs
How much exercise does a Cavalier King Charles Spaniel need daily?
Ideally, an adult Cavalier King Charles Spaniel should get at least an hour of exercise each day.
Can exercise help in addressing behavioural issues in Spaniels?
Yes, physical activity helps channel their energy positively, thereby reducing unfavourable behaviours.
What if my Cavalier King Charles Spaniel does not get enough exercise?
Insufficient exercise can lead to obesity, and lethargy, and also increase the likelihood of behavioural problems.
Are there any specific exercises for Cavalier King Charles Spaniels?
While there are no specific exercises for this breed, activities like walks, fetch, swimming and agility trials are particularly beneficial.
Can too much exercise harm my Cavalier King Charles Spaniel?
Yes, over-exertion can be harmful, especially in puppies. It's important to design an age-appropriate and breed-specific exercise routine.
Final Words
Regular exercise plays a vital role in maintaining a well-trained, healthy and happy Cavalier King Charles Spaniel.
It is not only essential for their physical health but their overall well-being.
Therefore, it is crucial to incorporate a balanced exercise routine for these vivacious pets for a long and satisfying life.