Training a Cavalier King Charles Spaniel can be a rewarding experience, given the breed's affable nature, intelligence, and eagerness to please their owners.
However, like all dog breeds, successful training hinges upon consistency and patience from the trainer.
This post delves into the importance of these virtues in training your Cavalier King Charles Spaniel, offering insight into how to practically employ them for results.
Understanding the Cavalier King Charles Spaniel
Before we delve into the specificities of training tactics, it's essential to understand the nature and habits of the Cavalier King Charles Spaniel well.
This breed, widely known for its warm and accommodating disposition, is highly social and affectionate.
Naturally tactile, they are quick learners but can also be a little on the stubborn side, requiring a bit of gentle persistence during training.
The Cornerstone of Every Training: Consistency
In dog training, consistency is king. Changing parameters halfway through the training or giving confusing signals can result in mixed responses from your pet.
Consistent Command Words: Use the same command words each time, so your Cavalier King Charles Spaniel can make a quick association.
If you use "down" one time and "lie" next time to command your dog to lie down, it's likely to lead to confusion.
Consistent Signals: Just like words, signals or gestures also need to be consistent.
If you use a hand signal for a particular command, ensure it remains the same each time.
Consistent Rules: This is pivotal when you are trying to establish what behaviours are acceptable.
If your pet is allowed on the sofa one day and the next day he isn't, it will be tough for him to understand exactly what is expected of him.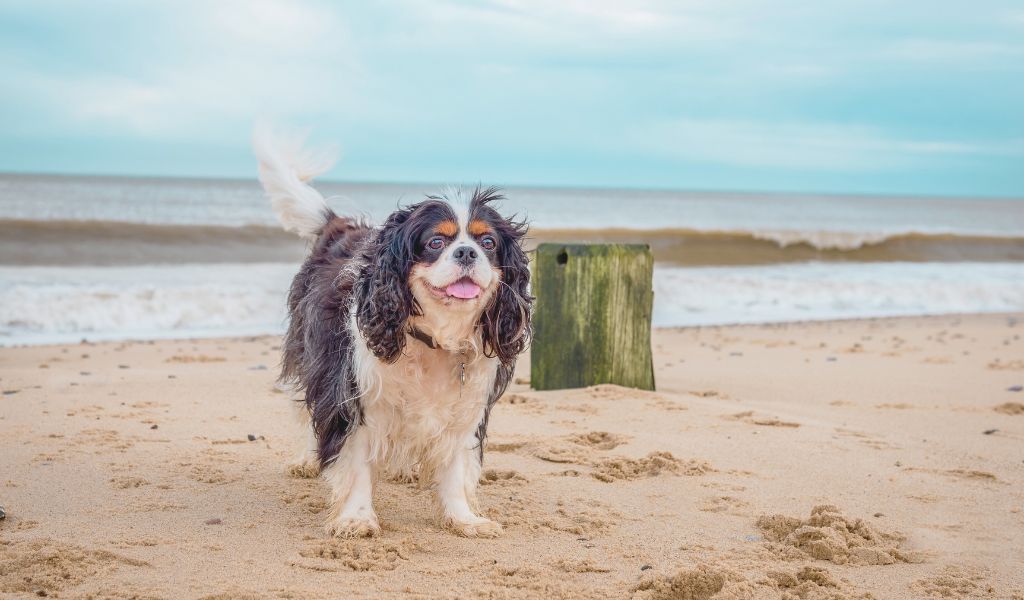 The Power of Patience
Training a Cavalier King Charles Spaniel, like any other dog breed, requires immense patience.
They are inquisitive creatures, and despite their intelligence, they might not get your command correct on the first, second, or even the tenth attempt.
It's crucial to stay calm and patient with your furry friend during this process to foster a positive learning environment.
Patience Through Repetition: Repetition is an integral part of training dogs. Be prepared to repeat commands consistently until your dog understands and reacts accordingly.
Patience With Progress: Every dog learns at a different pace. Some may pick up commands quickly, while others may take a bit longer.
Celebrate each little progress and never compare your pet's learning curve with another.
Patience With Mistakes: Just like humans, dogs make mistakes too. When they do, handle the situation with love, patience, and positivity.
Harsh punishments can hamper their learning process and damage your bond. Instead, gently correct their mistakes and encourage them to do better next time.
Sale
Practical Training Tips
Applying consistency and patience in training your Cavalier King Charles Spaniel isn't as daunting as it may seem.
Here are some practical tips to help you.
Use Rewards: Positive reinforcement, such as treats, praise, or playtime can work wonders in your training journey.
Reward your dog immediately after he performs a command correctly to reinforce the positive behaviour.
Break Training into Sessions: Long hours of continual training can be overwhelming for your Spaniel. Instead, opt for shorter, frequent training sessions.
Include Socialisation: Exposure to various environments, people, and other animals can help in the overall development of your Spaniel. A well-socialised dog is often easier to train.
Involve Family Members: Involving all family members in the training process can help establish and maintain consistency.
It ensures that everyone uses the same commands and reinforces the same rules.
Final thoughts
In conclusion, while training a Cavalier King Charles Spaniel requires effort and commitment, the results are immensely rewarding.
Patience and consistency are key- taking time to understand and apply these might well be the turning point in your dog training endeavours.
Invest wholeheartedly in this process, and you'll succeed in nurturing an obedient, well-behaved, and happy Cavalier King Charles Spaniel.
Remember, above all, the goal is not just manners- it is building a loving, lifelong bond with your cherished furry friend.
Last update on 2023-09-18 / Affiliate links / Images from Amazon Product Advertising API