Just like every other skill required by dogs, obedience is something that can be cultivated and honed over time.
Training your English Springer Spaniel to be more obedient requires patience and a consistent educational approach.
Here is a guide packed with effective methods to teach your spirited Springer Spaniel to be a well-behaved member of the family.
Understanding Your English Springer Spaniel
English Springer Spaniels were initially bred for hunting, and accordingly, they possess a high energy level and an eager-to-please disposition.
These intelligent dogs love company and enjoy being involved in family activities.
By understanding the breed's unique traits, you can tailor your approach for successful obedience training while understanding how to look after your dog.
Start Training Early
The earlier you start training your English Springer Spaniel, the better.
Puppies are like sponges, eager to soak up whatever knowledge you can provide.
They exhibit a natural curiosity and willingness to learn that can be capitalized on during early training sessions.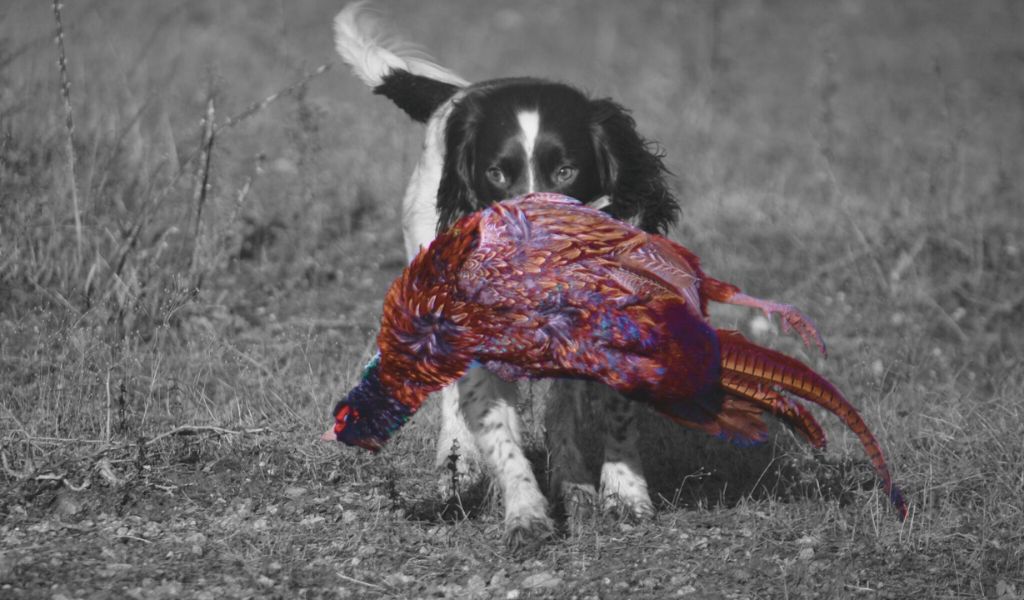 Create a Reward-Based System
Positive reinforcement is key to effective obedience training.
Whenever your Springer Spaniel behaves well or follows a command correctly, shower them with praise, treats, or a toy.
This not only reassures them but also encourages them to repeat the desirable behaviour.
Master Basic Commands
Starting with the basics like "sit", "stay", "come" is a great place to start.
Aim for short but consistent training sessions. Provide easily understandable instructions and then reward when your furry companion follows suit.
Make sure to practice these commands daily until your Springer Spaniel can perfectly follow them.
Experience is a Great Teacher: Social Exposure
English Springer Spaniels are social creatures.
Getting them accustomed to different environments, people, and other dogs can make them well-rounded and more obedient.
Regular walks in the park, visits to dog-friendly establishments, and play dates with other dogs can be beneficial.
Sale
Training Spaniels
Hardcover Book
Joe Irving (Author)
English (Publication Language)
176 Pages – 07/12/1993 (Publication Date) – Quiller Publishing (Publisher)
Sale
Training The Working Spaniel
Hardcover Book
Janet Menzies (Author)
English (Publication Language)
220 Pages – 04/17/2010 (Publication Date) – Quiller Publishing (Publisher)
Consistency is Key
Consistency in your commands and expectations play a critical role in training any dog.
Stick with the same words for each command and use them the same way each time.
Ensure that all household members use the same guidelines to avoid confusing your dog.
Be Patient and Persistent
Patience is a virtue, especially when training a Springer Spaniel.
Their energy and enthusiasm may make the process a bit trying at times.
However, persist with calmness, maintaining a gentle yet firm approach.
Exercise Matters
For a breed like the English Springer Spaniel known for its energy, regular exercise is a must.
A dog with pent-up energy is less likely to obey commands. Ensuring your dog gets enough physical activity can help them focus better during training sessions.
Professional Help is Always an Option
If you're struggling to train your Springer Spaniel, consider seeking the help of a professional dog trainer.
They can provide a structured environment that might help your dog learn quicker.
Harmonious Living with Your Spaniel
An obedient dog is a joy to live with. Better obedience not only improves your pet's safety but also enhances the bond you share.
Remember, every dog learns at its own pace, so don't rush the process.
Rather, enjoy the journey of educating and getting to know your English Springer Spaniel.
Final thoughts
In conclusion, training an English Springer Spaniel requires a substantial time commitment, persistence, and consistency.
However, the result is worth the effort – a loving, well-adjusted, and obedient canine companion.
So, put on your training shoes and get ready to embark on this exciting training journey with your Springer Spaniel.
You will not only have an obedient dog, but a cherished bond created through shared experiences, patience, and tacit understanding.
Last update on 2023-09-11 / Affiliate links / Images from Amazon Product Advertising API