Blue Roan Cocker spaniels are known for their striking and beautiful coat colours, which make them stand out among other breeds. But do these gorgeous dogs' coats get darker as they age? 
In this blog post, we'll explore the factors that influence the colour of Blue Roan Cocker Spaniels and discuss tips to help maintain their unique and stunning appearance.
Blue Roan Cocker spaniels can get darker as they age, but not all of them will. The changes in their coat colour can be influenced by factors such as the natural ageing process, grooming practices, and health conditions.
The Genetics of Blue Roan Cocker Spaniels
Before diving into the changes in coat colour, it's essential to understand the genetics behind the Blue Roan Cocker spaniel. 
The term "roan" refers to the even intermingling of white hairs with the base coat colour, giving the dog a speckled or mottled appearance. 
In the case of Blue Roan Cocker spaniels, their base colour is black, and they have white hairs mixed in, resulting in a bluish-grey appearance.
The gene responsible for the roan pattern is dominant, meaning that the dog's parents must have the roan gene for the puppy to display the roan coat. 
However, a variety of other genes can influence the coat colour, potentially causing it to change as the dog matures.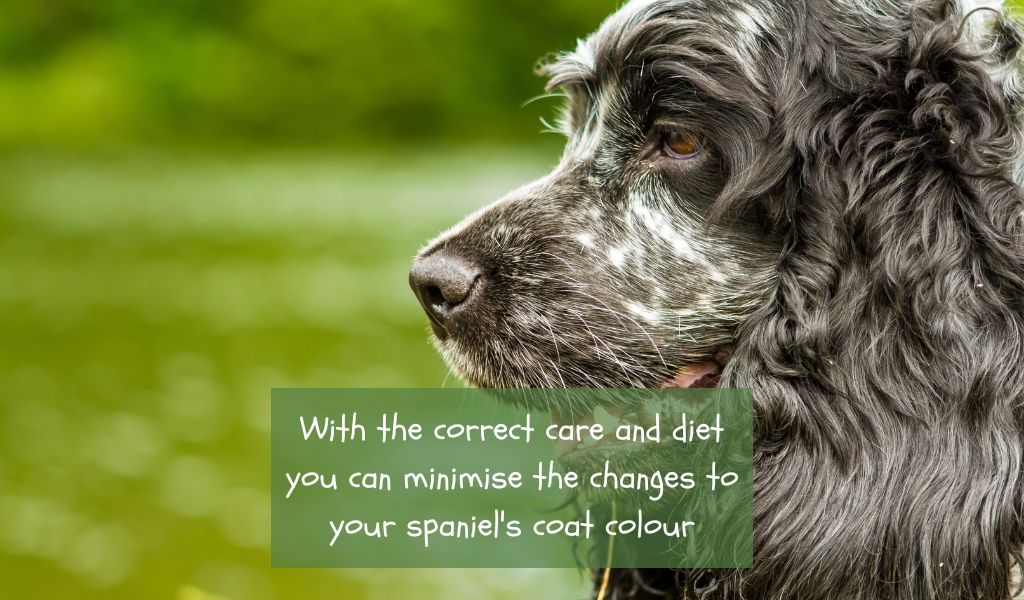 Do Blue Roan Cocker Spaniels Get Darker?
The short answer is yes, Blue Roan Cocker spaniels can get darker as they age, but not all of them will. 
Several factors can influence the changes in their coat colour, including:
Natural Ageing Process: Just like humans, dogs' coats can change as they age. 
The proportion of white hairs to black hairs may change, resulting in a darker or lighter appearance. 
Generally, the coat colour change in Blue Roan Cocker spaniels is gradual and may not be immediately noticeable.
Grooming: Clipping or trimming a Blue Roan Cocker spaniel's coat can affect the overall appearance of their colour. 
When the hair is cut, it may grow back darker or with a different texture, giving the impression that the dog's coat is getting darker.
Health Factors: Certain health conditions or nutritional deficiencies can also affect a dog's coat colour. 
If you notice a sudden or significant change in your Blue Roan Cocker spaniel's coat, consult your veterinarian to rule out any underlying health issues.
Maintaining Your Blue Roan Cocker Spaniel's Coat
To ensure that your Blue Roan Cocker spaniel's coat remains healthy and vibrant, follow these simple tips:
Regular Grooming: Brush your dog's coat at least once a week to remove loose hairs and prevent matting. 
This will help maintain the even distribution of white and black hairs, preserving the unique roan pattern.
Proper Nutrition: Provide your dog with a balanced and high-quality diet to support coat health. 
Look for food containing omega-3 and omega-6 fatty acids, which promote a healthy and shiny coat.
Avoid Over-Clipping: While regular grooming is essential, avoid excessive clipping or trimming, as this may cause the coat to grow back differently.
Conclusion and final thoughts
Blue Roan Cocker Spaniels can experience changes in their coat colour as they age, which might result in a darker appearance. 
Understanding the factors that influence these changes and following proper grooming and nutritional practices will help maintain your pet's beautiful and unique coat. 
If you're ever concerned about a sudden or significant change in your Blue Roan Cocker spaniel's coat, don't hesitate to consult your veterinarian to ensure your dog's health and well-being.
Remember, every Blue Roan Cocker spaniel is unique, and their coat may change differently over time. 
Embrace these changes as part of your pet's natural ageing process and continue to cherish the special bond you share with your dog.