Cocker Spaniels are known for their elegance, intelligence, and friendly nature, making them excellent companions for both working and family life. 
With the right techniques and guidance, these versatile dogs can be transformed into skilled and reliable gundogs.
Gundog training for Cocker spaniels involves a combination of obedience training, retrieving skills, and exposure to various hunting scenarios. 
Understanding the Working Cocker Spaniel Breed
Meet the Working Cocker Spaniel: a bundle of energy with a zeal for life that's simply infectious.
Each one is a whirlwind of intelligence and dedication, originally crafted for the thrill of the hunt and the satisfaction of retrieval. But what happens when this canine's spirited nature meets family life? Let's delve into that.
These dogs aren't just smart; they're eager to impress and a delight to train, morphing seamlessly from dutiful workers to affectionate companions.
Their stamina is legendary, their agility unmatched. Have you ever wondered what makes them excel at everything from gundog work, trials, scurries and day to day activities?
One can't help but be captivated by their insatiable drive for action. They're the ideal match for those with a zest for the outdoors and a penchant for adventure.
Imagine a four-legged friend who's always ready for the next hike, the next puzzle, the next play – that's the Working Cocker Spaniel.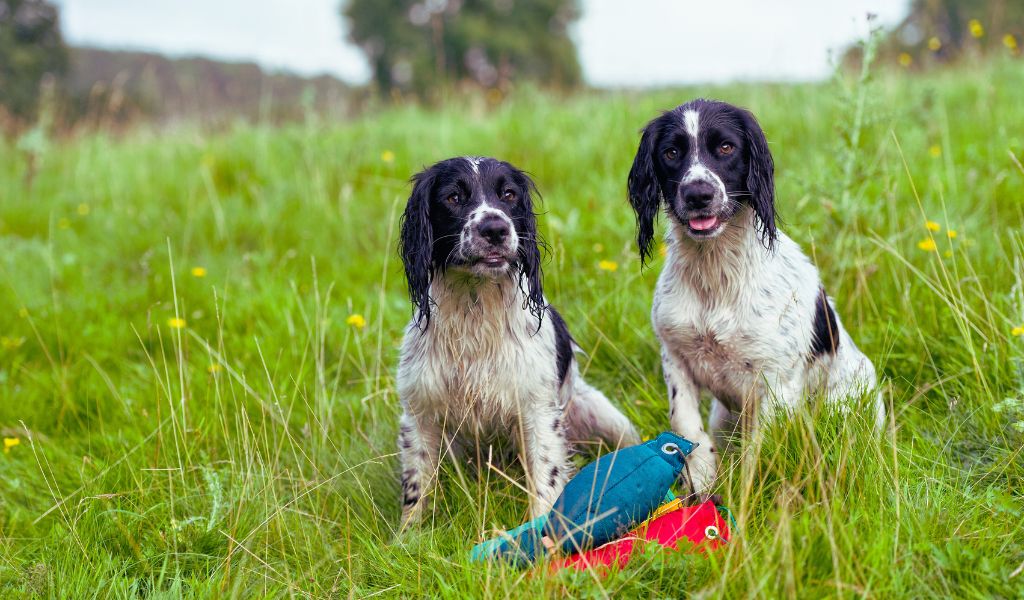 The question now is, how does one unlock the full potential of such a vibrant creature?
How do we transform their boundless vigour into a harmonious part of the household? The answer lies ahead, woven into the very fabric of their training and your mutual journey.
Step forward if you're ready for a life less ordinary, alongside a companion who is anything but.
The Working Cocker Spaniel doesn't just join your family; they invigorate it, challenging you to embrace every day with the same ardour and fervour they bring to every task.
But what does it truly take to be the human companion of such a spirited animal? Stick around as we uncover the secrets to not just coexisting, but thriving alongside your Working Cocker Spaniel.
Importance of Gundog Training for Cocker Spaniels
Gundog training—it's not just an activity, it's a vital chapter in the life of every Cocker spaniel.
Cocker spaniels, with their rich lineage as hunters, are imbued with a deep-seated desire to perform and please. But what is the key to harnessing this raw, natural talent?
The answer lies in the subtle art of gundog training. This is not merely teaching; it is awakening the instincts that course through their veins.
Gundog training isn't about control—it's about partnership. It transforms instinct into artistry, energy into finesse.
Through this training, a Cocker spaniel isn't just obeying; they're learning to work harmoniously in the field, mastering the delicate handling of game with a finesse that can only be described as poetry in motion.
It lays a foundation of obedience that stands strong in the rustle of the underbrush and the silence of the dawn.
But it's the invisible thread of trust and communication that truly binds a Cocker spaniel to their owner.
Gundog training for Cocker spaniels elevates the connection to a level of unspoken understanding, a dance of silent cues and mutual respect.
Imagine the thrill for these canines as they engage both body and mind, tapping into the very activities that bring them joy and purpose. It's a remedy to the restlessness that can plague a spirited breed—a channel for their boundless zest and drive.
And for those who may never set foot in a field for a day's beating, gundog training still offers something invaluable: a sense of fulfillment, a task, a purpose.
Whether retrieving game or a simple tennis ball, the satisfaction is unmistakable in their eyes.
Yet, how does one embark on this journey of gundog training? And what transformations await both the Cocker Spaniel and their owner through such an endeavour?
Those secrets and successes are stories yet to be told, pathways waiting to be explored alongside your four-legged companion.
Join us as we delve deeper into this fascinating world. Discover how to nurture your Cocker Spaniel's instincts and develop a partnership that goes beyond the everyday walk in the park.
Stay tuned, for this is just the beginning of a remarkable voyage with your spirited friend.
Basic Commands and Obedience Training for Cocker spaniels
Mastering the basics is not just training for a Cocker Spaniel—it's the opening of a door to a world of understanding between you and your dog. With their bright minds and eagerness to please, Cocker Spaniels are prime pupils in the school of obedience. But where do you start?
Becoming the pack leader is essential. It's a role not asserted through dominance, but through the virtues of positive reinforcement, steadfast consistency, and endless patience.
Imagine yourself not just as a trainer, but as a trusted guide in this journey.
Begin with the bedrock of all training: commands like 'sit', 'stay', 'come', and 'heel'. They're the ABCs of dog training, yet they set the stage for a lifetime of clear, concise communication.
But remember, in the classroom of canine learning, consistency is the golden rule. Cocker Spaniels, intelligent as they are, can be baffled by mixed messages.
Now, enter the world of positive reinforcement. Treats, praise, and affection are not just rewards—they're affirmations, the language of love and approval that Cocker Spaniels crave and understand.
Beyond behaviour, there's a deeper value to obedience training. It's the gateway to mental stimulation, a safeguard against the emergence of unwanted behaviours.
These sessions are more than drills; they're the joyous enterprise of learning, the shared moments that fortify the bond between you and your Cocker Spaniel.
And so, one may wonder, how does one tread the path of training with grace and efficacy? What are the secrets to transforming an eager Cocker spaniel into a model of canine manners?
Stay tuned, for we shall reveal the tools and tales of training success.
We'll explore how to channel your Cocker spaniel's intelligence into obedience and craft sessions that are as enjoyable as they are educational.
How to train a Cocker spaniel to retrieve
Training a Cocker spaniel to retrieve can be both a fun and rewarding experience.
To start, you'll want to use positive reinforcement techniques, such as treats or praise, to encourage your dog to retrieve.
Begin by introducing your Cocker spaniel to a retrieving toy, such as a tennis ball or a retrieving dummy. Start by throwing the toy a short distance and encouraging your dog to bring it back to you using verbal commands and gestures.
Once your dog has successfully retrieved the toy, reward them with treats and praise. Gradually increase the distance of the retrieves and continue to praise and reward your dog for successful retrieves.
It's important to keep training sessions short and fun to maintain your dog's interest and enthusiasm.
As your Cocker spaniel becomes more confident and proficient at retrieving, you can introduce more advanced training techniques, such as teaching your dog to retrieve from water or from dense cover.
Always be patient and consistent with your training and be sure to make the training experience a positive and enjoyable one for your dog.
With patience, consistency, and positive reinforcement, your Cocker spaniel can become a skilled retriever, ready for a day of fun and adventure in the field. 
How to train a Cocker spaniel gundog to quarter
Training a Cocker spaniel gundog to quarter, or to search the ground in a back-and-forth pattern to locate game, requires patience and consistency.
Start by building a strong foundation in basic obedience training, ensuring that your dog is responsive to commands like "sit," "stay," and "come."
Once your dog has mastered these commands, begin introducing the concept of quartering by taking your spaniel to an area where there are clumps of rushes or bracken and encouraging your dog to cover the area in front of you in a systematic manner.
Get him to explore each clump before moving onto the next. Use the command 'Get on' as an instruction and walk with him to each clump of cover, telling him to 'get in' to explore.
Always hunt him into the wind in the early days so that the scent blows into his face – this will also make it easier for you to help him to develop a classic 'quartering pattern' as he moves to and fro exploring the clumps of cover.
Use positive reinforcement, such as treats and praise, to reward your dog for staying within range and working effectively.
Gradually work with the wind and change direction as they become more confident and proficient in quartering, so that the wind blows from behind, from the sides and, as he grows in ability, you'll begin to see him alter his style to accommodate the different wind directions.
Consistency is key in training a gundog, so be sure to practice quartering regularly and in a variety of environments to ensure that your dog is prepared for real hunting situations.
While training, it's important to remain patient and understanding, as every dog progresses at their own pace. 
Building Steadiness and Focus in Gundogs
Building steadiness and focus in gundogs is essential for their success in the field. Steadiness refers to a dog's ability to remain still and calm in the presence of distractions, such as the sights, sounds, and scents of the working environment.
A steady gundog is better able to assist its handler in the field, as it will remain focused on the task at hand and not be easily swayed by outside stimuli.
Training for steadiness involves exposing the dog to various distractions and teaching it to remain composed and attentive despite them.
This can be achieved through repetition, consistency, and positive reinforcement.
Focus, on the other hand, refers to the dog's ability to concentrate on a given task and ignore other distractions. A focused gundog will be better able to follow commands and work effectively in the field.
Building focus in gundogs involves engaging them in activities that encourage concentration, such as retrieving drills and obedience training. It also requires the handler to provide clear and consistent cues so that the dog can understand and respond appropriately.
Both steadiness and focus are important qualities for gundogs to possess, as they directly impact their ability to perform well in hunting and retrieving tasks. 
Water Training for Cocker Spaniel Gundogs
Water training is an essential aspect of gundog training for Cocker Spaniels, as they are often used for retrieving game from water.
It is important to introduce water training gradually and in a positive way to ensure that the dog feels comfortable and confident in the water.
Training can start with simple activities such as playing in shallow water or retrieving toys from the water's edge.
As the dog becomes more confident, training can progress to include swimming in deeper water and retrieving dummies or game birds from the water.
It is important to build a strong foundation of obedience and trust before introducing water training, as this will help the dog to respond to commands and feel secure in the water.
Positive reinforcement and rewards should be used to encourage the dog to engage with the water and retrieve items.
It's important to be patient and not to rush the training process, as every dog will progress at their own pace.
It's also essential to consider the safety of the dog at all times, ensuring that the water is free from hazards and that the dog is supervised during training.
With patience, consistency, and positive reinforcement, Cocker Spaniels can become confident and skilled gundogs in the water, making them valuable assets for hunting and retrieving game from water environments. 
Working Cocker Spaniel Gundog Training FAQ
1. What is gundog training and why is it important for working Cocker spaniels?
Gundog training is the process of teaching your working Cocker spaniel to retrieve game when out in the field. It is crucial for working gundogs to be trained as it is a vital part of their role in hunting and aiding hunters with their skills.
2. How should I start gundog training for my working Cocker spaniel puppy?
When you have a new puppy, it's essential to start gundog training early. Begin with basic obedience commands such as recall, sit, and heel. It's important to start this training at a young age to instill good behaviour early on.
3. What are some important commands to teach to a working Cocker spaniel for gundog training?
Commands such as recall, give, and sit are crucial for Cocker spaniel training. It's important for a spaniel owner to prioritize the right training and ensure that their spaniel is responsive to these commands during training sessions.
4. How can I ensure that my working Cocker spaniel responds well during gundog training?
Consistency and patience are key. It's important to provide lots of praise and engage in group training to enhance your puppy's responsiveness and obedience to commands.
5. What are some tips for successful gundog training with a working Cocker spaniel?
When conducting training sessions, ensure that the puppy is still and attentive. Additionally, spaniels need a significant amount of time training on various commands to ensure a successful outcome.