The Italian Spinone is a well built gundog with powerful muscles and limbs that make it suitable for almost any type of country when working. 
As a breed, the Italian Spinone is an excellent family dog and a great companion for those that have the time and energy to provide him with good levels of exercise and training. As a gundog the Spinone is great for agility, dog sports, hunting and all other high energy dog activities. They also love camping and exploring the great outdoors.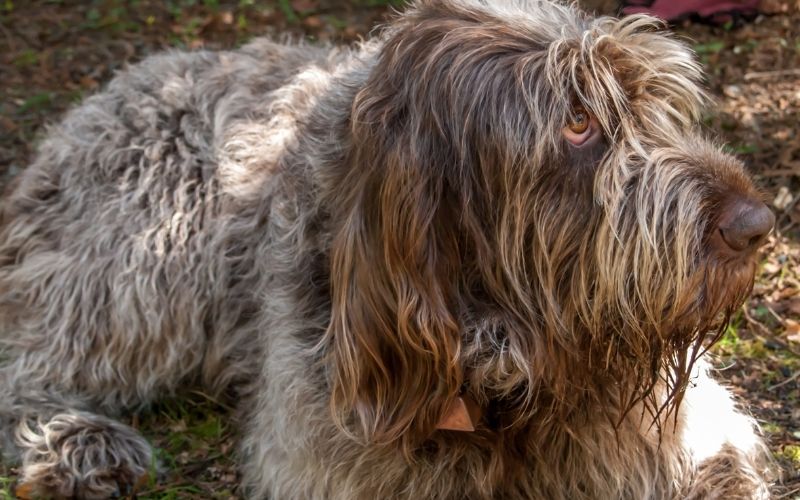 History of the Italian Spinone
The Italian Spinone originated in the Bresse district of France and eventually spread to Piedmont in Northern Italy.
The Spinone is a cross of a variety of dogs that include the French Griffon and the Barbet ( a large, strong and woolly looking French dog ).
For many years the Spinone was the most important hunting dog in Italy and during the second world war it was used to hunt and track enemies as well as carrying food and other supplies.
Italian Spinone temperament
The Italian Spinone is no different from the more well known gundog breeds, in that he is a high energy, intelligent and well balanced breed.
This dog gets along well with people and other family pets and enjoys the company of his humans.
As a gundog he has masses of energy and enjoys getting outside, exploring and finding scents that he can follow and chase down, satisfying his desire to track and find things.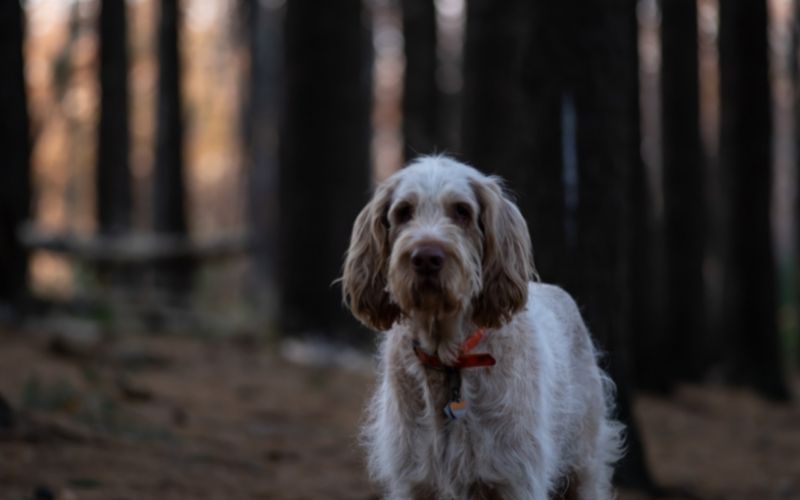 Like all high energy breeds he can get frustrated if his desire to exercise and learn are not being fulfilled and this can be expressed in destructive or attention seeking behaviours – but this is common in all dog breeds that need regular exercise and training input.
The Spinone makes a great family dog and companion for anyone that enjoys walking and outdoor activities.
What do Italian Spinones do?
The Italian Spinone was originally bred as a shooting and hunting dog in the course of finding and hunting waterfowl, such as ducks and geese.
Spinones are powerful and capable swimmers which lends them perfectly to this type of work.
Nowadays the breed is a rare sight in shooting and hunting environments but this is not due to any deficits or loss of ability and has more to do with the more popular spaniel and retriever breeds.
The Spinone is more often a pet dog and can be seen sometimes in agility and other competitions.
In the past the Spinone has also been used as a tracking dog and to carry goods during wartime periods.
Do Italian Spinones smell?
There is no escaping the fact that all dogs smell, some more than others. Spinones are no exception and, if you get one of the breed, then be ready for that doggy smell.
As a lover of the outdoors, a Spinone will get wet, muddy and will no doubt find the smelly, rolling stuff that he will roll in to get all over his coat.
The best way to describe the Spinone is that he suffers from 'shaggy dog syndrome' meaning that his coat will get full of mud, leaves, grass, poo and goodness knows what else.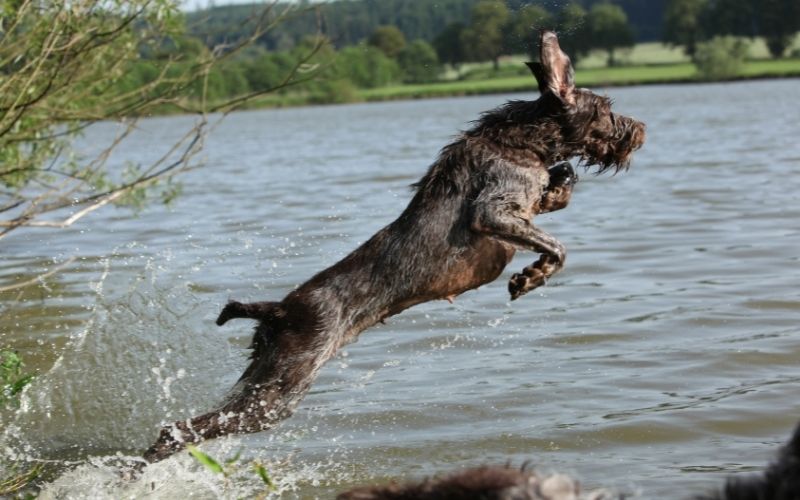 Be ready for the smell of wet gundog, in the car, house, kennel and for clothes and dog bedding that have that undeniable dog odour.
Do Italian Spinones shed?
Italian Spinones have lots of hair which has to go somewhere when it expires. Spinones do shed although this is often not as prolific as other breeds.
The hair of a Spinone is quite wiry, similiar to that of a terrier so levels of shedding are less than those of other gundog breeds that have softer coats.
That said the Spinone has lots of hair, including a beard, and lots of hair typically means a fair amount of shedding.
With regular grooming however, you should be able to reduce the levels of shedding which will help to keep your home and car in better condition.
No products found.
Final Words
The Spinone is an intelligent dog with a fun character and a great love of the outdoors.
A likeable dog the Italian Spinone makes a great pet as he loves family life and is great with children.
For the house proud, however, his tendency to get wet and muddy might be off putting.
Read Next
Last update on 2023-12-07 / Affiliate links / Images from Amazon Product Advertising API