Who hasn't seen that classic image of a dog walker being dragged down the street by their over-excited Springer Spaniel?
If you're on the receiving end of this canine enthusiasm, it can be frustrating, tiring, and downright dangerous.
So, why do Springer Spaniels pull on the lead? This question has puzzled many dog owners, and today we're going to unravel this mystery.
Why Do Springer Spaniels Pull on the Lead?
Well, let's cut to the chase. There isn't a one-size-fits-all answer to this.
It often boils down to a combination of their breed traits, lack of proper training, and some individual quirks. Let's dive in, shall we?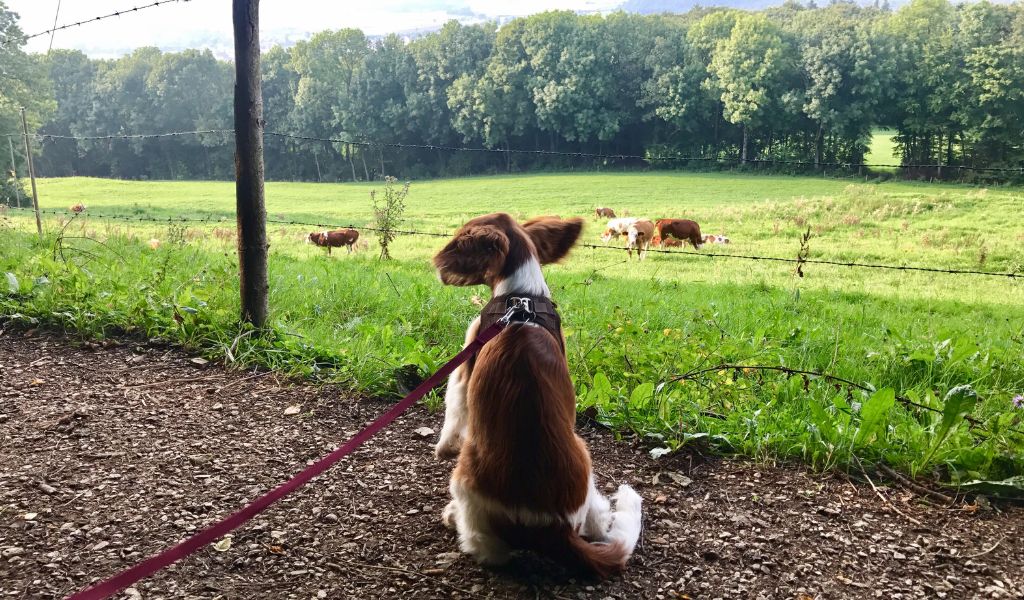 Born to Be Wild, Born to Be Free
Springer Spaniels are a sporting breed, known for their high energy levels, keen sense of smell, and strong prey drive.
They were bred for flushing and retrieving game, meaning they have an innate desire to explore their environment.
When you throw a lead into the mix, it can feel like a party pooper for their instinctual party.
The Lack of Lead Training
Ironically, our love for these springy pups can lead to a lack of proper lead training.
We may allow them to pull on the lead, thinking it's cute when they're small, and by the time they've grown into strong, athletic dogs, the habit is firmly rooted.
---
The Consequences of Pulling on the Lead
Safety at Stake
A Springer Spaniel pulling on the lead is more than just a hassle; it's a potential danger.
They could pull you into traffic, or into a confrontation with another dog. Not to mention, the physical strain it puts on both you and the dog.
Straining Your Bond
Lead pulling can also cause strain on your relationship with your Springer Spaniel. It's hard to enjoy a walk when you're constantly battling for control.
---
Solutions to Stop Springer Spaniels from Pulling on the Lead
Don't throw in the towel just yet! There are several strategies to address this issue, and with patience, consistency, and the right approach, you can teach your Springer Spaniel to walk nicely on a lead.
Professional Training
Consider hiring a professional dog trainer. They have the expertise to correct this behaviour and can guide you in maintaining the training at home.
Positive Reinforcement
Reward your Springer Spaniel for good behaviour. Treats, praise, or a quick game can work wonders. Remember, patience is the name of the game.
Proper Equipment
Use the right equipment like a front-clip harness or head halter. These can give you more control and discourage pulling.
---
FAQs: Springer Spaniels and Lead Pulling
1. Are all Springer Spaniels prone to pulling on the lead?
Not all, but many are. It's tied to their breed traits and upbringing. However, with proper training, this behaviour can be corrected.
2. Can I train an older Springer Spaniel not to pull on the lead?
Absolutely! It might take a bit longer, but the old saying, "you can't teach an old dog new tricks" is just a myth.
3. What if my Springer Spaniel pulls even after training?
Remember, consistency is key. Keep up with the training, and consider getting a professional's opinion if you're stuck.
4. Is it harmful for Springer Spaniels to pull on the lead?
Yes, excessive pulling can lead to physical strain and potential injuries for both the dog and the owner.
5. What type of lead is best for Springer Spaniels?
Front-clip harnesses or head halters can discourage pulling and provide you with more control during walks.
6. Why does my Springer Spaniel pull towards other dogs or people?
This could be due to social excitement or lack of socialisation. Training and positive reinforcement can help manage this behaviour.
---
Conclusion and final thoughts
So, there we have it, a comprehensive look at why Springer Spaniels pull on the lead.
While their energetic, explorative nature might lead to a bit of a tug-of-war on walks, remember, it's not a life sentence.
With consistent training, patience, and the right equipment, you can help your Springer Spaniel become a well-behaved walking partner.
After all, walks are meant to be enjoyed, not endured. So, go on, grab that lead, and get ready to explore the world at a pace that suits you both!