Springer Spaniels are renowned for their joyful and lively nature, making them one of the most beloved dog breeds.
Originally bred as bird-hunting dogs, these lovable companions have become cherished family pets due to their loyalty and exuberance.
In this comprehensive guide, we will explore the lifespan of Springer Spaniels, provide tips for their care, discuss common health issues, and compare the popularity of English Springer Spaniels and Welsh Springer Spaniels.
How Long Do Springer Spaniels Live?
On average, Springer Spaniels have a lifespan of 10-15 years. However, with proper care, it's possible to extend their life expectancy.
By ensuring your furry friend receives a balanced diet, regular exercise, and routine veterinary check-ups, you can contribute to their overall well-being and help them enjoy a longer and happier life.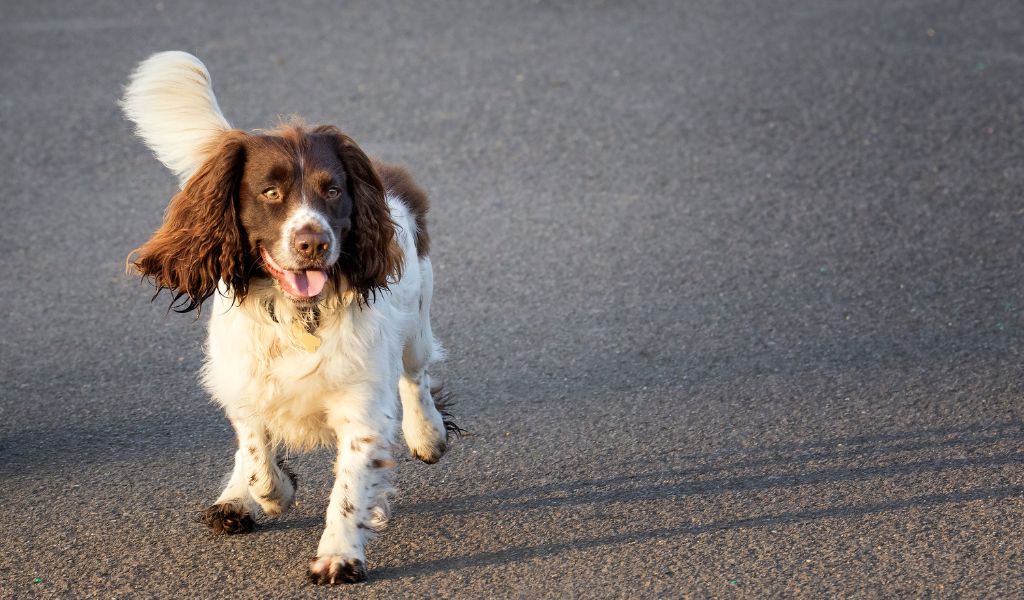 Caring for Your Springer Spaniel
To keep your Springer Spaniel healthy and maintain their beautiful coat, consider the following care tips:
Grooming: The shaggy coat of an English Springer Spaniel requires regular brushing and combing at least once or twice a week.
It's advisable to consult a professional groomer for trimming and maintaining the coat's health every three months. This care routine will help your Spaniel maintain a lustrous and shiny coat.
Exercise: Springer Spaniels are active dogs and need plenty of exercise to stay happy and healthy.
Regular physical activity, such as daily walks, playtime, and mental stimulation, is essential to prevent behavioral issues and maintain their overall well-being.
Nutrition: Providing a balanced and nutritious diet is vital for the longevity and vitality of your Springer Spaniel.
Consult with your veterinarian to determine the best diet plan based on your dog's age, weight, and any specific dietary needs.
Common Health Problems
While Springer Spaniels are generally robust breeds, they can be prone to certain health issues.
Awareness of these conditions can help you identify potential problems and seek appropriate veterinary care.
Here are a few common health problems observed in Springer Spaniels:
Elbow Dysplasia: This condition involves developmental abnormalities in the elbow joint, often leading to cartilage growth issues.
Physiotherapy may alleviate mild cases, but surgery may be required for more severe instances.
Female Springer Spaniels tend to be more susceptible to elbow dysplasia.
Otitis Externa: This condition affects the dog's ear canal, causing chronic inflammation and wax buildup.
Over time, excessive fibrous tissue growth can narrow the ear canal.
Regular ear cleaning and inspections, along with prompt treatment of any signs of infection, can help prevent otitis externa.
Retinal Dysplasia: Retinal dysplasia is characterized by swollen and inflamed eyes, often caused by viral infections.
Fortunately, this disease is non-progressive and can be effectively treated with appropriate veterinary care.
FAQ: Frequently Asked Questions
Q: How often should I groom my Springer Spaniel?
A: It is recommended to brush and comb your Springer Spaniel's coat once or twice a week.
Professional trimming and coat treatments should be done approximately every three months to maintain their coat's health and shine.
Q: Are Welsh Springer Spaniels more popular than English Springer Spaniels?
A: No, English Springer Spaniels are more popular than Welsh Springer Spaniels.
English Springer Spaniels rank as the 15th most popular dog breed, while Welsh Springer Spaniels are ranked 128th.
Q: Are Springer Spaniels good with children?
A: Yes, Springer Spaniels are generally known to be great family dogs and can get along well with children.
However, as with any dog, it is important to supervise interactions between dogs and young children to ensure safety and teach children how to properly interact with dogs.
Q: Do Springer Spaniels require a lot of exercise?
A: Yes, Springer Spaniels are an active breed and require regular exercise to keep them physically and mentally stimulated.
Daily walks, playtime, and engaging activities are important for their overall well-being.
Q: Can Springer Spaniels live in apartments or small homes?
A: While Springer Spaniels have a medium to large size, they can adapt to living in apartments or smaller homes as long as they receive adequate exercise and mental stimulation.
However, access to outdoor spaces for play and exercise is beneficial for their overall happiness.
Q: Are there any specific training needs for Springer Spaniels?
A: Springer Spaniels are intelligent dogs and generally respond well to training.
Consistent and positive reinforcement methods, along with early socialization, are recommended to help them become well-behaved and obedient companions.
Consider enrolling them in obedience classes or working with a professional dog trainer for optimal results.
Conclusion and final thoughts
In conclusion, Springer Spaniels bring joy and enthusiasm to their families. With an average lifespan of 10-15 years, it's important to provide proper care, including regular grooming, exercise, and a nutritious diet.
By being aware of common health issues and promptly addressing any concerns with the help of a veterinarian, you can ensure a happy and healthy life for your Springer Spaniel. Remember, these dogs thrive on love, attention, and an active lifestyle.
By dedicating time to their grooming needs, such as regular brushing and professional coat care, you will not only keep their shaggy coat looking its best but also maintain their overall hygiene.
Additionally, providing them with plenty of exercise, both physical and mental, will keep their energetic spirits fulfilled and prevent boredom or destructive behavior.
When it comes to nutrition, consult with your veterinarian to determine the best diet for your Springer Spaniel.
A balanced and high-quality dog food, appropriate for their age and activity level, will ensure they receive the necessary nutrients for optimal health.
Regular vet check-ups, vaccinations, and preventive treatments for parasites are essential to safeguard your dog's well-being.
Remember that every Springer Spaniel is unique, and individual care needs may vary.
Pay attention to any signs of discomfort, such as limping, excessive scratching, or changes in appetite or behaviour.
Early detection of potential health issues can significantly improve the outcome and quality of life for your beloved pet.