The Cavalier King Charles Spaniel is one of the oldest spaniel breeds and also one of the most popular.
If you are wondering if a Cavalier King Charles is the right dog for you or you just want to know more about these great dogs then these 9 interesting facts will help you along the way.
The average life span for this type of dog is 10-13 years and they are known to be one of the most intelligent breeds of dogs. These dogs can be found in many different colours and patterns, but their most common coat colouration is white with patches or splashes of either black, brown, or tan colouring on its face, ears, paws and tail tip.
Affectionate, playful and friendly
The Cavalier King Charles Spaniel is an affectionate and playful toy breed, one of the most popular spaniel breeds and small dog breeds.
They are calm and gentle and enjoy the company of their owners and other dogs.
They're also very friendly! They are affectionate and playful, but also calm and gentle.
They love to be near their family members at all times.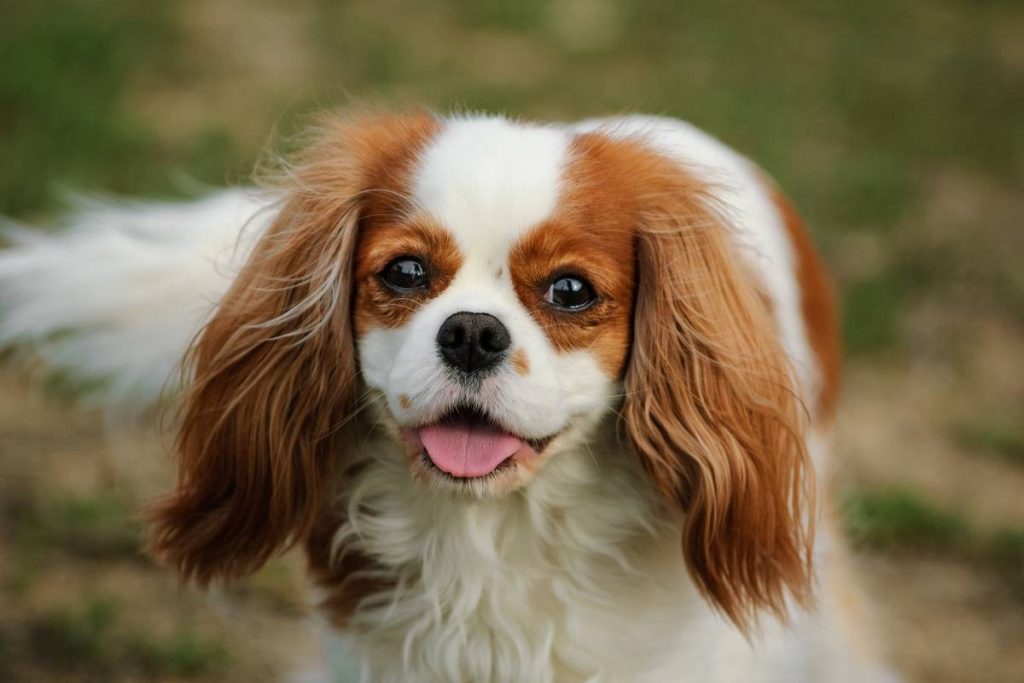 One of the oldest spaniel breeds
The Cavalier King Charles Spaniel was first bred in England during the 1800s to be companions for royals and aristocrats.
They were popular with Queen Victoria, who had a few of them as pets.
The breed became very fashionable among English society at that time because they are such good-natured dogs.
The breed has remained popular and there was even a Cavalier living in the White House with President Ronald Reagan and his wife Nancy.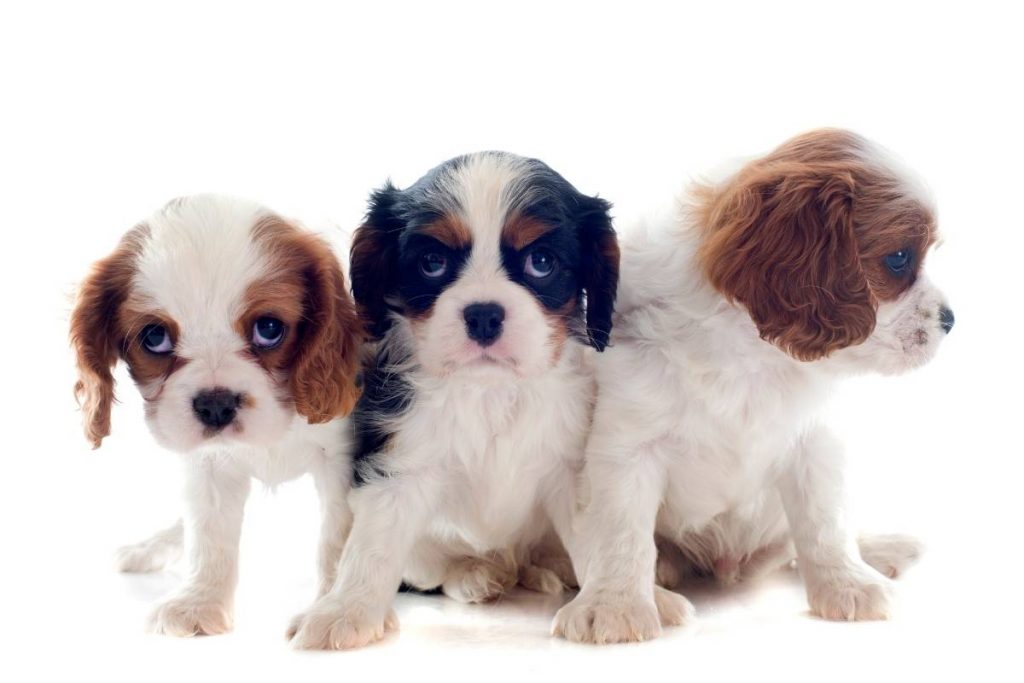 They can experience breathing problems
Their flat face makes them prone to sinusitis and eye problems, so it's important that they are fed a diet low in protein such as this food specially made for the breed.
Many people think that all flat-faced breeds have breathing problems but that's not true!
A Cavalier's nose can be either long or short depending on breeding and genetics.
They need to drink lots of water
They need to drink lots of water as their short snouts make it hard for them to pant properly when overheated; this can lead to heat stroke if left unattended.
The amount of drinking water that your cavalier needs will vary from dog to dog.
Dogs with flat faces, like the Cavalier King Charles spaniel, may need more water than other dogs because they have less room in their mouths for saliva to pass through.
The size of the breed and age also factors into how much a dog drinks.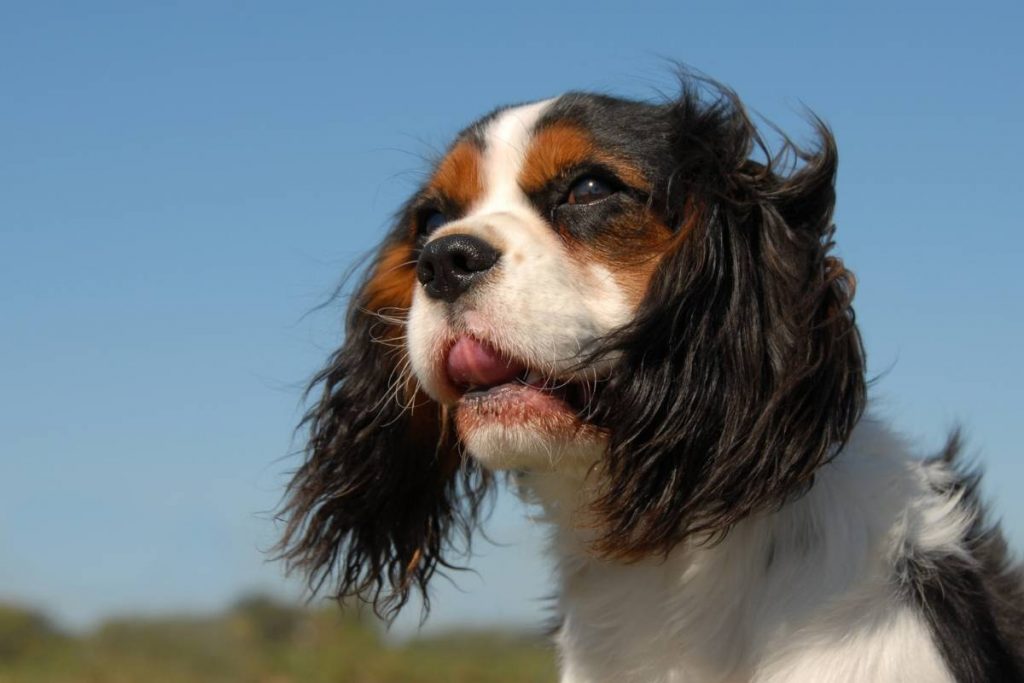 They have long, silky coats
They are known for their long, silky coat and sweet personality! The Cavalier King Charles Spaniel coat is a beautiful thing.
This breed has the ability to come in many different colours, and you can even find mixed coloured coats on the rare occasion.
The best part about this coat is that it sheds very little, so you won't have fur all over your house and clothes like some other breeds do.
The average weight of the dog ranges from 12-18 pounds with males being larger than females on occasion but not always true to size as they can be smaller or bigger depending upon how well fed they are.
The personality of the Cavalier King Charles Spaniel is one that you will love to have in your home and around children, as they tend not be aggressive at all but rather gentle with everyone including other animals'.
They can also live well into their teens which makes them a perfect family dog for those who want something long-term.
They enjoy regular brushing and grooming
Cavalier King Charles Spaniels need regular brushing and grooming to stop their silky coat from becoming matted.
They should be brushed at least twice a week, but more often if they are shedding heavily or have been playing in the dirt outside (or both).
It is also important that you brush your dog's teeth regularly with dog toothpaste to prevent bad breath and tooth decay from developing.
Good exercise is a must for the Cavalier King Charles spaniel
The Cavalier King Charles spaniel needs to be exercised regularly, so it's important to make sure they get their daily exercise in order to keep them healthy and happy.
There are many ways you can provide your dog with the exercise they need, but one of the most popular methods is simply taking him for a walk on the lead, letting him run around freely or taking them for a jog around the block. 
You should also consider playing games like fetch or hide-and-seek with your pet as another way of providing them with some much needed energy release and mental stimulation – these games will help tire out your pup while having fun at the same time.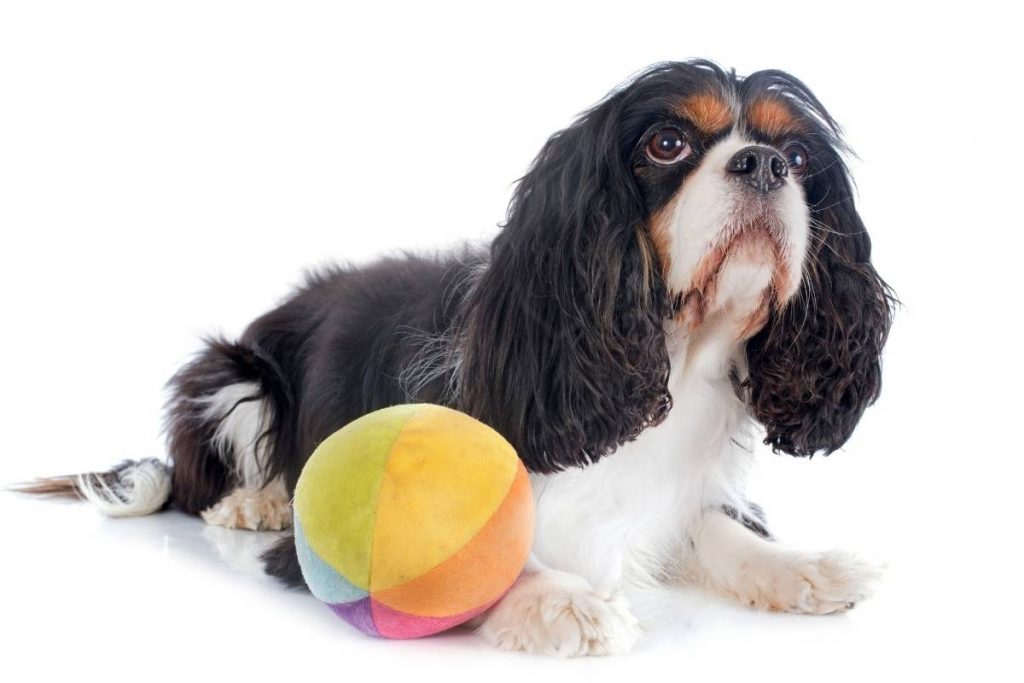 Cavalier King Charles like to be lazy too
Cavaliers also enjoy the creature comforts of life.
You will often find a Cavalier King Charles curled up on the sofa or in front of the fire.
This spaniel breed is very much an indoor, house dog and, although he can live in a kennel, he won't really enjoy the experience.
The breed was used as a 'flea magnet'
In their early days Cavaliers were encouraged by their owners to sleep on the human beds.
Fleas were commonplace with many people being infested and the thinking was that any fleas in the bed would find a dog's coat a much more attractive option than a human.
Thus the Cavalier was also used as a form of 'flea magnet' although it's not really known if this was successful or not!
Final Words
The Cavalier King Charles Spaniel is a small, but sturdy dog. This breed has been around for over 400 years and is loved by many.
With a personality that can be playful or independent depending on the situation, this pup makes it easy to see why they are so popular.
These dogs can be found all over the world and have become popular companions for their owners.
Cavalier King Charles Spaniels are known to be gentle, affectionate, and intelligent animals who love being around people.
Last update on 2023-08-30 / Affiliate links / Images from Amazon Product Advertising API