Cavalier King Charles Spaniels: Unravelling Their Regal Origins
Cavalier King Charles Spaniels have been stealing hearts for centuries.
But what were these charming canines originally bred for? This article delves into the captivating history of this regal breed and reveals the many purposes behind their breeding.
Let's explore the fascinating origins of Cavalier King Charles Spaniels and learn more about these lovable dogs.
The Original Purpose: What were Cavalier King Charles Spaniels originally bred for?
A Royal Companion
From the start, Cavalier King Charles Spaniels were bred to be the ultimate companion dogs.
Their gentle nature, friendly disposition, and silky, wavy coat made them the perfect fit for a life of luxury in royal courts.
Lapdogs for the Aristocracy
Aside from being companions, these dogs served a practical purpose as well: they were used as lap warmers. In drafty homes, having a warm, furry friend to keep you cozy was a welcome luxury.
A Noble Hunter's Friend
Although primarily bred for companionship, Cavalier King Charles Spaniels also had a role in hunting.
Their keen sense of smell made them valuable companions on hunting trips, where they would help flush out game.
A Historical Overview
The Early Beginnings
The history of the Cavalier King Charles Spaniel dates back to the 16th century.
The breed's ancestors were small spaniels that were popular among European nobility.
The Breed's Namesake: King Charles II
It was King Charles II of England who became the most famous patron of the breed.
He adored these dogs, and they were rarely seen far from his side. In fact, they became so closely associated with him that the breed was named in his honour.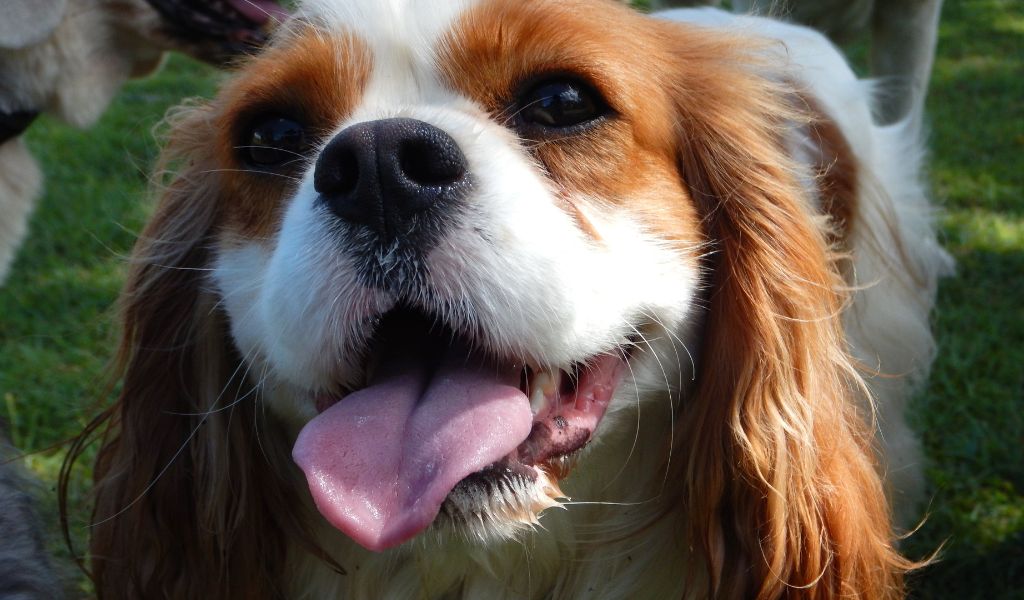 The Breed Standard: Distinguishing Characteristics
Appearance
Cavalier King Charles Spaniels are small, well-proportioned dogs. They have a distinctive, dome-shaped skull, long ears, and large, expressive eyes.
Coat and Colour
Their silky coat comes in four recognized colour combinations: Blenheim (chestnut and white), tricolour (black, white, and tan), ruby (solid red), and black and tan.
Temperament
These dogs are known for their friendly, outgoing nature, and their strong desire to please their owners.
They are affectionate, intelligent, and adaptable, making them great companions for families, singles, and seniors alike.
The Breed Today: Popular Roles and Activities
Therapy Dogs
Cavalier King Charles Spaniels make exceptional therapy dogs due to their gentle nature and love of people.
They are often used in hospitals, nursing homes, and other settings to provide comfort and companionship.
Canine Sports
While they may not be the most athletic breed, Cavaliers excel in canine sports such as agility, obedience, and rally.
Their intelligence and eagerness to please make them quick learners and enthusiastic participants.
Health Concerns and Lifespan
Common Health Issues
Like any breed, Cavalier King Charles Spaniels are prone to certain health issues.
These can include heart problems, eye conditions, and luxating patellas (slipping kneecaps).
Lifespan
With proper care, Cavaliers typically live between 10 to 15 years.
The Perfect Home: What Type of Owner Suits a Cavalier King Charles Spaniel?
A Loving Family
Cavaliers thrive in a loving, attentive home.
They require moderate exercise, regular grooming, and plenty of affection to keep them happy and healthy.
Families with children, singles, and seniors can all provide the ideal environment for these charming dogs.
Apartment Dwellers
Cavalier King Charles Spaniels are well-suited for apartment living. Their small size, adaptability, and moderate exercise needs make them a great choice for city dwellers.
First-Time Dog Owners
Thanks to their friendly disposition and eagerness to please, Cavaliers are an excellent choice for first-time dog owners.
However, it's essential to research the breed thoroughly and be prepared to provide regular grooming and healthcare.
Frequently Asked Questions
What were Cavalier King Charles Spaniels originally bred for?
Cavalier King Charles Spaniels were originally bred for companionship, serving as lapdogs and hunting companions for the aristocracy.
Are Cavalier King Charles Spaniels good family pets?
Yes, their gentle, friendly nature and adaptability make them wonderful family pets for a variety of households.
Do Cavalier King Charles Spaniels require a lot of grooming?
Cavaliers have a silky coat that requires regular brushing to prevent tangles and matting. Occasional bathing and professional grooming are also necessary to keep them looking their best.
Are Cavalier King Charles Spaniels hypoallergenic?
No, Cavaliers are not hypoallergenic, as they do shed their coat. However, their shedding is relatively low compared to some other breeds.
Can Cavalier King Charles Spaniels be left alone for long periods?
Cavaliers are companion dogs and thrive on human interaction. While they can tolerate being alone for short periods, they may suffer from separation anxiety if left alone for extended periods.
What type of exercise do Cavalier King Charles Spaniels need?
Cavaliers require moderate exercise, such as daily walks and playtime. They also enjoy participating in canine sports like agility and obedience.
Conclusion and final thoughts
The Cavalier King Charles Spaniel's origins as a royal companion and hunting partner have shaped the breed into the affectionate, adaptable, and charming dogs we know today.
Their friendly nature and eagerness to please make them a wonderful addition to various households.
If you're considering adding a Cavalier King Charles Spaniel to your family, be prepared for a lifetime of love and companionship from these regal canines.