An English Springer spaniel will shed hair for most of the year with peak shedding periods being in the spring and early summer as shedding increases to rid the dog of his winter coat. Springer spaniels are no different to other dog breeds, all of which shed their hair to some extent.
Anyone that is thinking of getting an English Springer spaniel to live indoors may have concerns about dog hairs and the impact that this could have on the home.
A natural question for the prospective owner would probably be do English Springer spaniels shed a lot?
I've owned English Springer spaniels for over 30 years and have spent a great amount of time with the breed, training, living together and enjoying their company as both pets and working dogs.
I'll tell you what I know about how this breed of dog sheds and what you can do.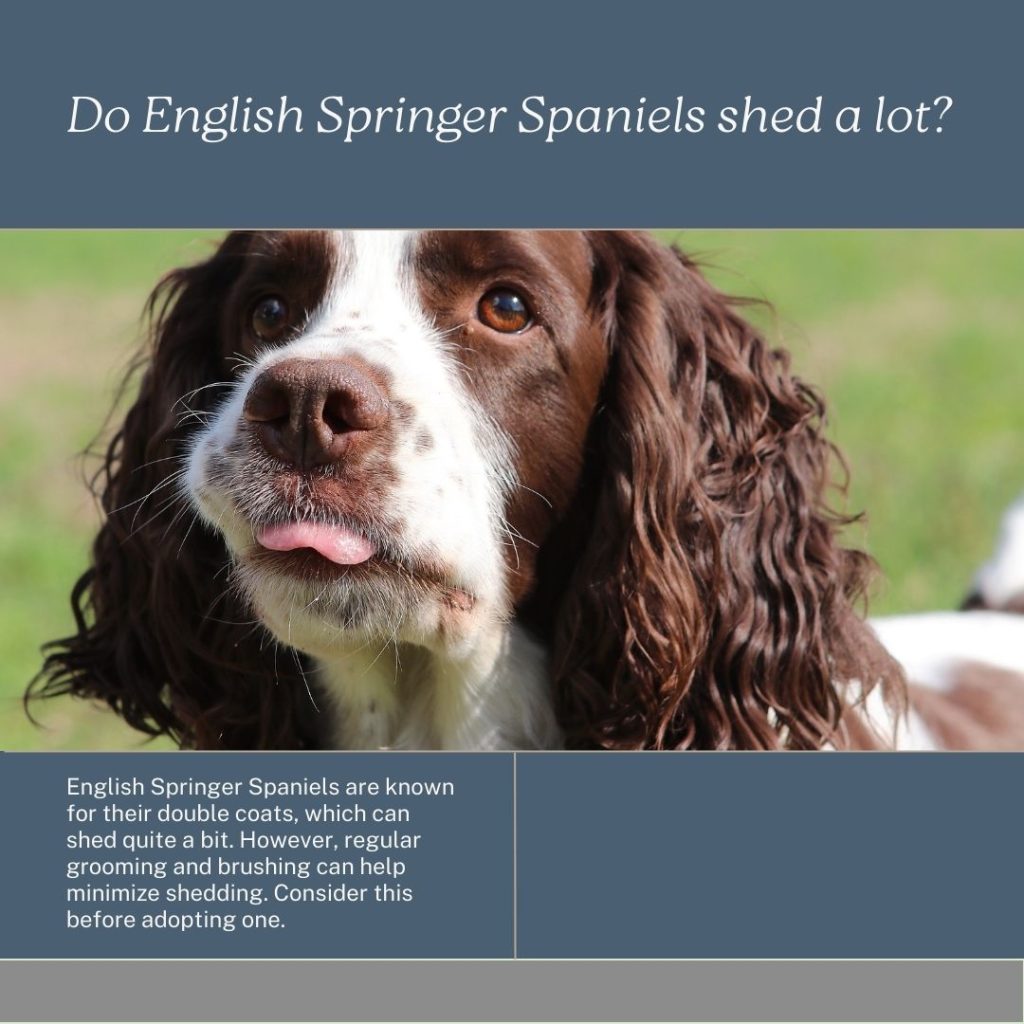 Do English Springer spaniels shed a lot?
The English Springer spaniel does shed his hair and in this respect he is no different from any other dog or spaniel breed.
Springer spaniels will shed at different rates depending upon the environment that they live in and the climate in which they live.
Springers that live indoors are less likely to have thick coats in the winter months than those that live outside and may shed less in the spring as a result.
As a working gundog breed the English Springer spaniel has a 'double coat' – this comprises of a soft, downy type, inner coat that is next to the dog's skin and acts as an efficient insulating layer, keeping the dog warm and dry – and the longer outer coat that we see.
It is this outer coat that sheds as hair dies, gets replaced, pulled and scratched out, and it is this coat that requires grooming.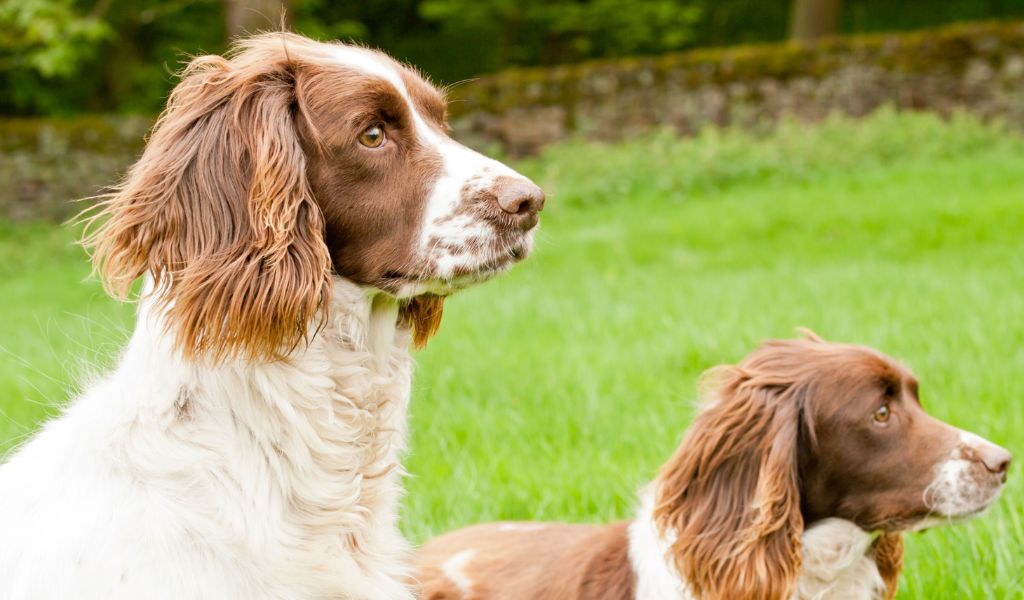 Why do English Springer spaniels shed?
Shedding hair is a normal part of life for an English Springer spaniel. Shedding is simply the loss of hair and is a natural process for many animals.
Old hair is disposed of by shedding and new, fresh hair replaces it as it grows.
English Springer spaniels normally shed their hair when the weather begins to improve and warm up in the spring and early summer.
The thick, warmer coat that was grown to protect him during the colder winter months needs to be disposed of, so he sheds the excess hair.
An English Springer can also shed hair if he is unwell, has a skin condition or is suffering from malnutrition or other external influences such as central heating, air conditioning and other things that affect his living conditions.
Recommended grooming gear
How can I stop my English Springer spaniel from shedding?
You cannot stop your Springer from shedding his hair, it is an impossible task as shedding is a natural process that all breeds of dogs experience. 
Nature cannot be controlled and trying to stop your Springer spaniel from shedding would be an impossible task.
The sensible and manageable option is to embark on a system of grooming which will help to manage the impacts of shedding.
Can grooming help to reduce the amount of shedding from my English Springer spaniel?
Regular grooming of your English Springer spaniel can help to keep him well and reduce the levels of shedding and the mess that can result from this.
Ideally you should try to brush your Springer daily but if this is not possible then a good, weekly brush will help to minimise shedding.
Most Springer spaniels enjoy the attention that grooming brings and, if you have had your spaniel from a puppy and socialised him, then he will be used to being handled and stroked, so you should not have any problems when it comes to grooming.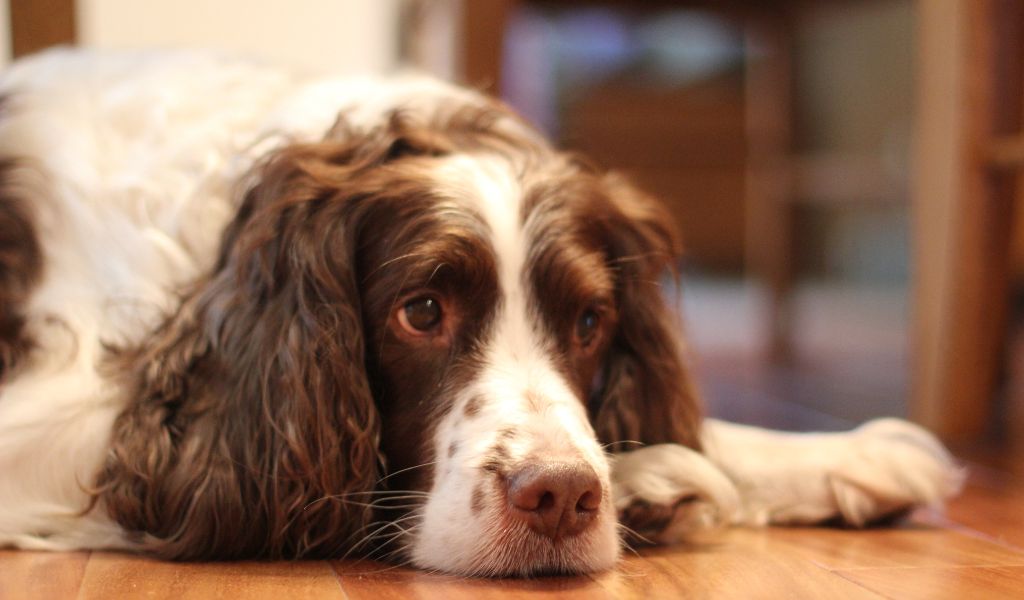 Get yourself a good brush, it will easily remove your spaniel's loose hair while being comfortable for him.
When you are grooming your Springer, make sure that you brush his chest, underside and back thoroughly.
Take the time to check him over while you are doing this to look for any injuries or signs of illnesses (ears should be checked for odd smells).
USEFUL INFORMATION ABOUT ENGLISH SPRINGER SPANIELS SHEDDING
Seasonal Shedding:
English Springer Spaniels typically undergo seasonal shedding, often shedding more during spring and autumn.
Double Coat:
They have a double coat, consisting of a dense undercoat and a longer topcoat, which can result in a noticeable amount of shedding.
Regular Grooming:
Regular grooming is essential to manage the shedding of English Springer Spaniels and to keep their coat in good condition.
Bathing:
Occasional bathing, using a suitable dog shampoo, can help to remove loose hairs and minimise shedding around the home.
Healthy Diet:
A nutritious and well-balanced diet is crucial to maintain a healthy coat and potentially reduce excessive shedding.
Health Check-ups:
Regular veterinary check-ups are vital to ensure that any unusual shedding is not due to underlying health issues, such as allergies or skin conditions.
Indoor Shedding Management:
Employing strategies like using furniture covers and regular vacuuming can help manage the accumulation of shed hair indoors.
Brush Types:
Utilising the correct type of brush, such as a slicker brush or an undercoat rake, can be effective in managing the shedding of an English Springer Spaniel.
Allergies and Sensitivities:
Some people may be allergic to dog hair, dander, and saliva, so managing shedding is also crucial for the comfort of human household members.
Training and Acclimatisation:
Training and acclimatising your Springer Spaniel to regular grooming from a young age will make the process smoother and more enjoyable for both the dog and owner.
Professional Grooming:
Sometimes, professional grooming sessions might be beneficial, especially during peak shedding seasons, to thoroughly remove loose hair and keep the coat tidy.
Skin and Coat Supplements:
Some owners opt to provide their dogs with skin and coat supplements, which may help in maintaining a healthy coat and potentially reducing shedding.
Puppy Coat to Adult Coat Transition:
Be mindful that puppies will go through a coat change, usually between 6 and 12 months of age, which may involve an increase in shedding as the adult coat comes through.
Spaying/Neutering and Shedding:
Sometimes, hormonal changes post-spaying/neutering can influence the coat texture and shedding patterns.
Weather Influence:
The local climate and weather conditions can also influence the shedding patterns of English Springer Spaniels.
Remember that while shedding is entirely normal for English Springer Spaniels, excessive or unusual shedding might indicate a health issue and should be discussed with a veterinarian.
Does age affect how much a Springer spaniel sheds?
Age can be a factor in the levels of shedding that an English Springer spaniel does, puppies shed less than older dogs.
A puppy's coat will not be as developed as the coat of an older Springer spaniel and he will not have the thickness of hair or the excess coat that needs to be shed.
As he grows older and his coat begins to thicken, then hair will be replaced by new hair and he will start to shed.
Will other things affect how much an English Springer spaniel sheds?
Where your spaniel lives and his overall condition will also affect the amount that he sheds. A dog that lives in a healthy and happy environment will be less likely to shed excessively.
English Springer spaniels like routine and if this becomes disrupted or there are changes to the dog's lifestyle then these could cause him the shed more hair and display signs of unhappiness or stress.
FAQs
Do English Springer Spaniels shed a lot?
Yes, English Springer Spaniels are moderate shedders. They shed regularly throughout the year, with increased shedding typically happening in the spring and autumn. Regular brushing can help to reduce the amount of hair around your home.
What can I do to manage my English Springer Spaniel's shedding?
Regular grooming is key to managing shedding. This includes daily brushing to remove loose fur and distribute skin oils, keeping your pet's coat healthy. Regular baths can also help remove excess hair, but make sure to use a dog-appropriate shampoo to avoid drying out their skin.
Can diet affect the amount my English Springer Spaniel sheds?
Absolutely! A balanced diet can significantly affect your dog's overall health, including the condition of its skin and coat. A diet rich in Omega-3 and Omega-6 fatty acids can help to keep your dog's coat shiny and healthy, potentially reducing the amount of shedding.
Why is my English Springer Spaniel shedding more than usual?
Increased shedding can be due to a number of reasons. It could simply be seasonal shedding, which happens in spring and autumn. However, it could also be due to stress, poor diet, allergies, or health issues. If the shedding is excessive or accompanied by other symptoms such as bald spots, changes in
behaviour
, or skin irritation, it's best to consult a veterinarian.
Is it normal for English Springer Spaniels to shed all year round?
Yes, it's normal for English Springer Spaniels to shed all year round, although the amount may vary. They have a double coat that helps protect them from weather and outdoor elements, and this coat sheds regularly. However, the shedding increases during the spring and autumn when they're changing their coats for the new season. Regular grooming can help manage this year-round shedding.
Final Words
English Springer spaniels do shed but this is not overly excessive compared to some other dog breeds.
You can easily reduce the levels of shedding by adopting a regular pattern of grooming and by making sure that your Springer enjoys a stable lifestyle, with good food, exercise and fresh air.
As in all things with your spaniel, if you have any concerns about his shedding or overall health then you should get the professional advice of your vet.
Last update on 2023-11-24 / Affiliate links / Images from Amazon Product Advertising API