Choosing a dog that will bond with your rabbit is crucial if you're looking to expand your pet family.
Not all dogs are suited for a rabbit-inclusive household due to their innate prey drives.
Yet, hope is not lost—certain breeds are celebrated for their rabbit-friendly reputations.
Dog breeds that get on with rabbits
Take the Beagle, for instance, a breed adorned with a friendly and gentle nature, making them ideal rabbit companions. Their easygoing and sociable personality means they're more than capable of welcoming a rabbit into their circle.
Then there's the Basset Hound, the epitome of calm and patience, often showing a remarkable tolerance for other creatures. Their laid-back approach to life makes them less likely to ruffle any bunny feathers.
And let's not overlook the Cavalier King Charles Spaniel—a breed that carries a gentle and amiable disposition towards smaller animals, rabbits included.
Introducing a new dog to your rabbit? It's a delicate process that requires time, patience, and careful supervision. The secret to a harmonious introduction lies in the gradual and controlled first encounters.
But what are the steps to ensure this introduction goes smoothly? How can you create a peaceful coexistence between your hopper and your hound? The journey to a multi-species household is filled with important considerations—stay tuned to learn how to navigate this path with care.
Understanding Dog Breeds That Are Rabbit-Friendly
Selecting a dog that will live in harmony with your rabbit is more than just a choice—it's a necessity.
High prey drive in some dogs could spell trouble for your bunny, but don't despair—rabbit-friendly breeds do exist.
Consider the Bichon Frise: small, fluffy, and brimming with friendliness. Their gentle nature and tolerance make them an excellent rabbit companion.
Then there's the Cavalier King Charles Spaniel, radiating calm and gentleness. Not only are they potential friends for rabbits, but their versatility shines in a family with diverse pets.
And what about the Golden Retriever? Despite their size, they're often gentle giants, known for their amiable disposition towards children and animals alike—even rabbits.
Remember, though, individual temperaments vary. A slow and careful introduction is key to fostering a bond between your new dog and rabbit.
Choosing a breed known for its rabbit-friendly ways is just the first step. But how do you manage their first meeting? And how can you ensure their ongoing friendship remains strong? The answers lie ahead, as we explore the nuances of nurturing a peaceful pet partnership.
The Importance of Introducing Dogs and Rabbits Properly
Introducing dogs to rabbits is a critical process that demands careful management due to their inherent predator-prey dynamics. The stakes are high; the initial encounter could set the tone for their future relationship. It's vital to orchestrate this introduction with precision to safeguard both animals.
Creating a neutral space is paramount. This can be a room where neither animal has laid claim, using baby gates or crates to provide a secure, yet visible, barrier.
Close supervision is non-negotiable. Watch for signs of stress or aggression in their body language—a crucial step in preventing negative interactions.
During those first tentative meetings, keep the dog leashed. This ensures you have control, preventing any instinctual chasing or harmful behaviour.
Employ positive reinforcement: treats and praise work wonders in encouraging peaceful coexistence. As trust builds, you can gradually reduce the distance between them, fostering familiarity.
But let's be clear—not every dog is a match for a rabbit companion, especially those with a strong prey drive. In such cases, seeking advice from an animal behaviourist is wise.
Properly introducing dogs and rabbits can pave the way to a serene shared living space, minimising harm and stress. 
Dog Breeds That Are Known to Get Along With Rabbits
When your pet family includes a rabbit, choosing a dog that embodies a gentle disposition is essential.
Basset Hounds stand out with their serene and easygoing nature, making them excellent rabbit roommates.
Beagles come into the picture with their sociable and amiable traits, coupled with intelligence that aids in harmonious cohabitation training.
The Cavalier King Charles Spaniel is another top contender, with their innate gentleness and affection making them ideal for multi-pet homes.
Not to be overlooked, Cocker Spaniels bring a friendly and placid vibe that rabbits often find agreeable.
Golden Retrievers are famed for their patient and amiable personalities, traits that translate into being great rabbit companions.
Labrador Retrievers share this reputation, known for their friendly nature and ease around other animals, rabbits included.
The Poodle boasts intelligence and a trainable nature, essential for a peaceful bunny partnership.
Lastly, the Staffordshire Bull Terrier may surprise many with their affectionate and tolerant nature, capable of forming strong bonds with rabbit friends.
Each of these breeds has the potential to become a rabbit's ally, but the success lies in careful and patient introduction. 
Lesser-Known Dog Breeds That Can Coexist With Rabbits
If your home is graced by a rabbit and you're pondering a canine addition, certain lesser-known breeds could be the perfect fit.
Bichon Frises are small and affable, typically displaying a gentleness that bodes well for bunny interactions.
The English Toy Spaniel is another gem, with its compact size and amiable disposition towards other animals.
Tibetan Spaniels shine with their intelligence and adaptability, traits that facilitate their training and socialisation with other pets.
Shih Tzus are also renowned for their friendly demeanour, often getting along swimmingly with other household animals.
And then there's the Italian Greyhound, whose tender and loving nature can harmonise beautifully with the presence of a rabbit.
While these breeds are known for their rabbit-friendly tendencies, remember that each dog is unique. Close supervision and a gradual introduction are key to fostering a safe and peaceful rapport between your new dog and rabbit.
Cavaliers: A Rabbit-Friendly Dog Breed
Cavaliers are a top pick for families with rabbits, thanks to their friendly and gentle nature. Their calm and patient temperament means they're less inclined to view rabbits as prey.
These sociable canines blend well with other pets, making them perfect bunny companions.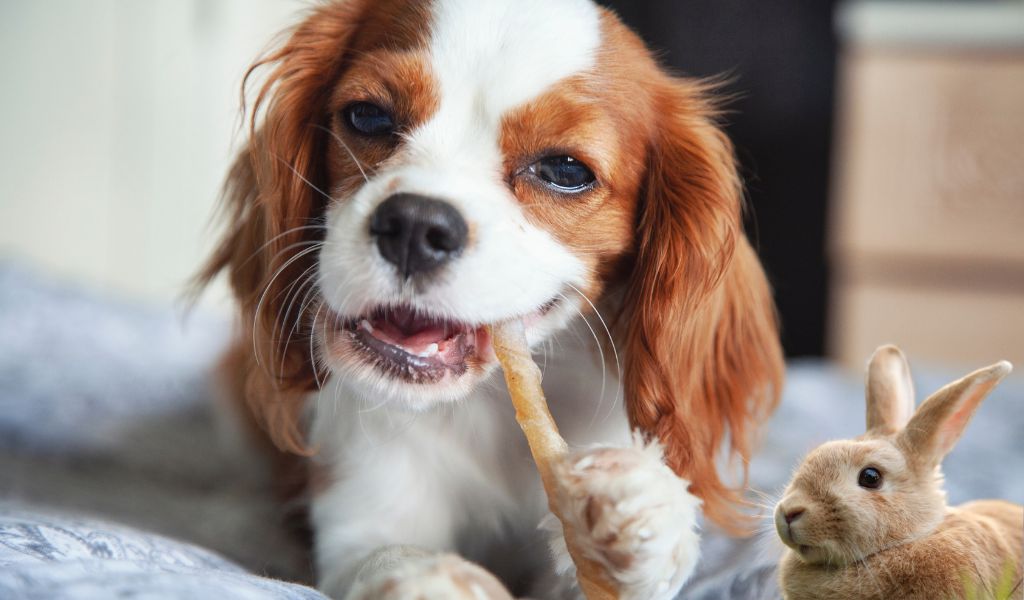 Their playful yet affectionate traits foster strong bonds with rabbits. Plus, Cavaliers are smart and responsive to training, essential for a peaceful coexistence. They're also great with children, adding to their family-friendly appeal.
With moderate exercise needs, Cavaliers are well-suited to indoor living, aligning with a rabbit's lifestyle. But remember, each dog is an individual; careful introductions and supervision are crucial.
In essence, Cavaliers have all the makings of a rabbit-friendly breed, from their sociability to their adaptable activity levels.
Maintaining a Peaceful Coexistence: Training Dogs and Rabbits
Creating harmony between dogs and rabbits hinges on understanding their innate instincts and needs. Dogs, as predators, and rabbits, as prey, require a thoughtful and gradual introduction. Begin with scent-swapping through a barrier like a baby gate, allowing a safe initial familiarity.
Move to supervised, lead interactions, rewarding both animals for calm behaviour to build positive connections. Patience and consistency are key in this delicate adjustment period.
Separate spaces are essential, giving each animal their own safe haven. For rabbits, multiple hideouts and a high perch can offer a sense of security and reduce stress.
Engage both pets with mental stimulation—think puzzle toys and interactive feeders—to channel the dog's prey drive and keep boredom at bay. Constant supervision is crucial; never leave them unattended until their peaceful cohabitation is certain.
By adhering to these steps, a serene and even friendly coexistence between your dog and rabbit is within reach.
Common Mistakes to Avoid When Introducing Dogs to Rabbits
Introducing dogs to rabbits is a nuanced task, and common missteps can lead to friction. A critical error is lack of supervision during their first encounters. It's vital to watch for aggression and step in promptly if needed.
Many owners forget to prep their dogs with basic obedience training before the introduction, which is essential for control in these novel situations.
Rushing the introduction is another pitfall. Gradual acclimatisation, through scent sharing or barrier-sniffing, is crucial for a smooth transition.
Lastly, failing to provide a safe haven for the rabbit is a mistake. A secure retreat is necessary to ensure the rabbit's safety and comfort..
By sidestepping these errors and embracing patience, supervision, and preparation, you can pave the way for a successful dog-rabbit introduction.
FAQs About dog breeds that get along with rabbits
What dog breeds are good with rabbits?
There are several dog breeds that are good with rabbits. Some of these breeds include Cavalier King Charles Spaniel, Golden Retriever, Basset Hound, Labrador Retriever, Japanese Chin, Maltese, Boxer, Shepherd, Labrador, Terrier, Coton de Tulear, Great Pyrenees, and Bernese Mountain Dog.
Do Cavalier King Charles Spaniels get along with rabbits?
Yes, Cavalier King Charles Spaniels are known to be friendly dogs that generally get along well with rabbits. However, it's important to note that each dog is unique and their individual temperament may vary.
Do dogs with low prey drive get along with rabbits?
Dogs with low prey drive, such as Basset Hounds and Labrador Retrievers, are generally more likely to get along with small animals like rabbits. These breeds are less likely to view rabbits as prey and may coexist peacefully with them.
How can I introduce a dog and a rabbit?
When introducing a dog and a rabbit, it's important to do so gradually and under controlled circumstances.
Always keep the dog on a lead during the initial introductions and allow the rabbit to feel safe and secure. Monitor their interactions closely to ensure the safety of both animals.
Are there any dog breeds that should be avoided with rabbits?
While there are dog breeds that are generally known to be good with rabbits, it ultimately depends on the individual dog's temperament.
However, some dog breeds with high prey drive, such as terriers, may not be the best choice for households with rabbits as they may have a higher instinct to chase or harm small animals.
Can a dog and a rabbit become friends?
In some cases, a dog and a rabbit can become friends and form a bond. However, it is important to remember that dogs and rabbits are different species with different needs and behaviours.
This friendship may require careful introductions, training, and supervision to ensure the well-being of both animals.
What should I do if my dog and rabbit do not get along?
If your dog and rabbit do not get along, it is crucial to prioritise the safety of both animals. It may be necessary to keep them separate, providing individual spaces and supervision.
Consult with a professional dog trainer or animal behaviourist for guidance on how to address the specific issues and work towards a positive relationship