If you are the proud owner of a Cavalier King Charles Spaniel puppy, congratulations! This breed is known for its affectionate nature, intelligence, and playful personality. However, like all puppies, they require proper training to become well-behaved adult dogs.
Training a Cavalier King Charles Spaniel puppy requires consistency, patience, and positive reinforcement techniques. In this article, we will discuss some effective tips and strategies to help you train your new furry friend. 

Cavalier King Charles Spaniel puppy training guide: Everything you need to know
Introduction to Cavalier King Charles spaniel training
Cavalier King Charles Spaniels captivate hearts with their endearing charm and affectionate demeanour. But don't be fooled by their cuddly nature; these canine companions crave guidance to blossom into well-mannered pets.
Training must commence early. It's not just about teaching tricks; it's about nurturing good habits and nipping potential behavioural issues in the bud.
Leadership is crucial. These bright-eyed beauties are smart – remarkably so. They'll sense a lapse in leadership faster than they'll chase a ball. It's up to you to set the tone, establish the rules, and maintain them with unwavering consistency.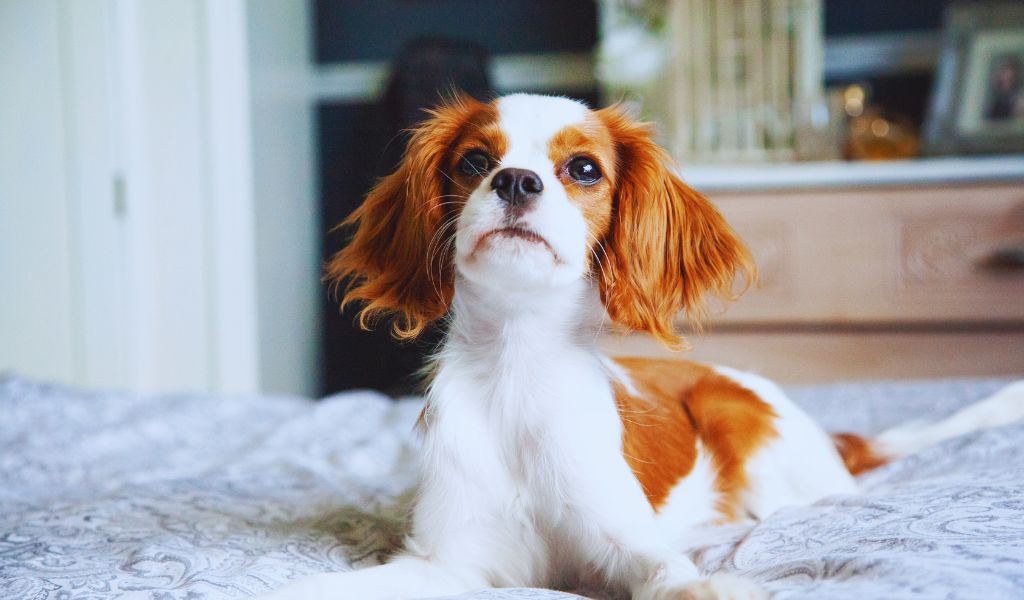 Positive reinforcement isn't just a technique, it's the language of love for these dogs. They don't just want praise; they thrive on it. Treats, a gentle pat, or a cheerful "good dog!" can work wonders in reinforcing their best behaviours.
Keep training sessions short, sweet, and brimming with fun. 
Patience and consistency are your best friends in this journey. Remember, Cavaliers wear their hearts on their sleeves. A harsh word could wound their spirit, but a firm, gentle approach will guide them right.
Stay with us as we delve deeper into the art of turning your Cavalier King Charles Spaniel into the perfect companion. There's a world of discovery waiting for you and your furry friend.
Benefits of training for a Cavalier King Charles spaniel puppy
Training your Cavalier King Charles spaniel puppy isn't just beneficial; it's absolutely vital.
First and foremost, training forges an unbreakable bond between you and your furry companion. It's a dance of trust and understanding, as your puppy learns to heed your calls and you master the language of gentle command. This connection doesn't just enrich your relationship—it's the cornerstone of all future training success.
Mental stimulation is another gem in the crown of training benefits. Cavaliers are bright and sprightly—without a challenge, their minds wander into mischief. Training is the key that unlocks their potential, guiding them through a maze of learning and growth.
It's not just about tricks and obedience; it's about shaping their behaviour. From housebreaking to mastering the leash, training lays the foundation for a well-behaved pet.
Safety—a word that resonates deeply when it comes to your puppy. A well-trained Cavalier is a safe one. The simple commands of "sit," "stay," and "come" are more than just party tricks; they're lifelines that can pull your puppy back from the brink of danger.
And let's not forget socialisation. Training classes are more than learning arenas; they're social hubs. Here, your puppy will learn the art of canine etiquette, how to interact with other dogs and people, and navigate the world with confidence rather than fear or aggression.
Stay with us as we explore the transformative power of training—where every command taught and every lesson learned shapes not just a puppy, but the unshakeable bond between you and your Cavalier King Charles Spaniel.
Basic commands every Cavalier King Charles spaniel puppy should know
Basic commands are the cornerstone of a well-rounded pet, and Cavalier King Charles Spaniel puppies are the perfect students. Renowned for their amiable and compliant nature, these pups are a joy to train.
Starting young is the secret to success. Early training embeds the essential commands that shape a well-behaved and attentive dog.
The command "sit" is where it all begins. It's not just an action; it's the foundation of your authority and leadership. With a simple treat and the promise of praise, teaching "sit" becomes a breeze.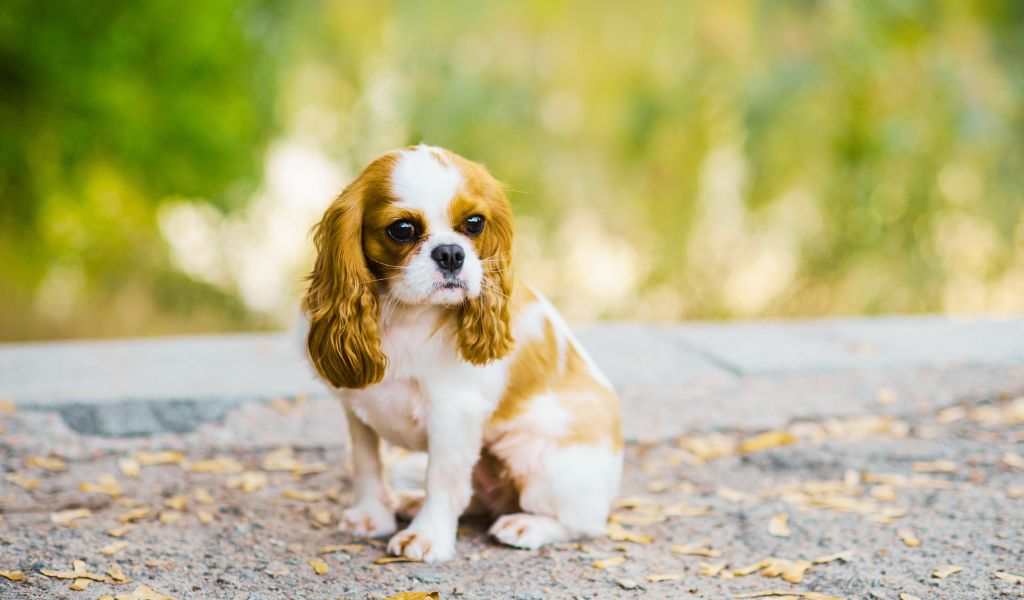 To train a Cavalier King Charles spaniel puppy to sit, follow these steps:
Choose a Quiet Area: Start in a distraction-free area so your puppy can focus on you.
Get Their Attention: Hold a treat close to your puppy's nose to capture their interest.
Lure the Sit: Slowly move the treat above their head towards their tail, encouraging their eyes to follow the treat and their bottom to lower. Don't push them down; let them move into the position naturally.
Cue the Behaviour: As their bottom touches the ground, say "sit" clearly and calmly.
Reward: Immediately give them the treat and praise them warmly. This reinforces the sitting behaviour.
Repeat: Do this several times in short but frequent training sessions.
Add Duration: Once they understand the action, delay the treat for a few seconds to teach them to stay sitting.
Practice: Ask for the sit behaviour in different locations and with different distractions to solidify the command.
Remember, patience and consistency are key. If your puppy doesn't sit, avoid repeating the command; this could teach them to ignore it. Instead, go back a step and lure them into position again. Always end on a positive note to keep training sessions enjoyable for your puppy.
"Stay" is your invisible leash, a command that's vital for safety in the great outdoors or any risky scenario. A firm voice and a steady hand signal are the tools you need to instil this essential behaviour.
To train a Cavalier King Charles spaniel puppy to stay, follow these steps:
Start with 'Sit': Have your puppy sit.
Introduce the Command: Hold your hand out, palm facing the puppy, and say "stay" in a firm, calm voice.
Step Back: Take a step back. If the puppy stays, even for a second, step back to them and reward with a treat and praise.
Gradual Increase: Slowly increase the time and distance you are from your puppy, always returning to give a treat if they stay.
Release Cue: Introduce a release word like "okay" or "free" to let your puppy know when the stay is over.
Consistency: Practice several times a day, keeping sessions short to maintain their attention.
Distractions: Once your puppy masters staying while you step back, introduce mild distractions, rewarding them for staying put.
Patience: If your puppy breaks the stay, say "oops" or "try again", and go back to a shorter distance or duration, then gradually build up again.
Remember, training is about patience and positive reinforcement. Never punish your puppy for breaking the stay; just encourage and reward the behaviour you want to see.
Then there's "come"—the recall command that can bring your wandering pup back to safety. A consistent verbal cue, paired with an inviting gesture, is all it takes to teach this lifesaver.
To train a Cavalier King Charles spaniel puppy to come when called, follow these steps:
Choose a Command Word: Use a consistent word like "come" or "here".
Start Close: Begin training in a quiet space with no distractions. Stand a short distance away.
Get Their Attention: Call your puppy's name followed by the command word in a cheerful tone.
Use Positive Reinforcement: Have treats or their favourite toy ready. When they come to you, reward them immediately with praise and a treat.
Practice with Distractions: Once they reliably come in a quiet space, gradually introduce distractions.
Never Punish: If they come to you after being naughty, do not scold them. You want "come" to always be associated with positivity.
Increase Distance: Gradually increase the distance from which you call them, always rewarding their arrival.
Use a Long Lead: If they struggle to come back in open spaces, use a long lead to gently guide them back when called.
Consistency is Key: Practice daily, and use the command in everyday situations.
Remember, always make it a happy experience so that your puppy is eager to come to you. Never call them for something unpleasant like the end of playtime or punishment. Keep training sessions short and sweet to maintain their attention.
And we can't overlook "leave it." This command is a guardian angel, teaching your pup to ignore the dangers that curiosity might lead them towards. A strong voice and a timely tug on the leash will reinforce this crucial command.
To train a Cavalier King Charles spaniel puppy the "leave it" command, follow these steps:
Choose a Treat: Hold a treat in your hand and show it to your puppy. Close your fist around the treat.
Say the Command: As your puppy sniffs or licks your hand, say "leave it" in a firm voice.
Wait for the Moment: Wait until your puppy stops trying to get the treat and moves their attention away from your hand.
Reward: As soon as they stop, praise them and give them a different treat from your other hand, not the one they were told to leave.
Repeat: Continue practising by increasing the time between the "leave it" command and the reward.
Up the Ante: Once your puppy understands, practice with the treat on the floor and your hand ready to cover it if they disobey.
No Punishment: If they go for the treat, cover it with your hand and wait until they back off, then try again.
Consistency: Practice regularly, using the same command each time.
Real-Life Practice: Once mastered in a controlled environment, apply the "leave it" command in real-life situations.
Always use positive reinforcement, and never punish your puppy for getting it wrong. Keep training sessions short, fun, and rewarding. With patience and consistency, your puppy will learn to leave whatever you ask them to.
These basic commands are more than just tricks; they are the pillars of a well-trained and obedient Cavalier King Charles spaniel puppy.
Consistency, patience, and positive reinforcement are your trusty tools. With these, you'll not only teach commands—you'll also nurture a responsive and well-mannered canine friend.
House training tips for Cavalier King Charles spaniel puppies
House training a Cavalier King Charles spaniel puppy may seem daunting, but with patience and consistency, it's entirely achievable.
Establishing a routine is paramount. Regularly escort your puppy to their designated spot outdoors, especially after sleep, meals, and before the night's rest. Each successful venture should be met with praise and a reward to reinforce this positive behaviour.
Limiting your puppy's roam of the house can also be beneficial. Baby gates or closed doors can help confine them to a manageable area, making accidents less likely and easier to address.
Vigilance is key. Keep an eye out for tell-tale signs like sniffing, circling, or squatting—these are your puppy's signals that it's time to head outside.
If an indoor accident happens, a firm "no" is enough to interrupt them. Then, promptly take them outside to let them finish. Remember, never resort to punishment—it only breeds fear and confusion.
For those inevitable mishaps, an enzymatic cleaner is your best friend—it eradicates odours and helps deter future slip-ups.
Consistency is the golden rule in house training your Cavalier King Charles Spaniel puppy. Stick with it, and you'll see a day when accidents are a rarity, not the norm.
Positive reinforcement training methods for Cavalier King Charles spaniel puppies
Positive reinforcement training shines when it comes to shaping the behaviour of Cavalier King Charles spaniel puppies. These tender-hearted dogs flourish under the glow of positive reinforcement, rather than withering under the harshness of punitive measures.
These puppies are not just keen to please; they're swift learners—making them perfect for positive reinforcement methods. This approach is all about celebrating desired behaviours with treats, praise, and love, setting the stage for these behaviours to be repeated.
Take house training, for instance. Regularly taking your puppy outside and then rewarding them with a treat and enthusiastic praise when they do their business correctly creates a powerful link in their minds. They'll soon connect the dots: going outside equals a happy owner and a tasty treat.
The same goes for basic commands like "sit" and "stay." A reward and a pat for every successful command cements the behaviour, making your puppy more likely to repeat it with gusto.
Consistency is the backbone of positive reinforcement training—it's the language your puppy understands best. It clarifies expectations and, more importantly, it strengthens the bond between you and your puppy.
Cavalier King Charles spaniels thrive on social interaction and affection. By embracing positive reinforcement, you're not just training—you're nurturing a well-adjusted, joyful dog.
Teaching your Cavalier King Charles spaniel puppy to stay off furniture
To train a Cavalier King Charles spaniel puppy to steer clear of the furniture can be a test of patience, but with consistency and positive reinforcement, success is within reach.
Begin by setting clear boundaries. Make it known which areas are off-limits, creating a straightforward rule for your puppy to follow.
Equally, it's crucial to provide a welcoming alternative. A snug dog bed or a plush blanket in a peaceful corner can become their personal haven.
Reward your puppy with treats and praise for using these spots, reinforcing their good choices.
If your puppy does try to hop onto the furniture, a firm "no" or "off", coupled with guiding them back to their own space, should be your response. A gentle collar tug can also redirect their focus.
Never waver in your rules; inconsistency could lead to confusion. Should the behaviour persist, consider a pet gate to physically reinforce your boundaries.
The "leave it" command is another tool in your training kit. Start with a treat in your hand, and as your puppy resists the temptation, reward them from the other hand.
Progress to placing the treat on the furniture, reinforcing the command. With regular practice, your puppy will learn that the furniture is a no-go, and that listening to you is far more rewarding.
Tips for preventing destructive chewing in Cavalier King Charles spaniel puppies
Cavalier King Charles spaniel puppies may be adorable, but their chewing habits can be anything but. Without intervention, this endearing trait can spiral into a costly and destructive issue.
To curb this, appropriate chew toys are essential. Opt for robust materials that can take on the enthusiastic gnawing of a growing pup. Keep their interest piqued by rotating these toys regularly to stave off boredom.
Regular exercise and mental stimulation are your allies in this battle. A well-exercised puppy, with a mind kept sharp by play and training, is far less likely to seek solace in the legs of your furniture.
When supervision isn't possible, a safe space is key. A crate or a puppy-proofed area free from chewable temptations can prevent a whole host of unwanted behaviours.
Consistency in your approach and positive reinforcement when they chew on the right things are the guiding principles. Remember, chewing is a natural exploration method for puppies, so it's about redirecting, not reprimanding.
By understanding their needs and providing for them intelligently, you can help ensure that your Cavalier King Charles Spaniel puppy's chewing habits remain both healthy and home-friendly.
How to introduce your Cavalier King Charles spaniel puppy to new people and animals
Socialising your Cavalier King Charles spaniel puppy with new faces and fellow animals is a pivotal chapter in their developmental tale. It's vital to ensure these introductions are positive and serene, setting the stage for a sociable and self-assured adult dog.
When acquainting your puppy with new people, opt for tranquil settings to begin. Invite a handful of familiar individuals to your home, ensuring your puppy has a safe haven if they feel the need to withdraw.
Encourage visitors to adopt a gentle tone and allow your puppy to initiate contact in their own time, rewarding their calm and amiable interactions with treats and commendations.
As your puppy's confidence blooms, you can slowly expose them to a broader spectrum of people in various environments.
Introducing your puppy to other animals demands a measured and secure approach. Begin with encounters with a single, well-mannered, and fully vaccinated adult dog in a controlled setting.
Let them observe each other from afar, gradually diminishing the distance as they become more at ease. Keep a watchful eye for any signs of distress or hostility, ready to intervene and separate them if needed.
Positive experiences are crucial, with rewards given for peaceful and genial behaviour. Once your puppy is at ease with one dog, you can cautiously expand their social circle.
Above all, the process of introducing your Cavalier King Charles spaniel puppy to the world should be gradual and mindful. With a steady supply of positive reinforcement, patience, and vigilant supervision, you'll pave the way for a smooth and stress-free socialisation journey.
Dealing with fear and aggression issues in Cavalier King Charles spaniel puppies
Tackling fear and aggression in Cavalier King Charles spaniel puppies can be a complex issue for owners.
Despite their typically loving nature, these pups can sometimes react with fear or aggression towards certain triggers or scenarios. Recognising that these responses are natural and can be modified with the right approach is key.
To alleviate fear, desensitisation and counter-conditioning techniques are effective.
This method involves gently introducing the puppy to the fear-triggering stimulus in a controlled manner, while pairing it with positive reinforcement. This can help the puppy form new, positive associations with previously scary situations, gradually diminishing their fear.
Addressing aggression calls for firm, consistent training. It's imperative to assert yourself as a leader, guiding your puppy through obedience commands and setting clear boundaries. Regular training and socialisation with other dogs and people play a pivotal role in curbing aggressive tendencies.
It's crucial to steer clear of punishment or harsh responses to fear or aggression, as these can exacerbate the issues. Instead, patience, positive reinforcement, and consistency are the tools you should employ to support your puppy through their fears and aggression.
In more challenging cases, enlisting the help of a professional dog trainer or behaviourist can be invaluable.
By confronting fear and aggression head-on with appropriate training and socialisation, your Cavalier King Charles spaniel puppy has the best chance of maturing into a contented and sociable pet.
Lead Training and Loose Lead Walking for Cavalier King Charles spaniels
Lead training, along with mastering the art of loose lead walking, is a must for Cavalier King Charles spaniels. Despite their small size and friendly disposition, it's crucial for them to learn proper lead etiquette. Not only does this safeguard their well-being, but it also ensures that walks are a pleasure for both pup and owner.
The initial step is to get your dog comfortable with a collar or harness. Selecting the correct size and ensuring a snug fit is vital for your dog's comfort.
Once they're at ease, introduce the lead. Begin indoors or in a secure area, allowing your dog to drag the lead around to become familiar with it.
Progress to walking together in a calm, known environment. As your dog gets more comfortable, you can gradually introduce more challenging situations, like busier areas or places with more distractions.
The aim is to have your dog walking by your side, not pulling ahead or lagging behind. Positive reinforcement is your best friend here—reward your dog with treats or praise for maintaining a calm pace.
Avoid lead yanking or pulling, as this can cause discomfort or even injury.
Consistency and patience are the cornerstones of successful lead training for Cavalier King Charles Spaniels. With dedicated training, your dog will soon be a model for excellent loose lead walking, making every stroll a delightful experience for you both.
FAQs About Cavalier King Charles Puppy Training
What are the key training needs of a Cavalier King Charles spaniel puppy?
Cavalier King Charles spaniel puppies come with specific training requirements that are best addressed from an early age.
House training sits at the top of this list. These pups need to learn the appropriate places to relieve themselves, and consistency from their owners is crucial, as they can be somewhat slow on the uptake in this department.
Socialisation is another key aspect of their training. Despite their naturally friendly and sociable nature, it's vital to introduce them to a variety of people, animals, and environments. This ensures they mature into well-adjusted and confident adult dogs. Puppy socialisation classes are excellent for this, as are controlled introductions to new experiences.
Obedience training is equally important. Basic commands such as 'sit', 'stay', and 'come', along with leash etiquette, are essential. These intelligent dogs have a desire to please, making positive reinforcement techniques highly effective during training sessions.
Training should be a consistent and lifelong endeavour to maintain good behaviour and avert any potential behavioural issues.
How long does it take to train a Cavalier King Charles spaniel puppy?
Embarking on the training journey with a Cavalier King Charles spaniel puppy is both fulfilling and demanding. Their innate intelligence and eagerness to please typically make the process smoother. Yet, the timeframe for training this breed to full proficiency is influenced by several variables.
Consistency in training is paramount. Daily dedicated training sessions are essential for establishing a routine. The age at which training commences also plays a significant role. Early starters are likely to pick up good habits swiftly, but the breed's quick-witted nature means that even those beginning later can catch up with relative ease.
The complexity of the training goals set will affect the duration of the training process. While basic commands may be grasped quickly, more intricate skills like house training and mastering the leash may require a longer commitment.
In essence, with a steady approach and a focus on positive reinforcement, a Cavalier King Charles Spaniel puppy could reach full training within a few months.
What are the common behavioural issues in Cavalier King Charles spaniel puppies?
Cavalier King Charles spaniel puppies are often celebrated for their warm and loving temperament. Yet, they're not immune to the behavioural challenges common to many breeds.
Separation anxiety is a frequent concern; these puppies can form deep bonds with their owners, leading to distress signs like excessive barking, destructive behaviour, and indoor toileting in the owner's absence.
To tackle this, it's crucial to gradually acclimatise the puppy to spending time alone, ensuring they're also well-supplied with mental and physical activities during these periods.
Excessive barking is another issue that Cavalier King Charles spaniel puppies may develop. Employing positive reinforcement training can effectively teach them when barking is appropriate.
In some instances, these puppies might show aggressive tendencies towards other dogs or people. Addressing this early through socialisation and training is key to promoting a more balanced temperament.
For owners of Cavalier King Charles spaniels, recognising and proactively managing these common behavioural issues with kindness and positivity is essential for nurturing a well-adjusted and contented companion.
When should you start to train a Cavalier King Charles spaniel puppy?
Initiating training for a Cavalier King Charles spaniel puppy at 8 to 10 weeks old is ideal. At this tender age, they're at a prime learning stage, capable of absorbing new information and forming lasting habits. Early training is pivotal to instil positive behaviours and avert future issues.
Kick-off with fundamental commands like 'sit', 'stay', and 'come', employing positive reinforcement—think treats and praise—to motivate and reward.
As your puppy matures, you can gradually introduce more complex training elements, such as leash etiquette, social interactions with other dogs, and house training.
Remember, patience and consistency are vital, especially given that Cavaliers have a sensitive nature. It's essential to recognise that each puppy will advance at their own pace. Customising training to their individual learning curve is important.
By beginning training at an early stage, you're setting the foundation for a well-mannered and contented Cavalier King Charles spaniel for the years ahead.