Have you ever wondered why dogs sleep on their backs? It's a curious sight to see a dog sprawled out on its back, legs splayed in every direction and you have to wonder if it is comfortable or for a specific reason.
But this seemingly vulnerable position is actually quite common among our furry friends. In fact, there are several reasons why dogs choose to sleep in this position, and it can provide some valuable insights into their overall well-being.
Explaining the common observation of dogs sleeping on their backs and the curiosity surrounding it.
Ever wondered why your furry companion snoozes with their paws in the air and their belly exposed? It's a sight that has intrigued dog owners and researchers for ages. After all, it seems like a risky way to catch some Zs in the animal kingdom, where vulnerability can spell trouble.
But fear not! There's more to this curious sleeping position than meets the eye. Let's dive into the intriguing world of dogs and their fascinating sleep habits.
Why do dogs choose to sleep in what appears to be a defenseless manner? Well, there are a few theories that aim to unravel this canine mystery.
One theory proposes that this belly-up slumber is a clever way for dogs to manage their body temperature. By exposing their bellies to the air, dogs can chill out more effectively, especially when the sun is scorching.
Another intriguing idea suggests that it's all about trust and relaxation. Dogs are masters at forming strong bonds with their humans. Sleeping like this might be their way of saying, "I feel safe and cozy right here." It could also serve as a signal that they're not a threat to anyone around.
Moreover, it could be all about comfort. Just like us, dogs enjoy stretching their limbs and releasing tension from their muscles. Sleeping on their backs might just be their preferred way to unwind.
But here's the kicker: despite all these theories, the exact reasons behind this behaviour remain a bit of a head-scratcher. It might be a unique mix of factors that varies from one dog to another.
So, next time you catch your four-legged friend catching some Zs in this adorable pose, know that it's not only cute but also a fascinating insight into their world of slumber. Who knows what secrets lie behind those closed eyelids?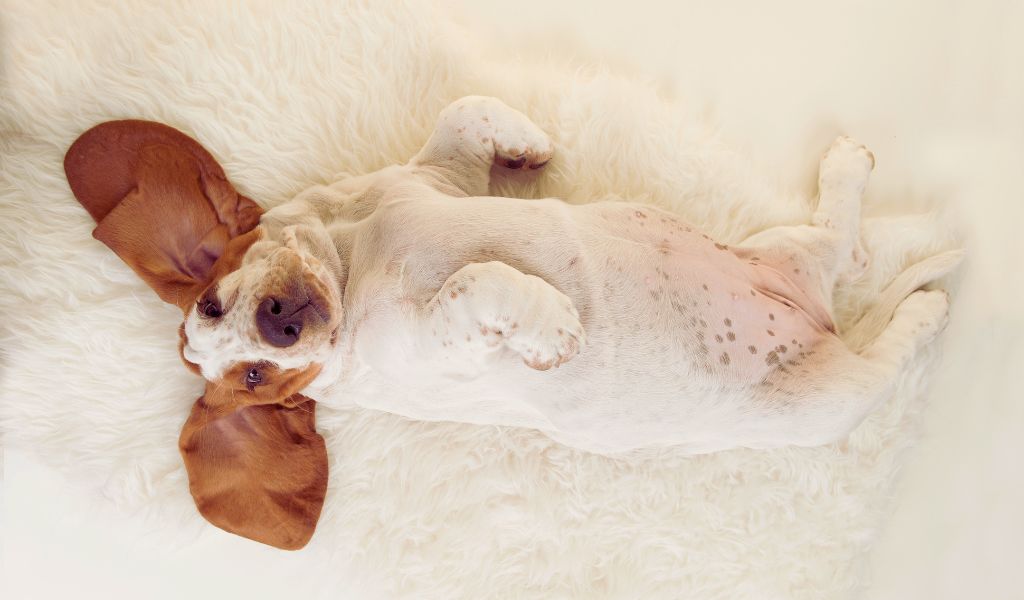 The Normalcy of Dogs Sleeping on Their Backs
When dogs choose to slumber in this vulnerable manner, they're sending a powerful message of trust and comfort. That exposed belly? It's a sign that they feel completely at ease in their surroundings. They trust the people and animals around them so much that they don't need to stay on guard while they catch some Zs.
But it doesn't stop there – this position also offers the ultimate relaxation and comfort. When dogs rest on their backs, the weight of their body gets evenly distributed, reducing pressure on their muscles and joints. It's like a doggy spa treatment right in their sleep.
And there's more. Sleeping on their backs promotes excellent air circulation, helping them stay cool and comfy throughout their nap. No sweaty, restless nights for our four-legged friends!
But perhaps the most intriguing part is that this position might hint at dogs having some epic dream adventures. You see, during the REM stage of sleep, dogs become temporarily immobile to keep them from acting out their dreams. Sleeping on their backs provides easier breathing and less restriction during this dream-filled phase, potentially leading to more vivid and delightful dream experiences.
Interpreting the Body Language of Dogs Sleeping on Their Backs
When your pup sprawls out belly-up, they're sending a powerful message: "I'm safe and secure here." That exposed underbelly is a symbol of their confidence in their environment.
But there's more to it than meets the eye. This position isn't just about feeling safe; it's also a clever way for dogs to control their body temperature. That exposed belly helps them cool down and avoid overheating.
And here's the secret sauce: Sleeping on their backs doesn't just promote physical comfort; it's a ticket to mental and physical well-being. Dogs that feel relaxed are more likely to enjoy restful slumber, letting their bodies recover from a day of adventures.
But hold on, there's even more to this fascinating behaviour. It's believed that this posture can aid digestion and release muscle tension, contributing to overall health.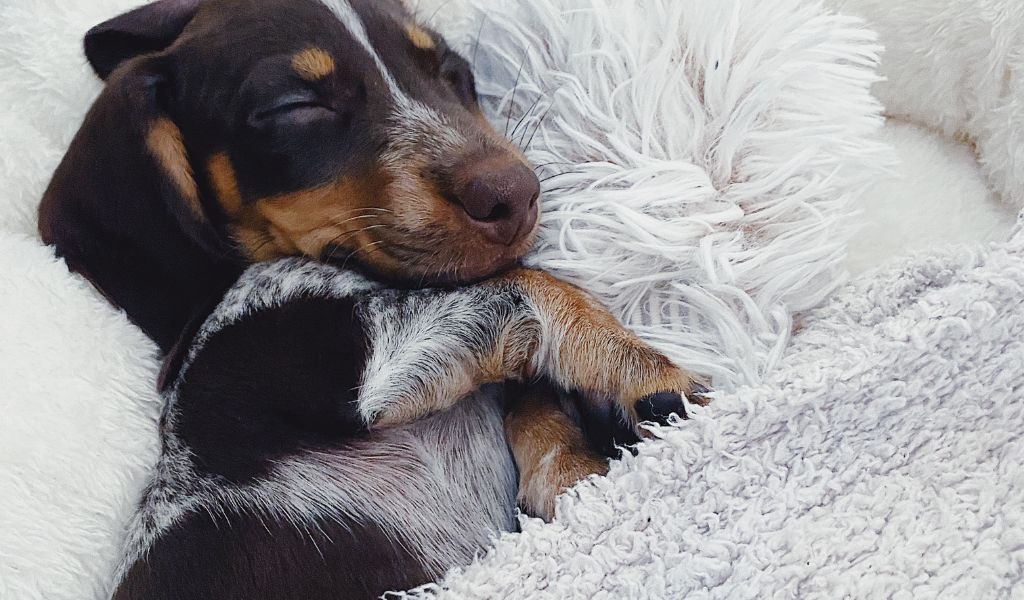 Yet, it's crucial to stay attuned to your furry friend's cues while they snooze. A stiff body, clenched jaw, or rapid eye movements might signal discomfort, anxiety, or even pain. In such cases, it's best to let them wake up naturally.
On the flip side, if your dog is sleeping soundly with relaxed muscles, soft eyes, and maybe a bit of snoring, it's a heartwarming sign of contentment and comfort.
In the end, decoding your dog's body language while they sleep on their back is all about attentiveness and understanding. By paying close attention to their posture and accompanying signals, we can gain precious insights into their emotional and physical well-being.
Exploring the Factors that Influence Dogs' Sleeping Habits
While we humans cling to our structured sleep schedules, our canine companions are sleep schedule rebels. They're all about flexibility when it comes to their slumber.
So, what's the scoop on what influences a dog's snooze schedule? Buckle up, because there's more to it than meets the eye.
First up, age takes centre stage. Puppies are the nap champs, needing extra shut-eye for growth and development. As they grow into adulthood, expect some sleep pattern shake-ups. They might get more active during the day – it's all part of the doggy life cycle.
Then, there's breed characteristics to consider. Some breeds are the Energizer bunnies of the canine world, needing more exercise and, yep, more sleep. On the flip side, you've got the couch potato breeds who can snooze for longer stretches.
But wait, there's more! Your dog's environment and daily routine are also major sleep influencers. Consistency is key. Dogs with a regular schedule and a comfy sleep environment snooze like champs. Plus, they're more likely to sync up with your daily grind.
Don't forget about the ambiance. Noise, light, and temperature – they're not just for humans. These factors play their part in your pup's sleep quality too.
And last but not least, health's in the mix. Pain or discomfort can disrupt a dog's sleep, while certain medical conditions can throw their snooze needs for a loop.
Health Benefits and Concerns of Dogs Sleeping on Their Backs
First and foremost, it's a dog's ingenious way of beating the heat. When they snooze on their backs, their bellies bask in the coolness of the open air, helping them regulate their body temperature, especially on scorching summer days.
But that's not all; this position can be a lifesaver for their joints and muscles. It evenly distributes their weight, reducing the strain on specific pressure points. Imagine the relief it offers to their weary bodies!
But wait, there's more: Dogs that opt for this back-to-basics sleeping style often engage in an unconscious yoga session. They stretch out their limbs, ensuring that blood circulation remains tip-top. This, in turn, keeps stiffness at bay and contributes to their overall joint health.
As if that weren't enough, there's an even deeper layer to this slumber tale. When a dog sleeps on their back, they're revealing their innermost feelings. Their exposed belly and throat are like a trust flag unfurled in the breeze. It's a sign of security, comfort, and an absence of threats, as if they're saying, "I'm safe here."
Now, hold on to your leashes: There's a flip side to this captivating position. Sometimes, it's not all about comfort and joy. In certain cases, it may be a cry for help. Dogs grappling with issues like arthritis or joint pain might avoid this position because of the discomfort it brings to their afflicted areas. And for our flat-faced furry friends, breathing while lying on their backs can be a real uphill battle.
So, here's the scoop: while back sleeping is usually a pawsitive sign, keep an eagle eye on your pup's slumber routines. Any sudden changes could be a subtle hint of an underlying health issue.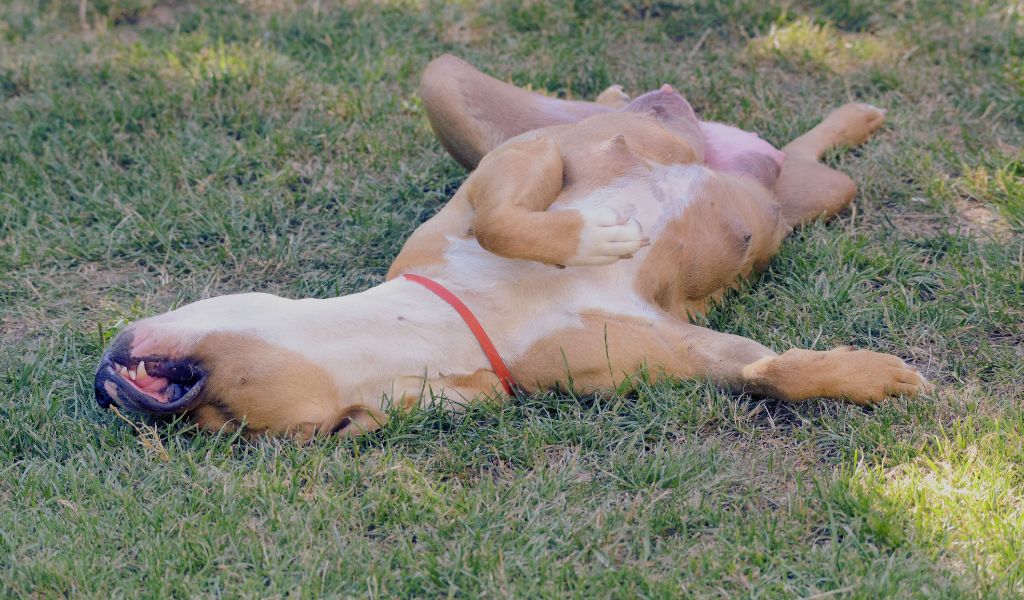 Understanding if Dogs Dream When Sleeping on Their Backs
While we may not have all the answers, experts suggest that our canine companions do, in fact, journey into the realm of dreams when they lay on their backs. What's more intriguing is that their dream patterns may mirror our own.
As they venture into the REM (Rapid Eye Movement) phase of sleep, the curtains rise on their most vivid dreams. This is a stage marked by heightened brain activity and eye movement, often accompanied by those endearing eyelid twitches. Picture it: your dog's mind embarking on adventures we can only guess at.
Studies have peeled back another layer of this enchanting phenomenon. Dogs might just be having complex dreams filled with activities they engage in while awake – think running, playing, and yes, even barking. Remarkably, the brain activity during these dreams might parallel our own nocturnal fantasies.
But here's where the intrigue deepens: when our furry companions trustingly sleep on their backs, they might be sending a profound message. It's as if they're saying, "This is my sanctuary; I'm safe here." This sense of security can usher them into a deeper, more serene slumber, paving the way for dreams that are even more electrifying.
Yet, don't forget, not all dogs adopt this position, and even those who do may not always reveal their dreams in this pose. To truly unlock the canine dream code, we'd need a key to their subconscious – a key that's still elusive to us.
Tips to Ensure Comfort for Dogs Sleeping on Their Backs
Dogs often flop onto their backs to cool down and unwind. But if you want to ensure their utmost comfort in this vulnerable posture, here's the scoop:
Step one, make sure they've got a soft and comfy surface to lay on. A plush bed or a snug blanket can work wonders by easing pressure on their spine and joints. It's like giving them a deluxe sleep experience!
Next up, tidy up their sleeping area. No one wants a sharp pebble or a hidden toy poking into their back. Dogs on their backs are in a sensitive spot, so keep it debris-free for their sake.
Safety first! Since they're in a bit of a vulnerable position, consider placing a pillow or cushion under their head. This provides that extra bit of support for their neck and spine – pure relaxation mode activated!
In chillier weather, your dog sleeping on their back might appreciate a light covering or blanket. It's like giving them a warm, secure hug, especially when the temperature dips.
But here's the plot twist: If your pup has any underlying health conditions, like spinal issues or arthritis, their comfort needs may vary. Consult with your trusty veterinarian for personalised recommendations and bedding tips.
In a nutshell, making sure your dog sleeps like a king or queen on their back involves a soft and comfy surface, a safe environment, and a touch of extra care if needed.
Identifying Discomfort: Signs and Solutions for dogs sleeping on their backs
Dogs will often sleep on their backs but here's the twist: this adorable position might not always mean smooth sailing in the comfort department.
As loving dog owners, it's vital for us to be mindful and able to read the signs when our furry pals decide to go belly-up during snooze time.
First clue: Watch for restlessness during their slumber. If your dog frequently shifts positions or wakes up to reposition itself, it could be a sign of discomfort. They might be trying to find a more soothing spot.
Next in line: Listen for unusual sounds. If your pup starts vocalizing or whimpering while on its back, it might be in pain or distress. Those little yelps during sleep are signals we shouldn't ignore.
Muscle talk: Check those muscles. A dog sleeping on its back should be relaxed, but if its muscles appear tight and rigid, that's a red flag. It means they might not be fully at ease in that position.
Now, if your dog consistently shows signs of discomfort in this position, here are some solutions to consider:
Upgrade the bed: Provide a more comfortable sleeping surface. Think a soft and supportive bed, or even an orthopedic one to take the pressure off.
Get moving: Regular exercise can work wonders. It promotes muscle relaxation and overall well-being, making sleep more comfortable.
Change it up: Encourage a different sleeping position. Maybe coax them to sleep on their side or curl up like a little ball.
But, and this is important, if the discomfort persists or comes with other concerning symptoms, don't hesitate to consult a veterinarian. There could be underlying medical conditions or injuries that need attention.
Identifying and addressing your dog's sources of discomfort is all part of ensuring their overall health and well-being.
Frequently Asked Questions – Why do dogs sleep on their backs?
1. Why do dogs sleep on their backs?
There can be several reasons why dogs sleep on their backs. This sleeping position allows the dog to completely relax and feel safe and secure.
2. Are there any health benefits to dogs sleeping on their backs?
Yes, when dogs sleep on their backs, it helps them cool down as their belly is exposed, allowing for better heat dissipation. Additionally, this position means that the dog's sweat glands are not restricted, promoting better temperature regulation.
3. Do only certain breeds of dogs sleep on their backs?
No, dogs of all breeds and sizes may sleep on their backs. However, some breeds like Cocker Spaniels are known to prefer this sleeping position.
4. Is it normal for puppies to sleep on their backs?
Yes, it is perfectly normal for puppies to sleep on their backs. Puppies spend a lot of time sleeping, and this position allows them to fully relax and feel comfortable.
5. Why do dogs sometimes sleep with their paws in the air?
Sleeping with their paws in the air is just one of the variations of the back sleeping position. It is believed to be a more vulnerable position for dogs, but it doesn't necessarily indicate any specific meaning.
6. How many hours of sleep do dogs typically need?
Dogs typically need anywhere between 12 to 14 hours of sleep, although this can vary depending on their age and activity level. Puppies and older dogs may require more sleep.
7. Are there any special dog beds for back sleeping?
Yes, there are orthopedic dog beds available that provide extra support and comfort for dogs who sleep on their backs. These beds can help alleviate any pressure points and maintain proper spinal alignment.
8. Is it advisable to allow your dog to sleep on their back?
As long as your dog is comfortable and able to sleep peacefully, it is perfectly fine to allow them to sleep on their back. However, it's always important to provide a safe and secure sleeping environment.