As any competent cook will know, there is a vast range of cooking oils many of which offer benefits to humans when they are used for cooking and other applications.
But what cooking oils are safe for dogs? In this article I'll look at 5 cooking oils that are safe for your dog.
The five best cooking oils for dogs are fish oil, sunflower oil, flaxseed oil, coconut oil and olive oil. Each of these oils can be given to your dog and each oil can provide a range of different benefits from helping with digestion through to supporting healthy skin and coat. If you are looking to choose then we recommend olive oil. It's a great all rounder and is suitable for dogs of all breeds and ages.
Feeding a well balanced diet to your dog, along with regular exercise, is the best way to help him to stay fit and healthy.
There can be times, however, when your dog might need a boost to help to support his development and maintenance and adding a high quality oil to his meals can supplement his diet with healthy nutrients.
Many oils contain Omega 3 and Omega 6 fatty acids helping your dog to reach and maintain optimum health levels.
In this simple guide we will look at the five best options.
Fish Oil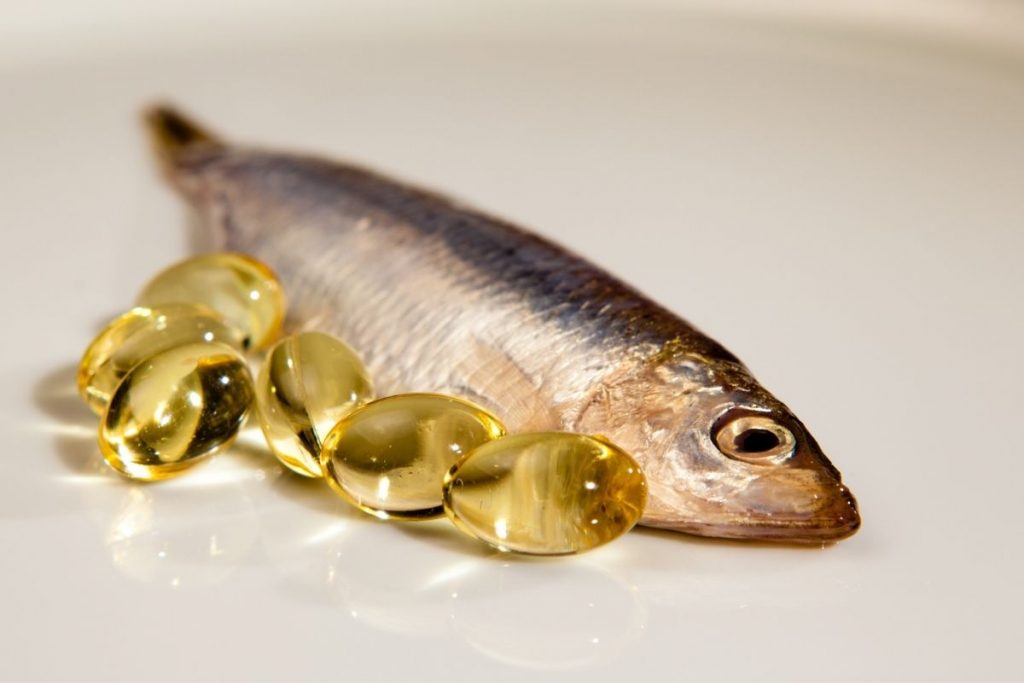 Fish oil is one of the most highly recommended oils, by vets, to give to dogs. It is packed with EPA and DHA, two essential fatty acids that provide natural anti inflammatory effects, helping to reduce aches and pains.
This oil can also help with skin irritations and aid and support healthy skin and coat.
Additionally fish oil can also help your dog with his cognitive functions of memory, vision and learning.
How to feed fish oil to a dog
Aim to give your dog around 1000mg of fish oil for every 30 pounds of body weight.  Always consider his existing diet and check whether this contains EPA and DHA so that you don't overdose him.
Pets Purest Scottish Salmon Oil For Dogs, Cats, Horse, Ferret & Pet - Pure Omega 3, 6 & 9 Fish Oil Food Treats Supplement for Natural Coat, Immune Support, Itchy Skin, Joint & Brain Health (500ml)
NO MORE ITCHY, DRY FLAKY SKIN: Our ALL-NATURAL formula is a liquid fish oil designed to promote and improve the health of any pet to keep them looking and feeling great and improve skin, brain and heart heatlh as well as inflammation and arthritis
PACKED WITH OMEGA-3, 6, & 9 ESSENTIAL FATTY ACIDS: Our premium formula contains Omega-3, Omega-6, and Omega-9 fatty acids derived from EPA and DHA, known as triple omega. These nutrients help keep animal coats soft and support overall pet health.
DOGS, CATS & PETS LOVE IT: Hiding capsules and medication in your pets food can be very frustrating. Instead, simply pump the delicious liquid gel treat over your pets meal or medication and watch them devour every last drop. No mess, no fuss. Yum!
100% NATURAL INGREDIENTS ONLY: Artificial preservatives have long term negative effects on pets so beware. We use an all natural E vitamins tocopherol antioxidant to help prolong our formula that assists the immune system and improves skin health.
PURCHASE WITH PEACE OF MIND: We are so confident in our products that we offer a 100% satisfaction guarantee. Buy and try our product today and if it does not work for your pet simply get in touch and we will make sure you are not out of pocket. Packaging may vary.
Coconut Oil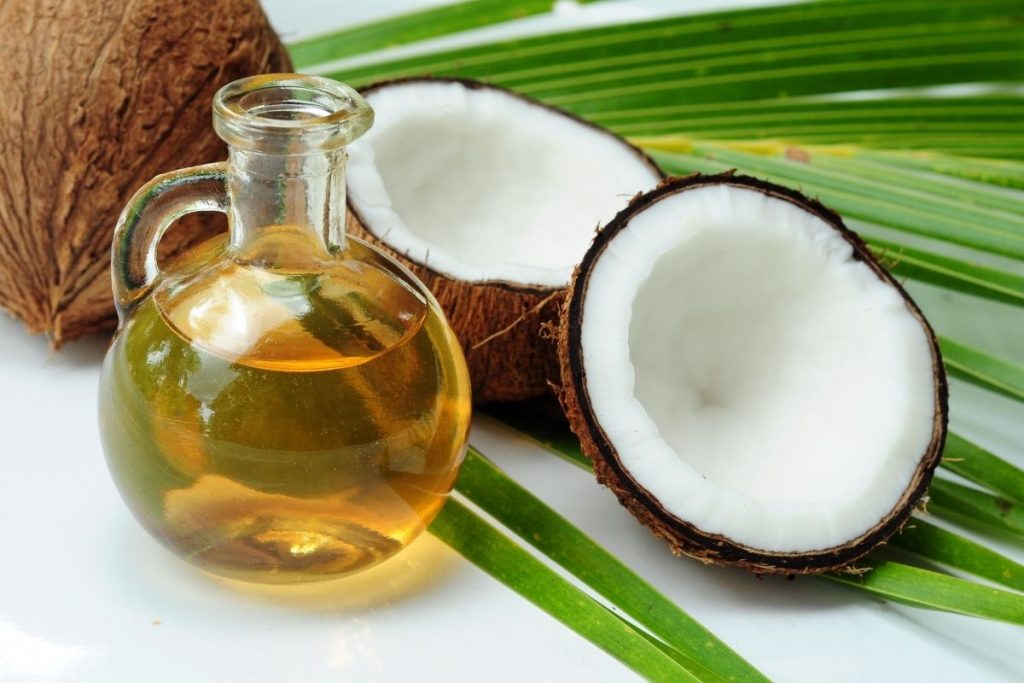 Coconut oil can help your dog if he has an upset stomach or experiences regular digestive issues.
In addition to containing over 90% of healthy fats, coconut oil can help a dog to lose weight, improve energy levels and help with dry and itchy skin.
Coconut oil is particularly helpful for older dogs and can help with cognitive functions.
How to give coconut oil to a dog
 Coconut oil is high in calories so you will need to be measured in the amount that you serve to your dog.
Always use organic oil without any additives and give your dog a quarter of a teaspoon for every 10 pounds of weight, twice a day.
TIANA® Fair Trade Organics Coconut Oil Omega 3 Supplement For Dogs 500ml (Pack of 1)
HEALTH BENEFITS: Helps to improve the immune system and digestion, increases energy and reduces joint discomfort, risk of stroke & heart problems and inflammation. Also it can be used to decrease moulting and reduces odour and bad breath in dogs.
FOOD SUPPLEMENT: Not just a Coconut oil, it is a complementary food supplement for dogs with essential fatty acid for dogs.
SKIN TREATMENT: Moisturise dry itchy and irritated skins, perfect skin coat and treat to cuts, wounds, infected areas, bites and stings.
INGREDIENTS: Contains 0% Crude Protein, Fibre and Ash | Crude Oils and Fats (100% Vegetable Fat); Energy: (3670 kJ/895kcal) per 100g.
OMEGA 3: TIANA Coconut Therapy is a unique formulation with 100% premium, raw, cold pressed extra virgin coconut oil and plant based Omega 3 which is important for healthy dogs' nutrition and shiny coat. Some of the most important ingredients that should always be included into your dog's diet are: Omega 3 essential fatty acids and fat which is most beneficial from raw cold pressed extra virgin coconut oil.
Sunflower Oil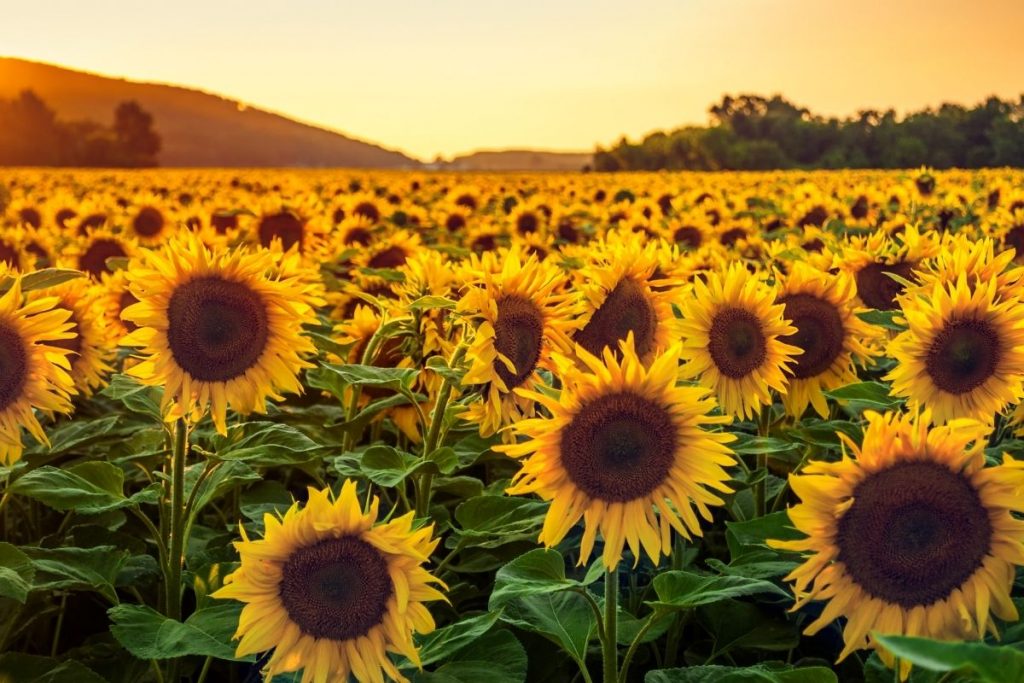 Sunflower oil is a great source of Omega 6 fatty acids with lower levels of saturated fats than animal based oils.
This supplement can help with healthy skin and coat as well as increased energy levels and aiding healthy organ function.
Serving sunflower oil to a dog
You can simply add a teaspoonful of sunflower oil to your dog's daily meal for him to get the best result.
Remember that, like all oils, sunflower oil contains many calories and you should adjust the amount of food that you serve if you notice that your dog is increasing weight.
Cold Pressed Organic Sunflower Oil 750ml - Pure & Natural - Premium Quality - Great Taste Award Winner
SUNFLOWER SEED OIL: Certified organic sunflower oil made by cold-pressing the finest seeds, to ensure that their valuable nutrients and natural goodness are fully retained. The result is a nutritious golden yellow oil with the deliciously scented summery aroma of roasted sunflower seeds.
AWARD WINNER: Received 2* at the 2019 and 2020 Great Taste Award. Comments from the judges include "Pleasantly coloured oil, golden and inviting. The flavour develops into a fresh nuttiness and we warm to it as it lingers on the palate - there is a seed character that is very appealing. It has toasty notes, even though the seeds are pressed raw. We would happily use this on its own as a finishing oil, not just mixed into dressings. Really delicious and a great example."
VERSATILE INGREDIENT: Its delicate flavour makes it the ideal choice for salad dressings. Alternatively, use it to create a sumptuous honey-and-mustard marinade for chicken and fish to go on the barbecue.
NUTRITIONAL POWERHOUSE: Sunflower seeds are naturally rich in antioxidants Vitamin E and beta-carotene, which may protect your skin from premature ageing.
GRAPOILA: Specialises in ethically made cold-pressed oils and seed flours, using a clean and environmentally friendly 'zero waste' technology. The finest seeds are selected and undergo a gentle cold-pressing process, ensuring that their nutritional value is fully retained, while the company's innovative approach guarantees that all by-products are utilised, and nothing is wasted. Their products are not only high in nutritional value and full of flavour, but good for the planet too.
Flaxseed Oil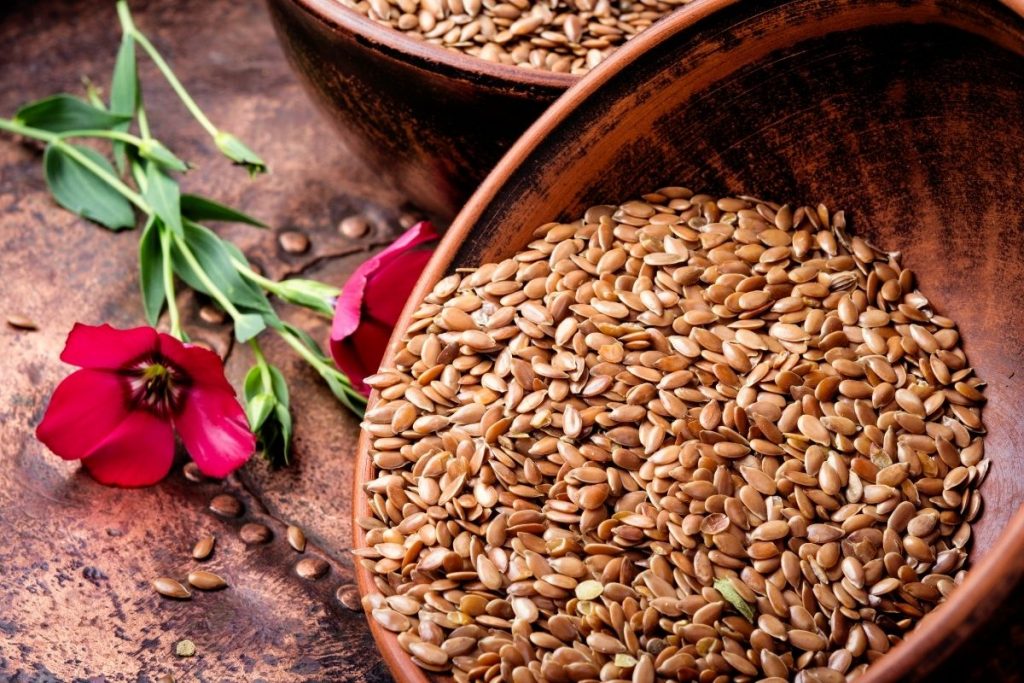 Flaxseed oil is less well known than the others although it provides a whole range of nutritional benefits.
Levels of Omega 3 and Omega 6 fatty acids are similar to those that are in fish and, for dogs that have fish allergies, flaxseed can be a good alternative.
This oil is can help to reduce arthritic pain, develop a healthy coat and reduce inflammation.
Giving flaxseed oil to a dog
Small dogs – half a teaspoon daily
Medium dogs – 1 teaspoon daily
Large dogs – 2 teaspoons daily
Very large dogs – 1 tablespoon daily
Always monitor your dog and if he shows any signs of diarrhea then you should stop serving.
Actif Pets Flaxseed Oil for Dogs-Rich in Omega 3, 6 & 9 for Dry, Itchy Skin/Coat. A Natural Dog Supplement for Stiff Bones/Joints/Hips.
GOT A DOG WITH ITCHY DRY SKIN? Our flax oil is made from flaxseed grown in the UK. A cold pressed natural plant-based oil supplement rich in Omega 3, Omega 6 and Omega 9 which helps to calm sensitive dog skin. Flaxseed is one of the richest plant sources of the Omega-3 fatty acid alpha-linolenic acid
EXCELLENT HEALTH BENEFITS- Helps to calm sensitive skin, reduce excessive moulting and spot patches. Combined with Actif Pets Dog Shampoo and Conditioner with Oatmeal and Aloe Vera it helps to support your dog's skin condition and hair growth.
GREAT TASTE - Enjoyed by young and older dogs. It aids the palatability of dry dog food and treats.
Helps to support the immune system and mobility. Great Alternative to Cod Liver Oil and Salmon Oil for people who can't stand the fishy smell.
High in Omega 3 & 6 which helps with brain development and supports dog joints/hips
Olive Oil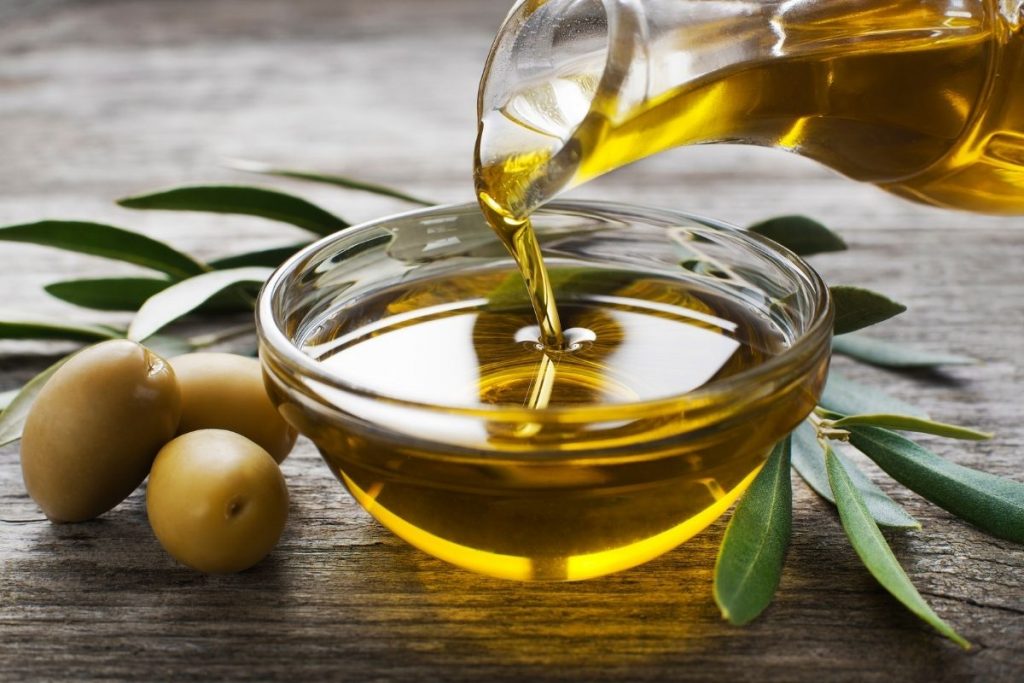 100% extra virgin olive oil is one of the best cooking oils that you can give to a dog. Not only is it a great choice for humans, it is also great for your dog.
Olive oil has numerous benefits which include:
helping with weight loss
Improving the immune system
Supporting healthy skin and coat
It is a good choice for dogs that may have allergies with the other oils
How much olive oil to give to a dog
For small dogs half a teaspoon daily, a medium dog 1 teaspoon and a large dog 2 to 3 teaspoons.
Odysea Greek Extra Virgin Olive Oil PGI Chania 3L
High in monounsaturated fat Greek Extra Virgin Olive Oil PGI Chania Kritis. Superior Category olive oil obtained directly from olives and solely by mechanical means.
Produced with Koroneiki olives from groves in the Chania region on the island of Crete, this area borders the Aegean Sea and offers an ideal climate to nurture olive growth.
The Olives are harvested with care and the oil is cold extracted within hours to ensure the natural flavour and nutritional values remain.
A medium strength olive oil with notes of grass and a pleasant peppery finish which makes it perfect for marinades, drizzling & dressings.
Suitable for Vegans. Intensely herbaceous, with aromas of leaves, stalks, flowers, citrus & nuts.
Best way to serve cooking oils to a dog
Most of these oils are available in capsule or liquid form and, in our view you should always opt for the liquid choice.
Oils in liquid form are easier to find and you will have a greater choice when you look for the liquid versions.
Adding oil to your dog's food is much easier and, unlike a capsule, your dog cannot spit it out or avoid it.
You can also add liquid oils to a syringe which you can then easily use to dose your dog via the side of his mouth.
Conclusion
The cooking oils outlined above are all perfectly safe to give to dogs. 
All dogs will benefit from added oil to their diet and they can help with the development and maintenance of your dog's health.
Always check with your vet before you make any changes to your dog's diet and if you have any concerns about your dog's health then your vet should be the first point of contact for professional advice.
Read Next
Last update on 2022-03-02 / Affiliate links / Images from Amazon Product Advertising API