There are several breeds of dogs that have long ears and this includes Cocker spaniels and the other spaniel breeds.
There is a very simple reason why Cocker spaniels have long ears and it is nothing to do with hearing.
Cocker spaniels have long ears to help them with scent. Long ears help to capture scent particles when the dog is running and hunting. The movement and action of the ears move these scent particles towards the spaniel's nose to help him to identify and locate quarry.
Why do some Cocker spaniels have longer ears than others?
If you were to compare a working Cocker spaniel against a show Cocker spaniel, you would notice some differences in sizes and appearance, and one obvious area is that of ear size.
Due to selective breeding the two types of Cockers have moved apart in terms of ability and appearance – working Cocker breeders have bred for performance, whereas show breeders have bred for looks.
One of the key parameters for show Cockers is length of ears, thus breeders for this purpose have focused on the development of dogs with long ears ( and other areas ).
In some cases the ears are almost down to the ground and can be an obstruction to the dog's movement.
By comparison a working Cocker spaniel will have shorter ears that are more mobile and less likely to interfere with the dog's hunting.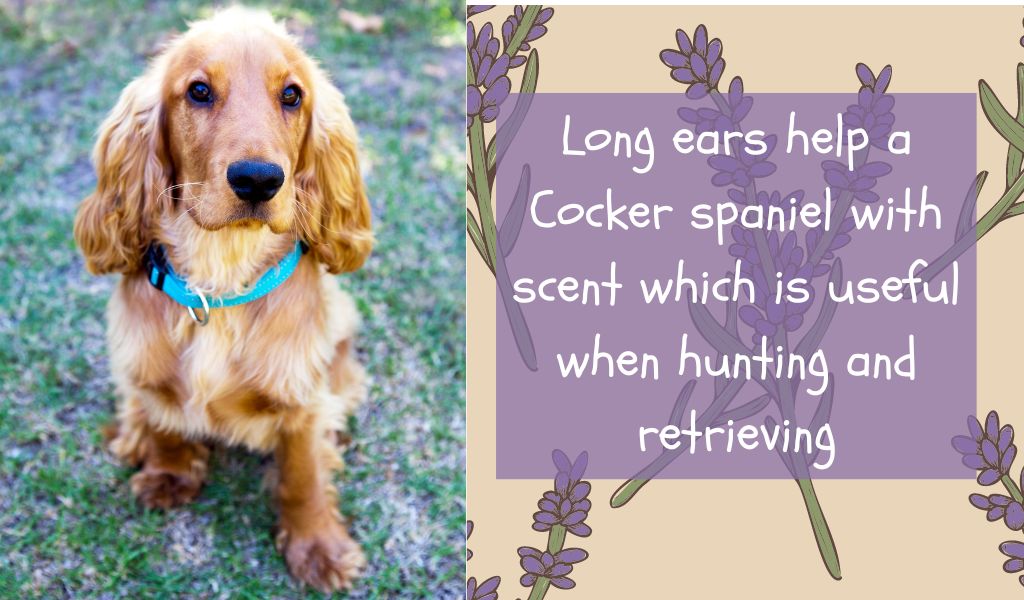 Do long ears really help with scent?
If we look at a range of dog breeds that are bred for hunting or seeking out quarry then we would find that there is one distinct feature that is common among these types of dogs – long, floppy ears.
All of the spaniels have these types of ears – as hunting dogs they help the dog with his job.
But long ears are not just the reserve of spaniels, many other hunting and scenting dogs benefit from floppy ears – dogs such as:
Although we can never fully understand how scent works for a dog, when we look at a breed such as the Bloodhound and see him sniffing the ground with his ears flopping around his face, it is reasonable to think that long, floppy ears play a part in movement of scent particles towards his nose, improving his chances of tracking his prey.
FAQs
Why do spaniels have long ears?
Spaniels, like other breeds with long ears, have these physical traits largely due to selective breeding over generations. Long ears were often favoured in hunting dogs like spaniels because they help funnel scents towards the nose, enhancing their tracking abilities.
Do long ears serve a specific purpose in spaniels?
Yes, long ears can serve a functional purpose for spaniels. When spaniels are tracking scents on the ground, their long, floppy ears can help to sweep scents into their nose. This helps them track and locate game more effectively, a skill that was highly valued when these breeds were primarily used for hunting.
Do the long ears of spaniels affect their hearing?
While there's no definitive evidence that long ears in dogs directly enhance their hearing, some believe it may help in collecting and directing sound waves into the ear canal. However, due to their floppy nature, long ears may actually somewhat block the entrance to the ear canal, potentially slightly reducing hearing acuity.
Are there any health concerns associated with spaniels' long ears?
Yes, spaniels and other breeds with long, floppy ears can be more susceptible to ear infections. This is because the long ears create a dark, warm, and moist environment inside the ear canal which is ideal for the growth of bacteria and yeast. Regular cleaning and vet checks can help to keep their ears healthy.
Can the length of a spaniel's ears influence its behaviour or personality?
The length of a spaniel's ears doesn't directly influence its behaviour or personality. These traits are determined more by a combination of genetic factors, upbringing, and training. However, their long ears combined with their keen sense of smell may make them more likely to follow scents while out walking or playing.
Final Words
Like the other hunting and scenting breeds, Cocker spaniels have long ears to help with hunting.
As the dog is hunting with his head down, his ears capture scent and disperse the scent particles that are on the ground, making it easier and more efficient for your spaniel to find his prey.