If you're new to spaniel training or an experienced trainer looking for tips and advice to help with the training journey, then there is no shortage of books available on the subject.
However, it can be somewhat confusing and a case of taking a chance when buying a book on such a subjective subject as dog training, so, with that in mind I've taken a look at the books on my shelf to see which one, I feel, is the best.
Having looked at many spaniel training books, all of which contain some great information and ideas, my recommendation for the best spaniel training book is Joe Irving's Training Spaniels. This is a time honoured, tried and tested spaniel training book that is great for the novice and experienced spaniel owner.
Sale
Training Spaniels
Hardcover Book
Joe Irving (Author)
English (Publication Language)
176 Pages – 07/12/1993 (Publication Date) – Quiller Publishing (Publisher)
How I've selected these books
There are some great spaniel training resources available and I expect that one man's meat may be another man's poison when selecting favourites or making suggestions as to which one is best or better than another.
I'm basing my opinions on my own experiences and my years of working with and learning about spaniels and in this post I'll tell you which are my favourite resources for spaniel training and aim to give you an idea as to what is the best spaniel training book. (in my opinion).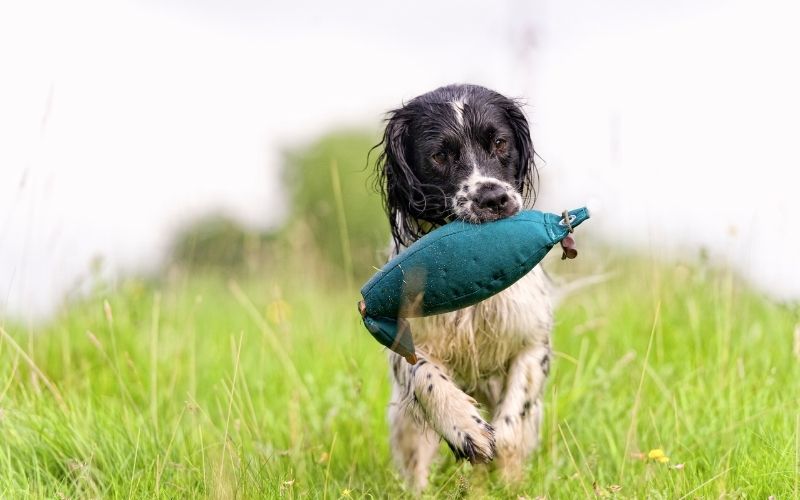 I'll go into greater detail about my experiences of training and working spaniels in a future post, but, suffice to say I've lived with, trained and worked Cocker spaniels and English Springer spaniels since 1991.
Over the years I've learned a lot ( and still have more to learn).
During this time I've read a great deal, watched videos and been lucky enough to spend some time with some great dog trainers ( some well known and others less so, but all of them great spaniel people).
I've also bought, borrowed and read many books on dog training – and all of the books here are on my bookshelf.
Gundogs – Their Learning Chain – author Joe Irving
Sale
Gun Dogs: Their Learning Chain
International products have separate terms, are sold from abroad and may differ from local products, including fit, age ratings, and language of product, labeling or instructions.
New
Mint Condition
Dispatch same day for order received before 12 noon
Guaranteed packaging
This was the first gundog training book that I purchased back in 1991.
I still own the copy that I bought and it's been referred to many times for advice and guidance.
It's in surprisingly good shape after all these years and several house moves.
First published in 1983, Gundogs – Their Learning Chain is an excellent choice for the first time spaniel or retriever owner.
The author removes the 'myth' that it is difficult to train a dog and that only people with 'special giftings' are able to train a spaniel or retriever and his book is aimed at the novice dog trainer and handler providing them with guidance and advice which will enable them to train their dog to a good standard.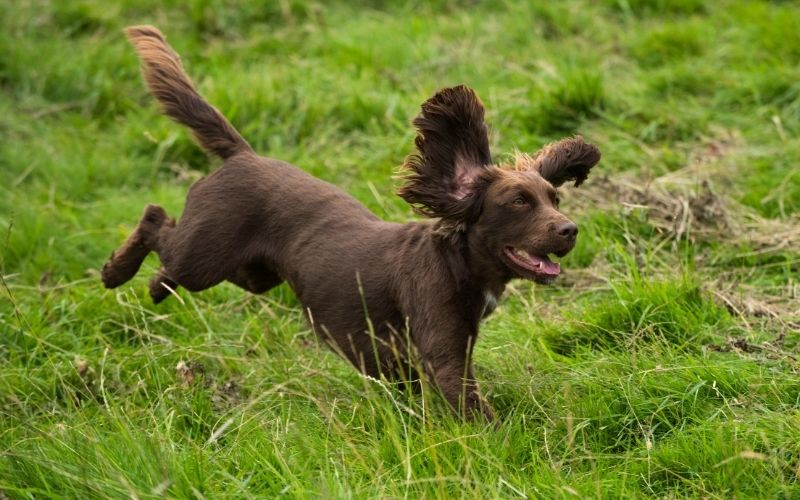 The title of the book 'learning chain' is an accurate description of the book's content.
The author begins with 'the dog for the job' where he helps the reader to select the correct breed of dog for their particular aims and he discusses breeders and pedigrees to help the would be puppy owner with their selection of a dog.
After looking at kenneling or living inside, housetraining is presented with advice on the best approach along with diet and other basic puppy needs.
Development and the early days of dog development are presented to the reader in a straightforward manner and the reader is encouraged to understand how the dog thinks, this is enhanced in the basic training techniques that are focused upon pleasureable activities and praise.
As the book progresses the author looks at spaniels and their work, including hunting and specific 'beats' based on wind patterns and direction.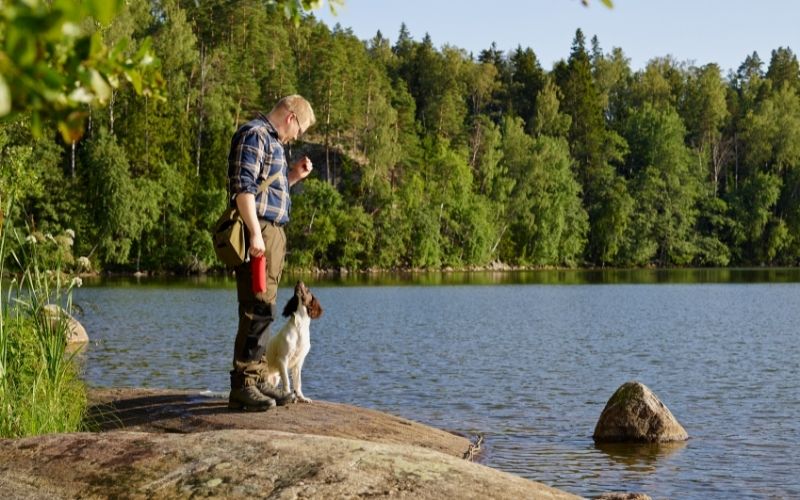 Dropping to shot , retrieving dummies and then game.
Breeding is covered with good advice offered for the owner that might consider breeding a litter of puppies.
I can vouch for this book. I have learned a great deal from it's pages and the style of the author suits me and my reading. It is a very 'readable' book.
It makes my top five in terms of best spaniel training book and I would recommend this to any potential spaniel owner.
Spaniels For Sport – Talbot Radcliffe
Spaniels for Sport
Hardcover Book
Radcliffe, Talbot (Author)
English (Publication Language)
136 Pages – 12/01/1969 (Publication Date) – Faber & Faber (Publisher)
Spaniels for Sport – Talbot Radcliffe – this could prove to be a bit tricky to find but, if you can then it is well worth the effort and you will not be disappointed.
This is fast becoming a rare book to find but, if you can get a copy then it's worth the investment. Keep your eyes peeled at charity shops and in second hand book shops.
I have a copy of this great little book and, like the others, it is a gold mine of information and advice for the spaniel owner and trainer, both novice and experienced.
The book is based upon a classic spaniel training book titled 'Spaniels, their breaking for sport and field trials' – this book was published in 1915 authored by H.W Carlton and some of his methods are reflective of the Edwardian style of England as it was back then.
The book has been re-written by Radcliffe who, in his own name was a hugely successful spaniel trainer and handler.
He had his own famous line of spaniels and won the championships in both America and Great Britain, an achievement which few spaniel trainers can match.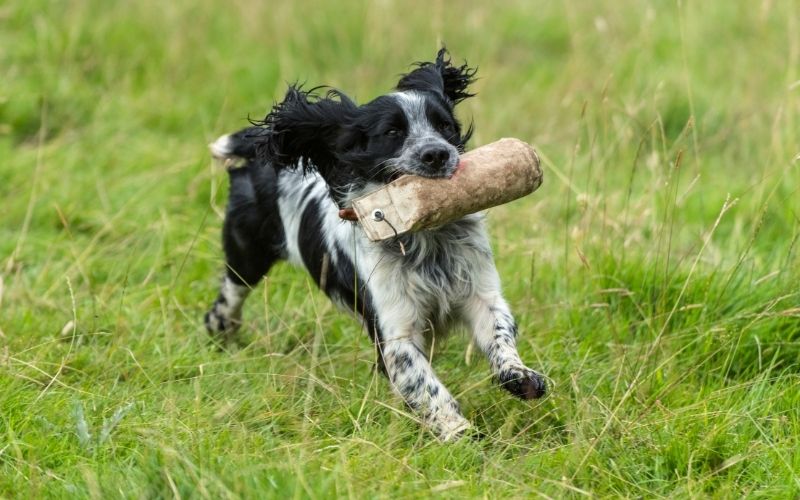 This great book helps the reader to get inside the head of his spaniel and discusses and presents spaniel psychology – not as strange or as heavy as it may sound but presented in the manner that we 'seek to control a dog's bodily actions by training, but, the only way that we can do this is through the medium of the dog's mind'.
Psychology plays an important part in this book and large proportion of the information is aimed at helping the spaniel trainer to understand and appreciate how his spaniel thinks and what influences him to think that way.
This thinking is then considered when training is introduced as a youngster then moving on to more advanced techniques.
The book moves onto retrieving from water, wildfowling with spaniels, beating with spaniels and the trained spaniel at work.
At only 131 pages this is a small book, but it really is a little gem.
If you can find a copy then grab it. Definitely in my top five of best spaniel training books.
Training Spaniels – Joe Irving
Sale
Training Spaniels
Hardcover Book
Joe Irving (Author)
English (Publication Language)
176 Pages – 07/12/1993 (Publication Date) – Quiller Publishing (Publisher)
Another recommendation from the pen of Joe Irving. This time his 'Training Spaniels' first published in 1980.
Irving tells the reader of his first encounters with spaniels in the 1960s and how much he did not know, how he learned and how his knowledge grew.
He takes the reader on a journey of selecting a spaniel puppy, where to house him, how to housetrain and feed etc.
In a similar vein to his book 'Gundogs Their Learning Chain' the author describes the various stages of spaniel training, starting with small beginnings such as the 'sit or hup' command ( and you'll be surprised just how easy it is to get this done) and then moving onwards and upwards until you have a well behaved, trained spaniel that will do you proud.
Another great book from Joe Irving – lots of spaniel training tips, information and advice.
Recommended.
Gundogs: Training and Field Trials – P.R.A Moxon
Gundogs: Training and Field Trials
Hardcover Book
Moxon, P. R. A. (Author)
English (Publication Language)
256 Pages – 08/28/1986 (Publication Date) – Popular Dogs Publishing Co Ltd (Publisher)
This book, first published in 1952, is now up to it's sixteenth edition – it must be doing something right.
Although not aimed specifically at spaniels it gains a place in my top five best spaniel training books as it does contain a great deal of spaniel related information and advice.
Like most good gundog books the author covers puppy selection, pedigrees, basic puppy needs and introduction to the home.
Basic training is covered including introduction to water, jumping over fences, working in cover and the important aspects of dog psychology.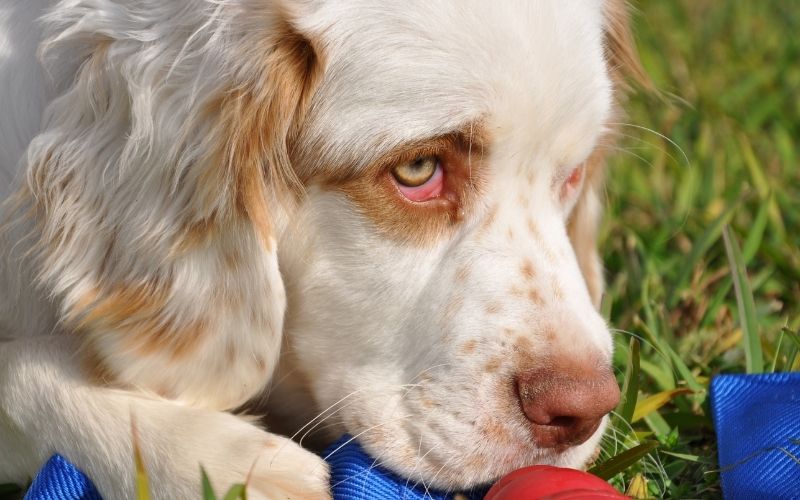 Advanced spaniel training is covered which includes working with fur ( rabbits and other ground based game), questing and facing cover, dropping to shot and retrieving. The author also looks at the construction of a rabbit pen for those that can manage this type of thing.
Shooting days and field trials are covered and the book ends with an insight into the day to day activities of life within a training kennel.
Another great book for the spaniel trainer full of good information and worth looking out for.
Be The Pack Leader – Cesar Millan
Sale
Okay, so this is not a spaniel or gundog training book but, for me I consider it to be a really useful piece of work by a respected and capable dog 'trainer'.
I use the word 'trainer' respectfully because the author does not see himself as a dog trainer, rather he views himself as someone who understands dogs.
There is a lot going on in this book, which is more about the link between humans and dogs rather than about dog training.
The author looks at a whole range of areas including the rationale that a dog needs 'purpose' for example when going for a walk. It's not just a random amble for the dog – there's got to be a purpose.
As a spaniel owner I found this book to be a refreshing read, dog related but away from the gundog focused writings of other authors, presenting the dog world from a different perspective.
It certainly helps to reinforce that human dog relationship .
If you are dog focused and want to increase the understanding between you and your spaniel then this is a book that you should have on your book shelf.
Training the working spaniel – Janet Menzies
Sale
Training The Working Spaniel
Hardcover Book
Janet Menzies (Author)
English (Publication Language)
220 Pages – 04/17/2010 (Publication Date) – Quiller Publishing (Publisher)
A good addition to the library.
This book is aimed at both beginner and experienced spaniel owners and provides simple, no nonsense advice, tips and information on how to go from a blank canvas to a fully fledged working spaniel.
Whether you have a Springer, Cocker, Clumber or one of the less popular spaniel breeds this publication will help you to understand your dog and will help you with the journey from basic obedience through to competition and other spaniel work.
The book also provides breeding information and an interesting perspective and advice for training in more urban environments.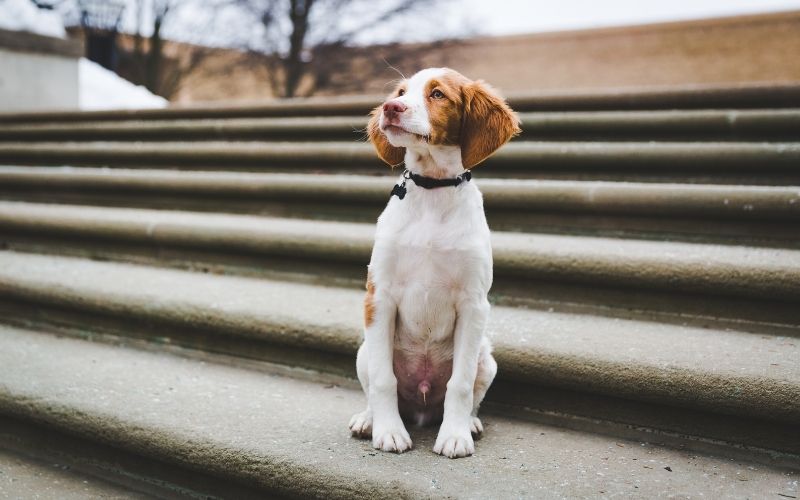 Final Words
All of the books that I've covered are valuable resources for a spaniel owner/trainer.
Whether novice and new to the practice or experienced and an old hand, you can never know too much.
Just when you may think that you have it sorted your spaniel can do something that you've not encountered before and you'll need to think it through.
There are lots of resources available to help the spaniel trainer both written, online videos and lots more.
The books that I've looked at are all good in their own right, I've read them all and they all take a place and role in my spaniel training activities.
But, to answer the question of 'what is the best spaniel training book?'
I go with Joe Irvings Training Spaniels.
The content, the author's approach and his experience all come across clearly due to his simple to read and understand writing style.
Training Spaniels deserves a place on your book shelf and is the one book over all others that I'd recommend to the beginner and novice spaniel owner/trainer.
It's an informative, engaging book with useful illustrations that will help even the most novice of spaniel owners to get to grips with the breed.
If you are looking to train a spaniel either as a working dog or would just like to have a well behaved pet then this is the book that I recommend.
Last update on 2023-11-24 / Affiliate links / Images from Amazon Product Advertising API