As pet owners, it's natural to wonder whether or not our dogs can safely consume certain human foods without problems.
One common snack that might come to mind is Pringles.
In this article, we'll discuss if dogs can eat Pringles, the ingredients in them, potential health risks, and healthier alternatives to consider.
Feeding your dog Pringles is not recommended due to their high salt content, unhealthy fats, and artificial flavourings, which can lead to health problems such as dehydration, pancreatitis, kidney issues, and digestive problems.
What are Pringles?
Pringles are a popular brand of crisps known for their unique shape and packaging.
They are made from a combination of potato, flour, and starch, mixed with various flavourings and seasonings.
Ingredients in Pringles
Some of the key ingredients in Pringles include:
Vegetable oil
Rice flour
Cornstarch
Salt
Seasonings and flavourings
While some of these ingredients may not be harmful to dogs in small amounts, others could pose risks to their health.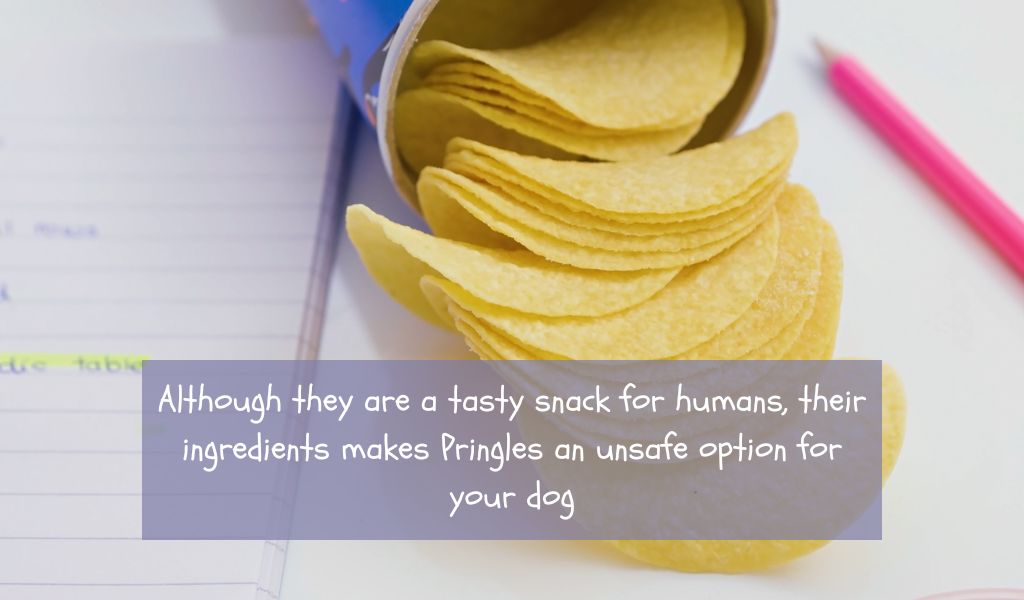 Why Pringles Can Be Bad for Dogs
High Salt Content
Pringles are notoriously high in salt, which can be harmful to dogs.
A high-sodium diet can lead to dehydration, high blood pressure, and kidney problems in dogs.
Artificial Flavourings
Many Pringles flavours contain artificial flavourings and seasonings, which can cause allergic reactions or upset stomachs in some dogs.
Unhealthy Fats
Pringles are cooked in unhealthy fats, such as vegetable oil, which can contribute to obesity and other health issues in dogs if consumed regularly.
Potential Health Risks
Feeding your dog Pringles may result in several health issues, such as:
Dehydration
The high salt content in Pringles can cause your dog to become dehydrated.
Dogs need fresh water and a balanced diet to maintain proper hydration levels.
Pancreatitis
The unhealthy fats in Pringles can lead to pancreatitis, an inflammation of the pancreas.
Symptoms include vomiting, diarrhea, and abdominal pain. If left untreated, pancreatitis can be life-threatening.
Kidney Problems
Excessive salt intake can cause kidney issues in dogs.
If your dog consumes too much sodium, their kidneys might struggle to remove the excess, leading to kidney damage or failure.
Digestive Issues
Dogs have different digestive systems than humans, and consuming processed human foods like Pringles can lead to an upset stomach, diarrhea, or vomiting.
Healthier Alternatives
Instead of feeding your dog Pringles, consider offering them healthier, dog-friendly treats, such as:
Fresh fruits and vegetables (e.g., carrots, apples, or green beans)
Plain, unsalted rice cakes or popcorn
Dog-specific treats available at pet stores
When giving your dog treats, remember to always do so in moderation to avoid weight gain and other health issues.
FAQs
1. Are any human crisps safe for dogs to eat?
While some human crisps may have fewer harmful ingredients than Pringles, it's best to avoid feeding your dog any crisps designed for human consumption.
Instead, stick to dog-specific treats or healthy human foods like fruits and vegetables.
2. Can dogs eat plain, unsalted crisps?
While plain, unsalted crisps are less harmful than flavoured ones, they still contain unhealthy fats and provide little nutritional value.
It's best to avoid feeding your dog crisps altogether.
3. My dog accidentally ate some Pringles. What should I do?
If your dog consumes a small amount of Pringles, they will likely be fine. However, monitor your dog for any signs of distress or illness.
If your dog shows symptoms like vomiting, diarrhea, or excessive thirst, consult your veterinarian for advice.
4. How can I safely share my snacks with my dog?
If you want to share your snacks with your dog, opt for healthy, dog-friendly options like fruits, vegetables, or plain rice cakes.
Make sure to avoid giving your dog any foods that are high in salt, sugar, or unhealthy fats.
5. What are some signs that my dog might be experiencing health issues from eating Pringles?
If your dog has consumed Pringles, watch for signs of dehydration, pancreatitis, kidney problems, or digestive issues.
Symptoms may include vomiting, diarrhea, excessive thirst, lethargy, or abdominal pain. If you notice any of these signs, consult your veterinarian immediately.
Conclusion and final thoughts
In conclusion, it's best to avoid feeding your dog Pringles.
The high salt content, unhealthy fats, and artificial flavourings found in these crisps can lead to various health problems, including dehydration, pancreatitis, kidney issues, and digestive problems.
Instead, opt for healthier alternatives like fresh fruits, vegetables, or dog-specific treats.
Your pet will appreciate a treat that's both tasty and beneficial for their overall health.
Last update on 2023-11-29 / Affiliate links / Images from Amazon Product Advertising API