It's not a great idea to feed Wotsits to a dog. They contain a whole range of flavourings and other additives that could be bad for your dog and which could result in an upset stomach, diarrhoea or worse. If you do want to treat your dog then avoid Wotsits and other crisps and get some good dog treats instead.
Dog owners often like to treat their pets and most, at some point, will feed human foods and treats to their dogs and this can include things like crisps.
Surprisingly, there are many dog owners who wonder if they can feed their dog Wotsits and whether or not this unusual snack is safe for dogs to eat.
What is a Wotsit?
Wotsits are cheesy flavoured corn puffs made by Walkers Crisps in the UK.
They were first released to an unsuspecting public in 1970 and you either love them or loathe them.
They tend to make your hands glow due to the artificial colourings that they contain.
If you really want to give them a try then they are available on Amazon – just don't give any to your dog.
Are Wotsits bad for dogs?
Feeding Wotsits to dogs is not recommended and you could make your dog ill.
Wotsits contain a range of ingredients that include:
Maize, Rapeseed Oil, Cheese Flavour [Dried Cheese (from Milk), Milk Lactose, Flavour Enhancer (Disodium 5′-Ribonucleotide), Acid (Lactic Acid), Colours (Paprika Extract, Annatto), Natural Flavourings, Salt, Potassium Chloride].
Many of the above ingredients are not great for a dog to consume and, if fed to excess will make your dog unwell.
Remember that this product has been designed and manufactured for human consumption.
Many of the ingredients may be fine for people to eat ( although not healthy ) but they are harmful for dogs.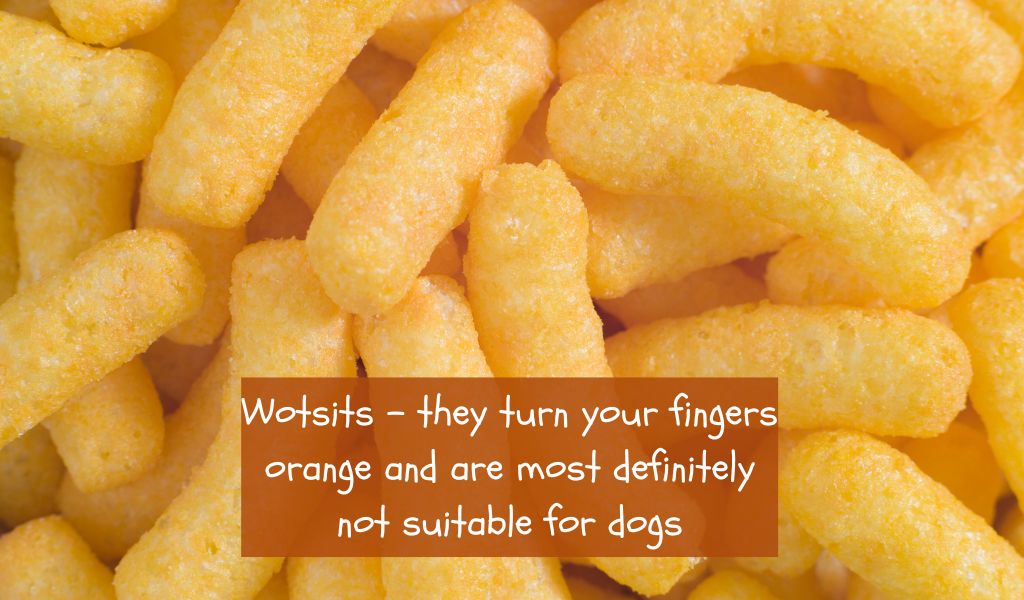 Why dogs shouldn't eat Wotsits
While a small piece or two of Wotsits is unlikely to cause harm, the high levels of salt, fat, and artificial ingredients in Wotsits make them a poor choice for a dog's diet.
Excessive salt intake can cause dehydration and electrolyte imbalances in dogs, leading to symptoms like vomiting, diarrhea, and lethargy.
High-fat foods, on the other hand, can lead to obesity, pancreatitis, and other health issues in dogs.
Additionally, the artificial flavorings and preservatives in Wotsits can cause digestive upset in dogs, as their digestive systems are not equipped to process such ingredients.
Can dogs eat any form of crisps?
It's just not a good idea to feed crisps of any type to your dog. This includes all flavours and types.
Crisps, wotsits, Monster Munch and all of the other types contain numerous additives, colourings and flavourings that are harmful to dogs.
They also contain high amounts of salt, which, in it's own right can cause a dog serious issues.
Feed dog treats not Wotsits
Most popular dog treats – safe for dogs
FAQs
What are Wotsits?
Wotsits are a popular brand of cheese-flavoured corn puffs snack in the UK. They're known for their distinctive shape and flavour.
Can dogs eat Wotsits safely?
While Wotsits aren't toxic to dogs, they're not a recommended treat due to their high salt and artificial flavour content. These elements can lead to health issues like obesity and digestion problems if consumed regularly or in large quantities.
What might happen if my dog eats Wotsits?
In small quantities, your dog may not experience any immediate adverse effects. However, regular or large consumption can lead to health issues such as dehydration, salt poisoning, upset stomach, pancreatitis, and obesity. It's always best to stick to dog-approved treats for your pet's snacks.
What should I do if my dog accidentally ate a large number of Wotsits?
If your dog has accidentally eaten a large number of Wotsits, monitor them for any signs of discomfort or distress such as excessive thirst, vomiting, diarrhea, or lethargy. If these symptoms appear, or if you're concerned about your pet's health, contact your vet immediately.
Are there any healthier alternatives to Wotsits for dogs?
Yes, there are many healthier treat alternatives to Wotsits for dogs. Consider dog-friendly fruits and vegetables, or specially formulated dog treats that are low in salt and free from artificial flavours and colours. Always remember that treats should make up no more than 10% of your dog's daily caloric intake.
Last update on 2023-12-07 / Affiliate links / Images from Amazon Product Advertising API