A Deep Dive into Doggy Dreamland
Ever watch your four-legged companion snoozing away and wonder, "How many hours does a dog sleep?"
You're not alone! As responsible pet owners, it's essential to understand our dogs' sleep needs to ensure they're happy and healthy.
In this comprehensive guide, we'll explore canine sleep patterns, factors affecting sleep, and how to support your pup's rest.
Snooze Time: The Averages for Canine Sleep
Just like humans, dogs have their sleep cycles and preferences.
On average, dogs spend about 12-14 hours a day asleep.
However, this number can vary based on several factors:
Age: Puppies and older dogs typically sleep more than adult dogs. Puppies can snooze for up to 18-20 hours a day, while senior dogs may need 14-18 hours of rest.
Size: Larger breeds often need more sleep than smaller ones, though there's no strict rule.
Activity level: Working dogs or those with high energy levels may require more rest to recharge.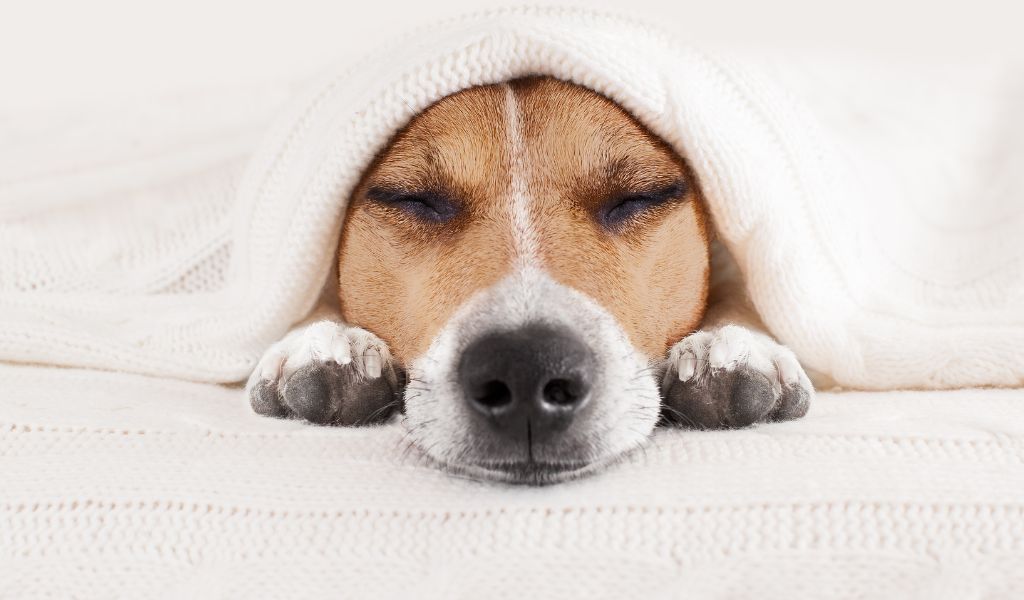 The Sleep Factors: What Influences a Dog's Sleep Patterns?
You may have noticed that your dog's sleep habits don't always follow the averages. That's because several factors can impact how many hours a dog sleeps, such as:
Health: Illness, pain, or medical conditions can cause a dog to sleep more or less than usual.
Diet: A well-balanced diet is crucial for healthy sleep, while overeating or poor nutrition can disrupt sleep patterns.
Stress: Changes in routine, new environments, or separation anxiety can impact a dog's sleep quality.
Creating a Snooze Haven: Tips for a Good Night's Rest
Wondering how to ensure your pup gets the best sleep possible?
Check out these helpful tips:
Establish a routine: Keeping a consistent schedule for feeding, exercise, and bedtime helps regulate your dog's internal clock.
Create a cozy sleep environment: Make sure your dog has a comfortable bed in a quiet, dark area.
Exercise and mental stimulation: Regular physical activity and mental challenges can help tire out your dog, making it easier for them to fall asleep.
FAQs: Your Burning Questions Answered
Q: How many hours does a dog sleep at night?
A: Most dogs sleep around 8-9 hours at night, with the rest of their daily sleep occurring in naps throughout the day.
Q: Do dogs dream?
A: Yes! Dogs experience Rapid Eye Movement (REM) sleep, the stage in which dreaming occurs. They may twitch, bark, or move their paws as if running during this stage.
Q: Is it normal for my dog to snore?
A: Some dogs snore due to their anatomy, particularly breeds with short noses like Pugs or Bulldogs. However, excessive snoring could indicate an issue such as obesity or allergies, so consult your vet if you're concerned.
Q: How can I tell if my dog is sleeping too much or too little?
A: Keep an eye on your dog's overall health, energy levels, and behaviour. If you notice any significant changes or concerns, it's best to consult with your veterinarian.
Q: How many hours does a dog sleep in a 24-hour period?
A: On average, a dog sleeps about 12-14 hours within a 24-hour period. However, this can vary depending on factors like age, breed, size, and activity level. Puppies and older dogs generally need more sleep than adult dogs.
Q: Is it normal for a dog to sleep all day?
A: While dogs do spend a significant portion of their day sleeping, they shouldn't be asleep for the entire day. If your dog seems to be sleeping excessively, it's important to monitor their overall health and consult with a veterinarian if you have concerns.
Q: Do dogs sleep 20 hours a day?
A: Some dogs, particularly young puppies, may sleep up to 18-20 hours a day. However, this is not the norm for adult dogs, who typically sleep around 12-14 hours per day. If your adult dog is consistently sleeping 20 hours a day, it's best to consult with a veterinarian to rule out any health issues.
Q: Do dogs sleep all night like humans?
A: Dogs do sleep at night, often for around 8-9 hours, but their sleep patterns can differ from human patterns. Dogs have shorter sleep cycles than humans and may wake up briefly throughout the night. They also tend to nap during the day, whereas humans usually consolidate their sleep into one longer period at night.
Conclusion: Understanding Your Dog's Sleep Needs
Now that we've answered the question, "How many hours does a dog sleep?", it's time to put this knowledge to good use!
By understanding your dog's sleep patterns and taking steps to support their rest, you can ensure your furry friend stays happy, healthy, and well-rested.
Remember that every dog is unique, and their sleep needs may vary based on factors like age, size, and activity level.
If you're ever concerned about your pup's sleep habits, don't hesitate to consult with a veterinarian. After all, a well-rested dog is a happy dog, and our canine companions deserve the best sleep possible!
Last update on 2023-12-10 / Affiliate links / Images from Amazon Product Advertising API