Do you have a hard time keeping track of all the things related to taking care of your dog?
From vet visits and grooming appointments, to tracking their health and wellness – it can be overwhelming.
But don't worry, there's an easy way to stay organized with just a few simple steps – use a bullet journal.
A bullet journal is a tool for organizing not only your daily tasks but also special projects like managing your pet's care.
With just some basic supplies and knowledge about how to set up the pages in your journal, you can create an efficient system that will help keep everything organized in one place.
In this blog post, we'll discuss why using a bullet journal for dog care is beneficial, what supplies are needed to get started, how to set up the pages in your journal specifically for pet care, as well as ideas on what kind of information you should track and tips on staying organized with vet visits and grooming appointments.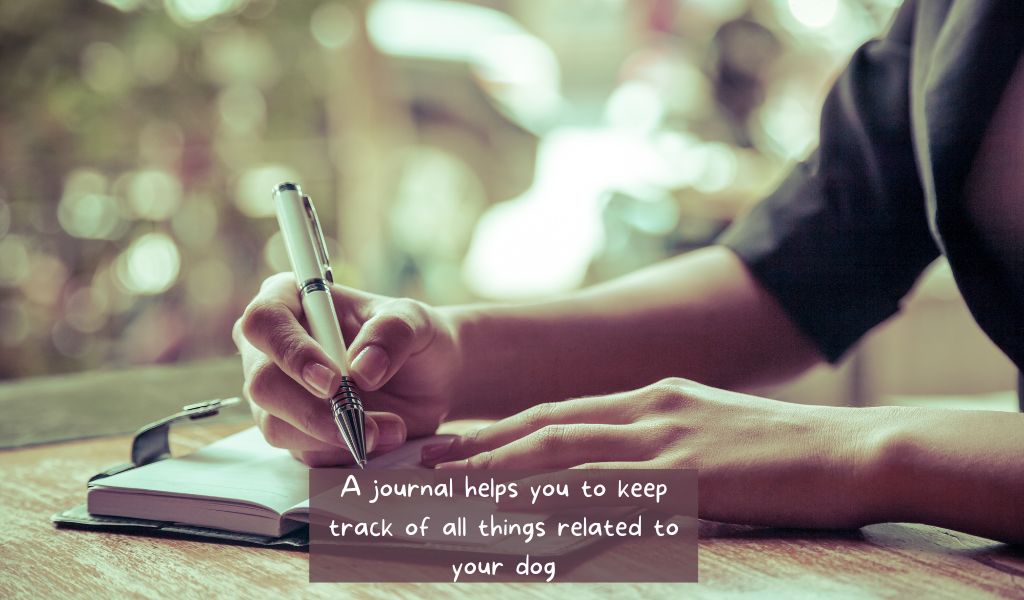 Why you should use a bullet journal for dog care
Having a dog can be quite a handful, and it's important to keep track of their health and hygiene.
Using a bullet journal for your pup's care is the perfect way to stay organized and ensure that your pet is taken care of properly.
Unlike traditional methods of note-taking like written records or spreadsheets, bullet journals are highly customizable and have plenty of features you can use to track all aspects of your dog's care.
You can create detailed records with notes on diet, exercise regimes, medications, vet visits, vital signs, grooming schedules, vaccinations and more – giving you an accurate account of your pet's health.
With everything in one place, using a bullet journal means there's no need to rush around trying to find all the data you need – everything is right at your fingertips.
Using a journal can…. ?
Help you to keep track of vet's and other appointments
Provide an easy to reference option for vaccination schedules and other medications
Allow you to record and monitor your dog's behaviour
Give you a way to record your dog's development, growth and training
Benefits of using a bullet journal for dog care
Bullet journaling helps owners to attend to the important, yet sometimes easily forgotten details like regular check ups, vaccine timings, flea and parasite medication refills, grooming appointments, and more.
A bullet journal also provides an opportunity to document training notes and goals, note changes in your pet's health such as unusual behaviours or habits that could be signs of urgent medical attention needed.
All this makes it easier for both you as a dog owner and your vet as you have quick access to the right information when needed.
What you need to get started
First of all, you'll need a journal. Try to find one with plenty of pages and sections so that you can keep track of all the different tasks related to your dog's care.
You'll also need some basic supplies like pens, stickers, labels, or washi tape to make the pages look fun and inviting.
Finally, it's helpful to have some kind of tracking system such as bullet points, checklists or calendars – whatever works best for you.
£6.25
in stock
as of 8:09 am
£7.19
£7.99
in stock
as of 8:09 am
£12.95
£14.99
in stock
as of 8:09 am
£13.95
£17.99
in stock
as of 8:09 am
£13.99
in stock
as of 8:09 am
How to set up your dog care pages
When creating your pages, the most important thing to consider is what information you want to document.
A great way to start is by making a list of daily activities and health-related tasks that need to be tracked.
This can include things like feeding them on time, walking schedules, signs of illness or changes in behaviour, grooming logs, training sessions and vet visits.
Once you have written out what activities you want to track, designate a page for each item, with sections based on the frequency in which they will be completed (daily, weekly, monthly).
Use symbols and colour coding to mark tasks that are already done or need urgent attention.
Creating these pages will not only help keep you organized, it's also a great way to track progress – both seen and unseen – over time along with any awards or accomplishments that your dog has achieved.
Ideas for tracking your dog's health and wellness
Once your journal pages are set up, you can start tracking the activities related to your pup's health.
This includes things like diet, exercise, vital statistics (weight, temperature), vaccinations and supplements. Additionally, it's a good idea to keep track of any medications that your pet is taking or treatments they have undergone.
You should also record any changes in behaviour that could be signs of an underlying issue – such as limping or excessive scratching – so that you can monitor them more closely.
Tips on keeping track of appointments
When it comes to keeping track of grooming appointments and vet visits, having a dedicated page in your bullet journal makes the task much easier.
You can use colour coding or tick boxes to mark if an appointment has been scheduled, booked and attended – so there is no chance for double booking or forgetting about a visit.
It's also useful to store copies of any medical documents, such as vaccination certificates, test results and health reports in your bullet journal – just make sure they are kept up-to-date.
Final Thoughts on organizing your dog care with a bullet journal
Using a bullet journal to organize your dog care is an effective way to stay on top of all the important tasks related to your pup's wellness.
It can help you track progress over time, monitor changes in behaviour and keep medical documents organized – all in one place.
What's more, it allows you to quickly access the information that you need whenever it is required.
So why not give this approach a try? You might be surprised at just how easy it can make managing your pet's health and well-being.
Read Next