Dental care is not just about aesthetics; it's a vital component of your pet's overall health.
By understanding the potential health issues that can arise from dental disease, you'll appreciate why proactive dental care is essential.
Preventing dental disease
Dental disease in dogs, including Cavalier King Charles spaniels, is more than just a cosmetic issue; it can have serious consequences for your pet's overall health.
By understanding the potential health issues that can occur due to dental disease, you'll appreciate why proactive dental care is essential.
Here are the main health issues associated with dental disease in dogs:
Periodontal disease
Periodontal disease is one of the most common dental issues in dogs and can affect Cavalier King Charles Spaniels as well.
It begins with the accumulation of plaque on your pet's teeth. Over time, this plaque hardens into tartar, leading to inflammation and infection of the gums.
If left untreated, periodontal disease can progress to more severe stages, including:
Gingivitis: The earliest stage of periodontal disease, characterised by red, inflamed gums and bad breath.
Periodontitis: In this stage, the inflammation extends deeper into the supporting structures of the teeth, including the bone. It can lead to tooth mobility and loss.
Advanced periodontitis: At this stage, there is significant bone loss, and tooth loss is common.
The infection can also spread to other parts of the body through the bloodstream, potentially affecting vital organs like the heart, liver, and kidneys.
Tooth decay
Cavalier King Charles spaniels, like all dogs, are susceptible to tooth decay, also known as dental caries.
Tooth decay occurs when bacteria in the mouth produce acids that erode the tooth's enamel, leading to cavities.
Dental caries can be painful and may require extractions or restorative procedures.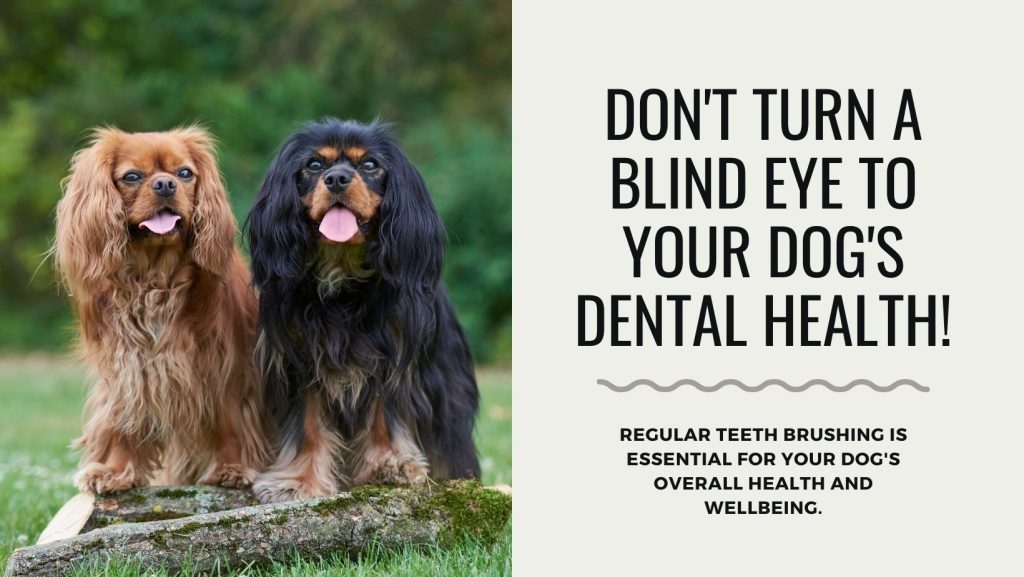 Gum infections
Untreated dental disease can result in gum infections, also known as pyorrhea or periodontal infections.
These infections can cause severe discomfort and pain for your pet. Symptoms may include swelling, pus discharge, and difficulty eating.
In advanced cases, gum infections can lead to tooth loss and the spread of infection to other parts of the body.
Bad breath (Halitosis)
Persistent bad breath, or halitosis, is a common sign of dental disease in dogs. The foul odour is caused by the accumulation of bacteria and decaying food particles in the mouth.
While bad breath itself is not a direct health issue, it often indicates an underlying dental problem that requires attention.
Difficulty eating and weight loss
As dental disease progresses, your Cavalier King Charles spaniel may experience difficulty eating.
Painful gums, loose teeth, or dental infections can make chewing and swallowing painful.
This can lead to a decrease in food intake, resulting in weight loss and malnutrition.
Pawing at the mouth
Dogs in pain often paw at their mouths or faces as a way to alleviate discomfort.
If you notice your pet pawing at the mouth, it's a clear sign that they are experiencing dental pain and need immediate attention.
Systemic health issues
Perhaps the most concerning consequence of untreated dental disease in dogs is the potential for systemic health issues.
Bacteria from the oral cavity can enter the bloodstream and travel to other parts of the body. This can contribute to or exacerbate conditions such as:
Endocarditis: Inflammation of the heart valves.
Hepatitis: Inflammation of the liver.
Kidney Disease: Damage to the kidneys.
Respiratory Infections: Infections of the respiratory tract.
In severe cases, untreated dental disease can even lead to a decreased lifespan for your beloved Cavalier King Charles spaniel.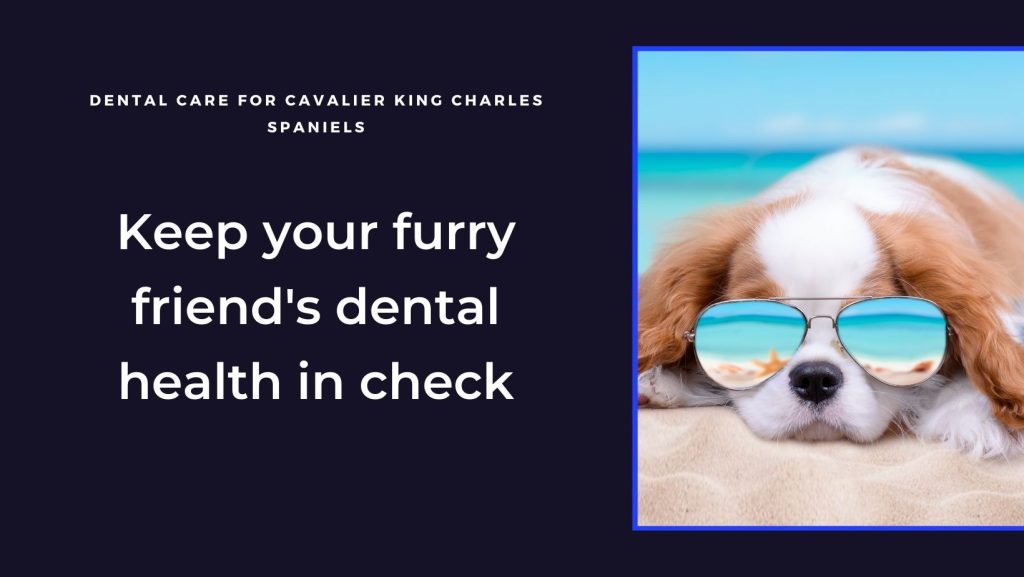 The importance of dental care
Given the serious health issues that can arise from dental disease, it's clear that proactive dental care is not just about maintaining a pretty smile for your pet.
It's a crucial aspect of responsible pet ownership that can significantly impact their overall well-being and longevity.
Regular dental check-ups, brushing, and providing appropriate dental toys and chews are essential steps in preventing these health issues and ensuring your Cavalier King Charles spaniel enjoys a happy and healthy life.
How to check your spaniel's teeth
Caring for your Cavalier King Charles spaniel's dental health begins with regular checks at home.
Here's a simple guide to help you:
Create a calm environment: Find a quiet, comfortable space where you and your pet can relax without distractions.
Gently lift their lips: Using one hand, gently lift your spaniel's lips, exposing their teeth and gums. Do this slowly to avoid startling your pet.
Observe their teeth: Look for signs of dental issues such as discoloured teeth, visible tartar buildup, or any abnormalities. Healthy teeth should be white and clean.
Check their gums: Healthy gums should be pink and firm. Watch out for redness, swelling, bleeding, or pus, which can indicate gum disease.
Evaluate their breath: Take note of your pet's breath. If it consistently has a foul odour, it may be a sign of dental problems.
Monitor for pain: Be aware of any signs of pain or discomfort while you're examining their mouth. If your spaniel resists, whimpers, or shows signs of distress, consult your veterinarian.
Remember, regular checks at home are an excellent way to catch dental issues early.
If you notice any concerning signs during your examination, don't hesitate to seek professional advice from your veterinarian.
If you are unable to brush your Cavalier's teeth or you are afraid that you might get bitten then why don't you try this great product from HWL Pet Supplies which is a 'non contact' dog dental care solution?
How to brush your Cavalier's teeth
Brushing your Cavalier King Charles spaniel's teeth is a fundamental part of dental care.
Here's a step-by-step guide to help you get started:
Gather supplies: You'll need a soft-bristle dog toothbrush and canine toothpaste. Never use human toothpaste, as it can be harmful to dogs.
Choose the right time: Find a time when your pet is calm and relaxed. Avoid brushing immediately after meals, as their gums may be sensitive.
Introduce the toothbrush: Allow your spaniel to sniff and lick the toothbrush to get familiar with it.
Lift their lips: Gently lift your pet's lips to access their teeth. Start with one side of the mouth.
Brush in circular motions: Using the toothbrush and toothpaste, brush their teeth in gentle circular motions. Focus on the gum line, where plaque tends to accumulate.
Be patient: Take your time, and be patient with your pet. If they resist or become anxious, pause and try again later.
Reward and praise: After brushing, reward your Cavalier with praise and a small treat. This positive reinforcement will make the experience more enjoyable for them.
Repeat regularly: Aim to brush their teeth at least three times a week for optimal oral hygiene. Establishing a routine will make it easier for both you and your pet.
Monitor their dental health: Continue to monitor their teeth and gums regularly for any changes or signs of dental issues.
By following these steps and maintaining a consistent brushing routine, you can help keep your Cavalier King Charles Spaniel's teeth clean and healthy.
Further information about Cavalier dental health
While we have covered the essential aspects of dental care for Cavalier King Charles spaniels, there are a few additional areas worth mentioning for a more comprehensive understanding of the subject:
Professional dental cleaning: Regular professional dental cleanings by a veterinarian are crucial.
These cleanings involve scaling and polishing the teeth to remove tartar and plaque buildup that cannot be addressed with regular brushing.
Veterinarians can also identify and address any dental issues that may require treatment.
Dental diets and chews: Some specially formulated dog foods and dental chews are designed to help control tartar and plaque buildup.
These can be a valuable addition to your pet's oral care routine but should not replace regular brushing or professional cleanings.
Anaesthesia and dental procedures: In some cases, dental procedures may be necessary, such as tooth extractions or root canals.
These procedures typically require anaesthesia, and it's important to discuss the risks and benefits with your veterinarian.
Senior dog dental care: As your Cavalier King Charles spaniel ages, their dental needs may change.
Older dogs may be more susceptible to dental issues, and regular dental check-ups become even more critical in their senior years.
Oral health products: There are various oral health products on the market, including dental rinses and water additives, which can help maintain oral hygiene.
However, it's essential to consult with your veterinarian before introducing any new products to your pet's routine.
Behavioural considerations: Some dogs may be resistant to having their teeth brushed.
It's important to use positive reinforcement techniques to make the experience as stress-free and positive as possible.
Gradual desensitisation and patience can be helpful in training your pet to accept dental care.
Dental care for puppies: Start dental care early with your Cavalier King Charles spaniel puppy. Get them used to having their mouth touched and introduce brushing as soon as possible.
This helps establish good oral care habits from a young age.
Consulting with a veterinary specialist: If your Cavalier King Charles spaniel has specific dental issues or requires advanced dental care, your veterinarian may refer you to a veterinary dentist who specializes in dental and oral issues in pets.
By considering these additional areas, you can ensure that you have a comprehensive approach to your Cavalier King Charles spaniel's dental care, promoting their overall health and well-being throughout their life.
Before you go
Caring for your Cavalier King Charles spaniel's dental health is not just a responsibility, it's an expression of your love for your furry companion.
Toothbrushing options for dogs are wide and varied – take a look at our review of this Ultrasonic Dog Toothbrush and how it can help.
By following the guidance provided in this article, you can ensure that your pet enjoys a lifetime of good oral health, happiness, and vitality.
Remember, a healthy smile is a happy smile!