Are you looking for ways to make your dog training sessions more successful and enjoyable?
Effective reward-based training involves rewarding your pup's good behaviour with a treat.
The key is having the right treats on hand when they deserve it.
Investing in a dog training pouch can make all the difference by keeping your rewards close at hand and helping you maintain control of your pup during their lessons.
But which type should you choose?
Let's explore some of the most effective dog training pouches available, so that you can find one that's perfect for you.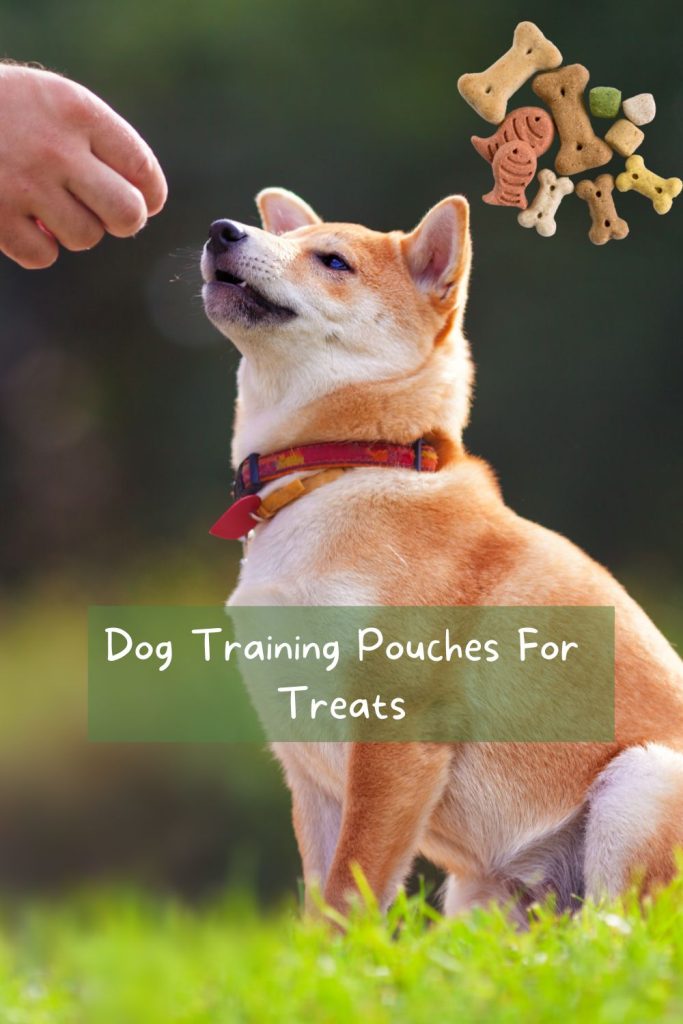 Dog Training Pouches for Treats
If you need a quick answer to find a training pouch then just use the links in the table. For more details on each item, scroll down to the descriptions.
Make taking your dog out easier and more fun with this incredibly handy, pocket-sized dog treat pouch.
Complete with a carabiner to hang it on backpacks or waist belts, you'll be able to free up both hands for playtime.
Crafted from composite coating material that's dirt resistant and waterproof/oil proof in case of any accidents – plus an elastic opening so snacks are easy accessible – give yourself peace of mind while enjoying time outdoors with your pet.
Small Dog Treat Pouch Bag, Hand-Free Dog Treat Bag with Automatic Closure
Crafted with high-quality, eco-friendly Oxford cloth that is waterproof and wear resistant -this treat pouch will keep your dog's favourite snacks safe & secure.
The large capacity of 5.5 x 5.9 inches can easily store a variety of items such as treats, toys and even water bottles while its special cross opening design ensures easy access to all stored goods without any spillage or messes.
Additionally this treat pouch comes equipped with an adjustable belt buckle allowing you to conveniently attach it on belts or pockets.
Featuring a roomy main compartment, ergonomically shaped with an easy-open magnetic closure and cord pull operation to quickly access treats.
The added zip front pocket provides extra storage space for small leads or handfuls of snacks – all while being made from well-crafted durable materials that won't let you down.
Take on those long walks in style knowing both you and your pup are comfortable thanks to this treat tote bag.
Dog Training Treat Pouch with Magnetic Closure Waist Clips & Adjustable Strap
With the Ultimate Dog Treat Pouch Bag, walking your pet has never been more practical.
Featuring built-in poo bags dispenser and plenty of space for toys and treats, two zip pockets to store phone or keys, an adjustable long strap or belt & a sturdy belt clip so it can be worn around the waist.
Plus you'll also get a FREE collapsible travel bowl with carabiner AND clicker – training new puppies is now easier than ever before.
Your dog or puppy's training will be a breeze with this amazing treat pouch.
Completely waterproof and theft-proof, it even has separate pockets for stashing personal items plus an easy access wide opening to make sure you can quickly reward your pet.
Plus, the convenient clips let you attach it securely to your belt or waistband–perfect for professional trainers on the go.
COMPANY OF ANIMALS Treat Bag, Zipped Pockets & Drawstring
15 new from £4.78
Free shipping
Whether you're just getting started on your pup's obedience training or have been at it for some time, these handmade UK dog Treat Bags are the perfect companion.
The easy squeeze open action ensures that treats won't fall out and with a waterproof design, quick clean-ups become effortless.
This handmade treat pouch is designed to fit all kinds of treats, large and small.
It features a metal clip for attaching it comfortably to your belt or bag as well as an elastic drawstring and toggle so every last morsel stays inside – no more crumbs scattered around.
Get yours today and turn everyday moments into special occasions can provide lots of reward opportunities during activities like walking, playing fetch & learning tricks.
This handmade dog training treat pouch is designed with care and crafted in the United Kingdom.
Constructed from ripstop fabric, waterproof canvas and faux leather for an extra touch of luxury, it's finished with metal rivets to ensure long lasting strength – plus a carabiner clip for convenience on the go.
So if you're looking for something that can keep up during those rewarding fetch sessions – shop yours now.
Treat yourself to a handy Mars And Mocha treat bag – it features waxed canvas fabric, vegetable tanned leather and solid brass hardware & rivets.
The pouch measures 11,5 cm x 12.5cm with the bottom measuring 4.8x 8 cm – plus an integrated compartment for poo bags that can be accessed through a neat slot on the front.
Perfect for daily walks or adventurous jaunts in nature, keeping treats close at hand no matter where you go together.
Wear this stylish treat pouch as part of your everyday look.
Crafted with luxurious suede leather, it is designed to be comfortably worn on a belt or hooked onto pants.
Insulated by heavy duty cordura nylon fabric and held secure with two belt clips, the fully removable inner liner allows for easy cleaning anytime so you can keep snacking away without worry.
An added D-ring provides convenient storage options for other essential items like keys – now looking fashionable isn't just an accessory but also highly functional too.
Related Posts
Best Dog Bowls for Cavalier King Charles Spaniels
21 English Springer Spaniel Gift Ideas
Read Next