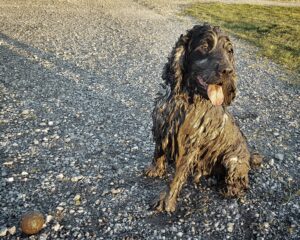 Keeping your Cocker spaniel clean and sweet smelling can sometimes be a challenge as these active dogs love to get dirty.
If you are looking to groom your dog and bath him at home or whether you are a professional dog groomer then having the best equipment to do the job properly can save time and energy.
We have a great list of the 10 best dog dryers for Cocker spaniels, high speed dryers that will save on towels and get your spaniel gleaming again.
There are some great brands out there such as Shelandy, Free Paws, Flying One and many more, and finding the right dog dryer for your dog can be tricky.
We'll be looking at the 10 best dog dryers and providing a quick review on each of them which will help you to make an easy choice on the right one for you and your dog.
If you are in a rush then these are the 10 best dog dryers for Cocker spaniels.
Otherwise continue reading for the reviews of the dryers on the list.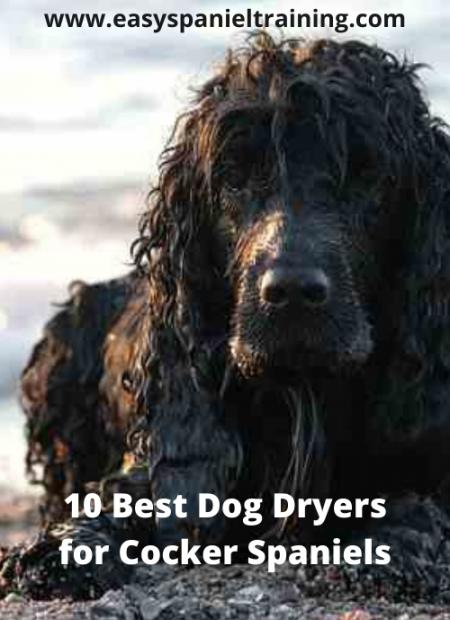 How to choose the best dog dryer
You should consider a few things before you select a dog dryer and the first is what will you use it for?
Will you be using the dog dryer for personal, home use or are you a professional dog groomer needing one for work?
By thinking about what you will use the dryer for you are better placed to make a good decision.
There are also some key qualities to consider.
A dog dryer is going to get some heavy use, particularly if it is used as part of your work. Even during home use you will need a strong and reliable device that will last for a long time.
Most manufacturers provide a good warranty for their dryers and a great thing about buying through Amazon is that you are covered by their 30 day return plan too.
Many dryers are made from quality plastics or stainless metal based materials which are resistant to corrosion and can also take some hefty knocks and drops.
Dog dryers need to be heavy duty items as they will be moved around a lot, potentially attacked by nervous dogs, there is a risk of dropping the dryer on the floor or for other things to be dropped onto it, so the ideal dryer needs to be able to cope with some physical abuse.
It is also a really good idea to always go for a mains powered machine. Battery machines may be more portable but the battery life is limited and the dryer will not have the same power as a mains powered machine.
A battery device may be suitable for drying your spaniel off after a walk or swim when you are on holiday or on a day trip, but, as a grooming tool we suggest that you avoid them.
The power of the dog dryer is something that you should consider and ideally you'll want a dryer with adjustable power and airflow.
The higher the power rating the more air the dryer can supply and, if this is adjustable then you can alter the airflow for different dogs and different parts of your spaniel's body.
By using a dryer with adjustable power you also have options for drying dogs with different hair types and for dealing with different levels of doggy wetness.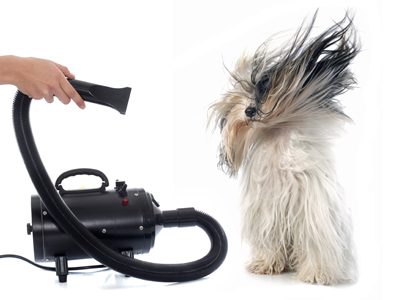 Just as with a human hairdryer it is important to choose a dryer that has adjustable heat levels. This serves several purposes the main ones being that it allows you to control the heat that is applied to different areas of your dog's body and it also means that you won't hurt your dog.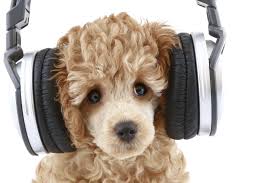 You may see a dog dryer, your dog, however, sees a monster that blows hot air and makes a noise.
Some dogs can be very sensitive and nervous to noise produced by dryers and, when you think that their hearing is more sensitive than a human's, it's not surprising.
Going for a dryer that is as quiet as possible is always a good idea as it will help to reduce the stress that a dog can experience through noise.
The ideal dog dryer will be easy to clean and require little, if any maintenance. Your dog dryer will get dirty and it will get wet, which means it will also attract dirt, hairs and other debris.
Most dryers can be simply wiped down with a damp cloth whereas others can be taken apart for full on maintenance and cleaning.
10 Best dog dryers for Cocker spaniels
Each dog dryer review will contain a list of pros and cons with a key benefit to each product to help you to make an easy and informed choice.
Some dryers will be better for use at home while others will be better for professional, work use.
Remember to look for easy to clean and maintain dryers that have adjustable power and heat outputs so that you have the best range of drying options available.
This dog stand dryer offers a full range of options for the home or professional dog groomer.
The dryer is a powerful yet very quiet machine making it suitable for all dogs and the adjustable heat and airflows give many options for drying and blowing.
A tough and sturdy dryer that comes with a stand that can be wheeled around easily, this machine complies with all international safety standards.
Key Features:
Environmentally friendly materials. Metal matt casing and composite hoses with ABS handle.
Low noise and low jitter motor.
3400 W of power.
Blower speed 30m/s to 85m/s
Quiet dryer.
Adjustable heat and power.
Sturdy moveable stand.
Easy to clean.
Price is higher than other dryers.
This is a good dryer but the price may be too high for many when there are other dryers available. For a commercial user or someone who has a lot of dogs then this would be a good option.
It has lots of power and is easy to move around with the wheeled stand.
You can find out more about the dryer on Amazon.
Air Force Commander Dog Grooming Dryer is one of the top dog grooming tools that professionals and non-professionals alike turn to for drying their short-haired dogs' fur without using heat that dries out their coats or makes them uncomfortable.
The Air Force Commander is a combination of portability with highly efficient drying that gives you the power and speed of a large, commercial dryer with the compact design and ease of use of a portable machine, cutting drying time for short-haired dogs by two-thirds.
If you offer mobile dog grooming services or just want to spend less time grooming your pets, the Air Force Commander Dog Grooming Dryer features several attachments like an air concentrator, air flare tool, and a groomer rake that give you excellent results
Key Features:
4.0 HP Motor.
Easy to replace filter.
6 foot hose and 12 foot mains cord.
Compact and lightweight.
Very powerful dries dogs quickly.
Variable speed.
Solid and sturdy construction for long life.
Ideal for home or professional use.
12 month warranty.
A little noisier than some dryers.
This is an easy to use, simple to clean and powerful dog dryer. The company have been in business for over 60 years and this dryer is as popular as ever.
If you are looking for a reliable dog dryer that can be used at home or as a professional then we recommend that you take a look at the Airforce Commander.
This is a great choice for dog drying whether for home or professional use. This dryer has an option that allows you to run it without any heat making it ideal for sensitive dogs or dogs with fine hair.
The dryer is supplied with a 10 foot hose meaning that you'll have no trouble moving it around and it also has adjustable airflow up to 240 CFM which makes it an ideal choice for drying large dogs.
Ideal for dogs of all shapes and sizes!
Key Features:
Solid steel shell construction.
Additional nozzles provided with long 10 ft hose.
4.0 hp powerful motor.
Adjustable air temperature.
Quality, solid build.
Quiet operation even when at full power.
Sturdy for hands free operation.
Compact and easy to store.
1 year warranty.
Hose can be a bit tricky to hold for some people.
This is a great machine that is well made and comes with a 12 month warranty. Easy to use, the dryer has more than enough power to dry off the biggest dogs with the thickest coats.
This is a popular machine with lots of happy users. 
The Comfort Groom Professional Dog Dryer is one of the first pet blow dryers in to feature an infinite adjustment knob, allowing air flow to be precisely tuned to suit any job.
This grooming dog blow dryer comes equipped with dual AEOLUS motors – considered some of the best in the industry – and still weighs in at only 20 pounds.
This powerful fusion of functionality and convenience makes it possible for groomers to considerably minimize drying time – shortening the grooming process and allowing for greater productivity.
Dual motors for better airflow!
Key Features:
Powerful 3.2 hp fully adjustable motors.
2 year warranty.
10 foot hose with 3 nozzle tips.
Can be wall mounted.
Strong construction.
Powerful, adjustable dual motors.
Option to mount on a wall.
Total weight 20 pounds.
2 years warranty.
Hose does not have a cage mount
This is a great dog dryer with lots of features all of which are ideal for home or for the professional dog groomer.
The powerful dual motors provide an exceptionally stable and consistent airflow for precise drying and the 2 year warranty with lifetime structural coverage makes this one of the best options for a dog dryer that you can find.
Cut drying time in half!  Great for heavy-coated breeds. More blowing power than comparable dryers!
Choice of one motor for delicate jobs or two motors for more power. Ideal commercial dryer for the professional dog groomer or kennel owner with lots of dogs.
The dryer has a two speed setting which will make it easier for you to dry off different sized dogs and will cater for different coat types and thickness.
With lightweight and easily portable you won't put your back out moving and using this dryer.
Great choice for commercial use!
Key Features:
Twin motor two speed.
18 gauge steel body.
10 foot hose.
Blower tips and filters.
Lightweight with good power levels.
Two speed for more control.
Solid and well made.
Easy to clean.
Good extras included.
Can be noisier than other dryers.
This is one of the most popular and reliable machines available and is widely used by dog care professionals, it does a great job.
If you are looking for a solid, reliable machine that will suit the needs of a busy professional, then this is the machine for you.
This is a top rated dryer that is ideal for home use and constantly gets great reviews on Amazon.
It is easy to use and does a great job and is provided with a variety of nozzles and other accessories.
The dryer has adjustable speed control and you can also adjust the temperature of the air to suit your dog and his skin and hair type.
At 62dB this dryer is one of the quietest home dryers available.
Key Features:
400 to 3000W motor.
Adjustable speed and temperature.
Low noise.
5 nozzles and extendable hose.
Powerful and quiet dryer.
Adjustable power and heat suitable for all dogs.
Salon quality with budget price.
Fast drying action.
No storage bag.
Can get warm when being used.
This is a great home dryer that is well priced and is ideal for grooming your dogs without having to pay for a professional groomer.
For heavy duty commercial work this dryer probably won't make the grade and we advise that you select a different dryer for this type of work.
The XPOWER X-800TF Cage Dryer with 800MDK Multi Cage Drying Hose Kit is perfect for busy grooming shops that book many coated breeds requiring high air volume and hands free drying.
The energy-efficient 3/4 HP motor produces up to 3,200 cubic feet of airflow per minute while drawing only 7.5 amps, making it ideal for groomers looking for a powerful, low maintenence dryer option.
Constructed with injection-molded ABS plastic housing, this commercial-grade cage dryer is designed for long-lasting durability.
3 Cage dryer, dry 3 dogs at once!
Key Features:
Dry 3 dogs at the same time.
Cage dryer.
No heat.
3 speed, timer  and 3 airflow control gates.
Perfect for grooming salon use.
No heat means no danger to dogs.
Timer allows you to set drying period.
Able to dry 3 dogs at a time.
Quiet operation.
Quite a large item making storage difficult for some people.
If you are looking for a cage dryer for your salon then this is an ideal choice. The ability to dry 3 dogs at a time will make you more productive and the no heat drying allows for comfortable hair drying with no risk to the dog.
The timer is a great feature it will allow you to set the drying period and will switch off automatically so that you don't waste energy or time.
The Kool Dry Dryer has been used and proven by exhibitors, professional handlers, grooming shops and mobile groomers since 1978.
The design makes it the quietest including sound absorbing foam throughout the rust proof housing to make it the quietest dryer in the industry.
The durability of the polyethylene case protects the most efficient motor on the market.
The quiet operation makes this an ideal choice for toy breeds and young dogs.
Ideal for small and young dogs!
Key Features:
Corrosion proof housing.
Super quiet operation.
200 options for airflow levels and types.
Easy to clean and low maintenance.
Proven design used for decades.
Very quiet dryer.
Lots of options for airflow.
Ideal for young or toy dogs.
Supplied with additional nozzles.
Not a great choice for large dogs.
This is a great dryer for use on small toy sized dogs and young dogs. We wouldn't normally recommend using a dryer on a puppy but if you ever had reason to then the super silent operation of this device makes it a good choice.
The company behind the dryer have been in operation since 1978 and this dryer has been used heavily in most aspects of dog ownership.
It is a quality product and we recommend it for use on small and young dogs.
This smart dryer, has been specially engineered to provide maximum drying power with minimal consequences to your dog.
This dryer is designed to specifically to match the body temperature of dogs. The dog's skin is different from ours, and therefore hair dryers are inadequate for dogs as it way too hot and causes several problems such as burns, itchiness and dandruff.
The Petacare smart dryer was developed to regulate the temperature settings in relation to the speed of airflow.
This in turn provides optimal settings for results without any discomfort to your dog.
Smart dryer with LED screen!
Key Features:
Smart LED screen.
Stainless steel housing.
2400w power.
Variable temperature and speed.
Good for home or salon use.
Dries dogs quickly and easily.
Variable speed and temperature controls.
LED screen for added functions.
Some users report that the instructions are difficult to understand.
This is a great dryer for all uses and for all sizes of dog. The dryer is powerful enough to dry off any size dog quickly and easily and offers good value for money.
The only negative is the quality of the instructions which mean a little figuring it out as you go along.
Bargain home and salon use!
Key Features:
2800w/3.8Hp motor.
Quiet operation <78Db.
Adjustable speed and temperature.
Certified by CF/ROHS.
Strong and sturdy construction.
Fully adjustable for heat and speed.
Four nozzles and long hose.
18 month warranty
Need to be careful with the power setting, it really is a powerful dryer.
For a good dryer with plenty of power at a good price then this is the one to go for. In our view a bargain.
Lots of control so that you can dry many different dogs, well made and comes with four nozzles for different drying needs.
Would do a good job for the home user or professional groomer. Is also a quiet, lightweight machine which makes it even more attractive.
Frequently asked questions
So, there you have it.
These are our 10 best dog dryers for Cocker spaniels. From this list you'll be able to find the best dryer for your needs whether for home, dog grooming salon, getting ready for dog shows and all your other dog grooming needs.
Whatever your needs you'll find a great dryer that will dry your dog quickly, easily and safely.
Last update on 2021-10-24 / Affiliate links / Images from Amazon Product Advertising API