Dogs can have some strange dietary habits at times, but, what seems odd to you if often perfectly normal for the dog.
Eating insects is one such behaviour and most dogs will, at least at some point in their lives, try insects as a snack.
Dogs eat ants simply because they present an opportunity for an easy meal. As an instinctive predator a dog will often make the most of a chance to eat and ants, as well as other insects, offer easy pickings which provide high levels of nutrition for their size. Dogs have an omnivorous diet and insects can be considered a benefit to this type of dietary requirement.
Why does my dog eat ants?
It's not unusual for dogs to show interest in ants.
You may notice them sniffing around ant hills or even digging into the hill to try and catch an ant or two.
The reasons behind this behaviour are rooted deep in their ancestry as domestic dogs evolved from wolves where hunting insects was common place.
Insects were seen as easy prey for early dogs when hunting.
Can my dog eat ants safely?
Insects are not necessarily bad for your pet to eat, however it is important to consider the benefits of eating insects for dogs.
Insects contain high levels of protein and most species of insect are easy to catch which means they offer a high reward for the amount of effort required.
In general it is fine to let your dog eat some ants, but there are a few reasons that you may not want your dogs eating insects:
Some dogs can develop allergies or dietary intolerances to certain types of insects.
Dogs who have been stung by bees and wasps may suffer from anaphylactic shock which can be fatal if not treated immediately.
Some species of ants may also be toxic to your dog and this can result in death for the unfortunate animal.
Can my dog eat fire ants?
As mentioned above, some species of ant are toxic to canines and unfortunately fire ants fall into this category.
Fire ants will attack any creature they think is threatening their nest and can cause severe damage to dogs who eat them.
As with most things the best advice is not to let your dog eat ants.
However, if your hound does catch an ant or two it shouldn't be a problem for them as long they are not fire ants.
If you are concerned about allergies or dietary problems then it is best to consult your vet.
SHOULD YOU LET YOUR DOG EAT ANTS?
Allowing your dog to eat ants is not recommended. While ants are not typically toxic, some species can bite or sting, which might cause discomfort or an allergic reaction in your dog.
Moreover, ants may have been in contact with pesticides or other harmful substances that could be dangerous if ingested.
Here are a few reasons why you should prevent your dog from eating ants:
Potential Allergic Reactions
Some dogs might be allergic to ants, and consuming them could trigger an allergic reaction, which might manifest as itching, swelling, or difficulty breathing.
Bites and Stings
Some ants, such as fire ants, can sting and inject venom, which can be painful and potentially dangerous if your dog is stung in the mouth or throat, as swelling could obstruct their airway.
Ingestion of Pesticides
Ants might carry pesticides or other toxic substances that they have come into contact with. If your dog eats these ants, they might ingest these harmful substances as well.
Gastrointestinal Issues
Even if the ants are not toxic, they might still cause gastrointestinal upset, such as vomiting or diarrhoea, especially if consumed in large quantities.
Unwanted Behaviour
Allowing your dog to eat ants might encourage them to seek out and consume other insects or non-food items, which could be harmful.
Is it safe for my dog to eat his food if it has ants on it?
Having ants near your dog's food isn't usually a problem for them to eat, however the same rules apply as if he or she was catching them themselves.
Some dogs are allergic to insect bites while others will suffer from digestive problems if they are given large quantities of ants.
In most cases it is fine for your dog to eat small levels of insects that may be on their food.
If you frequently see ants on your dog's food then it might be a good idea to move his food to a different location and to take steps to deal with any ant infestations.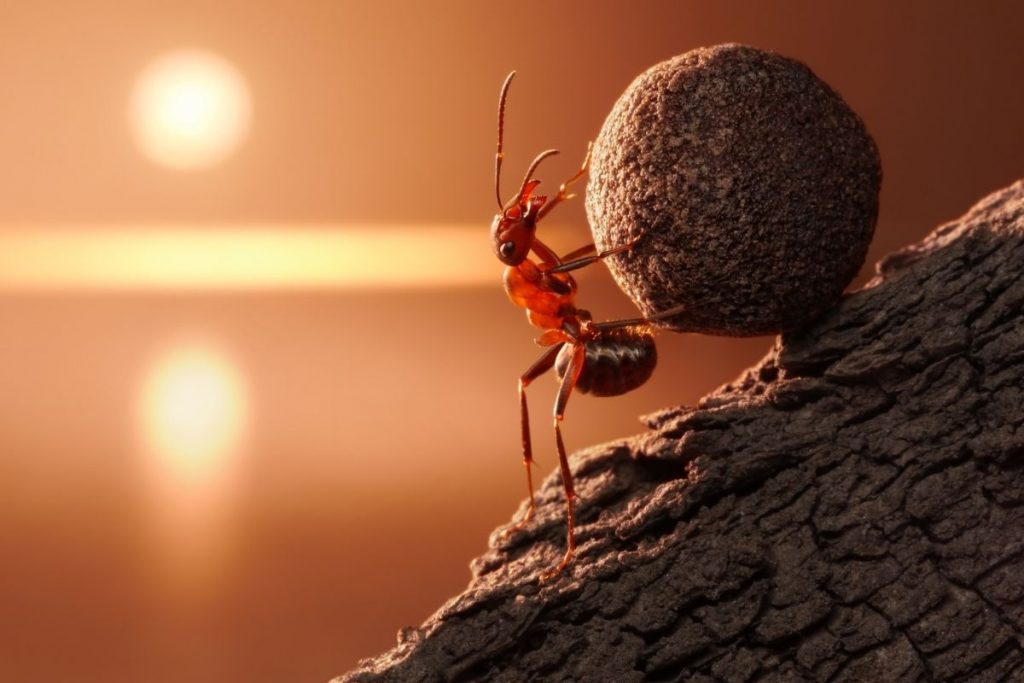 What to do if your dog eats ants?
If your dog does manage to get hold of some ants and eat them there is no reason to worry too much.
Ants are generally quite easy for dogs to digest and they aren't poisonous enough that a few bites will cause any major problems.
If you want to take some precautions then it might be wise just in case:
Make sure your dog doesn't eat more ants.
If they are fire ants or another toxic species of ant then it could be very dangerous for them to eat too many.
Give your dog something else to eat after he has eaten the ants.
Having a treat afterwards will occupy him and mean that he won't feel tempted to get into any other ant hills or nests.
If your dog shows any signs of poisoning you should always contact a vet immediately.
If the ants are fire ants then this could be very serious for your dog and it is best to seek advice or treatment as soon as possible (even if he seems fine).
If your dog has suffered previous allergic reactions to stings from insects then you should contact your vet immediately for advice – this is very important if your dog has experienced any form of anaphylaxis in the past as, if this is not treated quickly it can be fatal.
Are ants harmful to dogs?
Ants can be harmful to dogs depending on the type of ants and the number of ants that the dog comes into contact with.
Some ants, such as fire ants, can sting dogs and cause pain, swelling, and even an allergic reaction.
Other types of ants, like carpenter ants, do not sting but can bite, which can also cause discomfort and irritation to dogs.
In addition to the physical effects of ant bites or stings, ingesting ants can also be harmful to dogs.
Some species of ants can be toxic if ingested in large quantities. Symptoms of toxicity in dogs include vomiting, diarrhea, and abdominal pain.
Overall, it is best to keep dogs away from ants and to monitor them closely if they come into contact with ants.
If a dog shows any signs of distress or illness after being in contact with ants, it is important to seek veterinary care.
FAQs
Why is my dog eating ants?
Dogs may eat ants for a variety of reasons. This behaviour can be driven by curiosity, instinct, or simple boredom. Some dogs may also be attracted to the taste or smell of ants, while others may ingest ants unintentionally while sniffing or licking the ground.
Is it harmful for dogs to eat ants?
While consuming a small number of ants is usually not harmful, ants can bite or sting, causing discomfort and potential allergic reactions in dogs. Some species of ants also carry diseases or have toxic secretions which can be harmful to dogs if ingested in large quantities.
What should I do if my dog eats ants regularly?
If your dog regularly eats ants, it would be best to consult with a veterinarian. They may suggest dietary changes, behavioural training, or investigate underlying health issues that may be causing this behaviour. It is also important to ensure that your dog is not eating ants that have been poisoned or that belong to a harmful species.
What are the signs that my dog is negatively affected by eating ants?
If your dog is negatively affected by eating ants, you may notice symptoms such as drooling, vomiting, diarrhea, loss of appetite, lethargy, or unusual behaviour. Some dogs may also develop allergic reactions, which could include swelling, hives, difficulty breathing, or collapse. If your dog shows any of these symptoms after eating ants, you should seek veterinary care immediately.
How can I stop my dog from eating ants?
Keeping your dog on a lead during walks can help you control and redirect their behaviour. Training your dog to respond to commands such as "leave it" can also be beneficial. Make sure to provide your dog with plenty of mental and physical stimulation to reduce boredom. Lastly, regular cleaning of your garden can help reduce the presence of ants and other pests that may be attracting your dog.
Conclusion and final thoughts
Dogs eat ants because they are an easy to catch source of food that provides high levels of protein and nutrients.
In most cases ant eating won't harm your dog but there is always the risk of allergic reaction or a type of ant that could cause problems for your pet.
As is the case with many things, prevention is often better than cure, and you should try to keep your dog away from sources of ants to remove any risk.