When it comes to dogs, there are some breeds that are more affectionate than others.
Cocker Spaniels, in particular, tend to be very cuddly and love spending time with their owners.
Cockers have an excellent personality and are an ideal breed of dog for someone looking for a pet that enjoys company, is good with children and likes to be fussed. If you're looking for a dog that will want to snuggle up with you on the couch, a Cocker Spaniel is a great choice. Cocker spaniels are affectionate dogs that enjoy spending time with their owners and their families.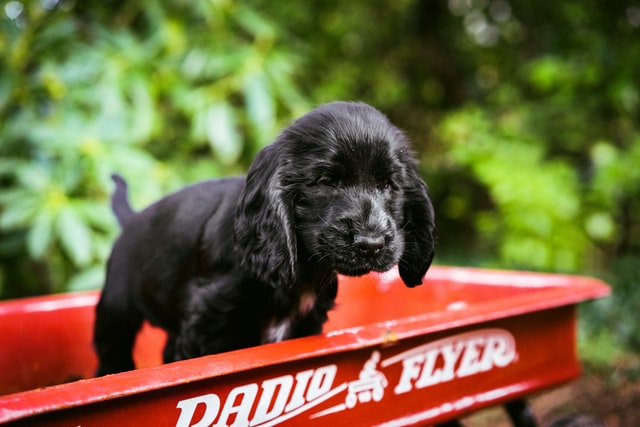 Why do Cocker spaniels enjoy cuddling so much?
I've been around spaniels for many years and am often surprised at just how affectionate Cocker spaniels are.
They really are family dogs that love company and enjoy family time and activities.
Cockers have a pleasant attitude to life and love spending time with their families, cuddling and spending quality time together with their owners.
There are a few other reasons why Cocker Spaniels tend to be such cuddly dogs.
First of all, they're bred to be companion dogs, which means they're meant to spend a lot of time with their humans.
They're also relatively small dogs, which makes them perfect for cuddling and Cocker Spaniels are also known for their gentle and loving personalities.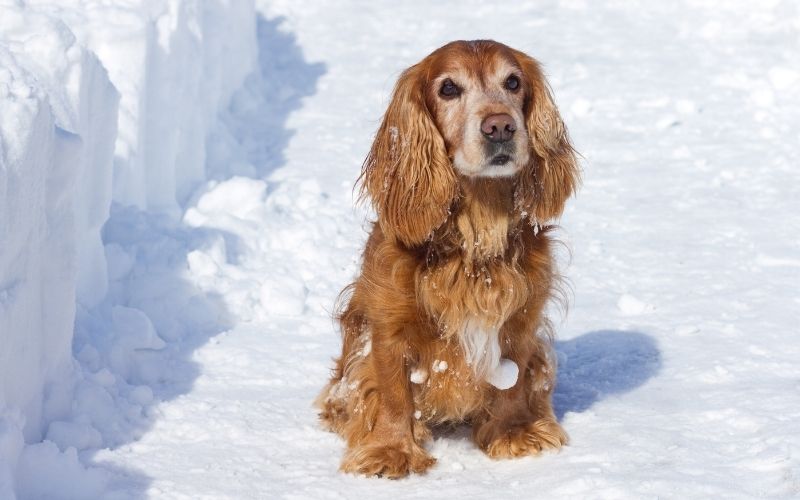 If you are looking for a dog that is affectionate yet lively and which enjoys cuddles, then a Cocker spaniel could be the breed for you.
My two Cockers are great dogs. They are both working spaniels but they live in the house and enjoy playing, cuddling and everything else that a sensitive, intelligent breed would.
Even though they are working dogs they enjoy sitting with me, lying on top, cuddling up and often it's as though they can't get close enough.
Cockers really do love their owners and show this affection in many ways, cuddling being just one.
How do Cocker spaniels show their affection?
Cuddling up with their owners.
Lickes and kisses.
Lying on top of their owners.
Sleeping alongside their owners or in the same room.
Waiting at the window for their owners to come home.
My Cockers do all of this and other spaniels may do more to show how much they love being with their owners.
How can I make a Cocker spaniel more cuddly?
Cocker spaniels love to be with their owners and this probably comes from their history of being around people for many years as dogs bred for working and shooting.
If you spend time with your Cocker and do interesting things with him such as training, walks, swimming and other interesting activities, then he will adore you and will want to spend as much time as possible in your company.
You really do not need to try very hard to make a Cocker cuddly, just treat him properly, make sure that he has a good home with a bed and food and he'll be perfectly happy.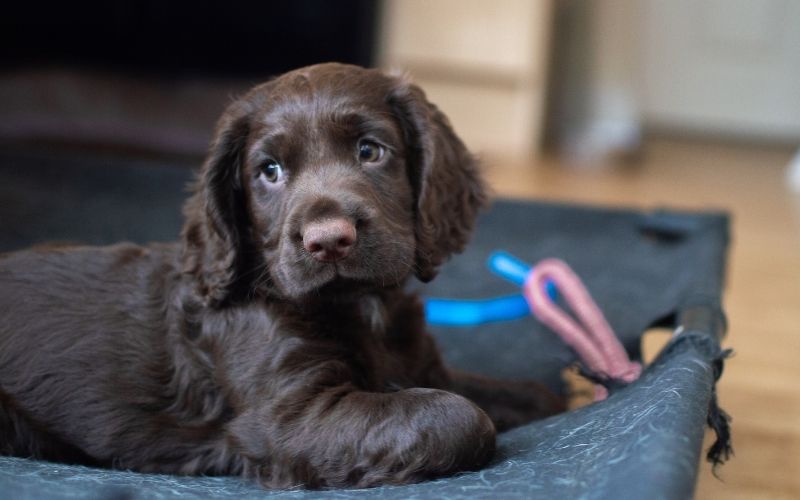 What if my Cocker refuses to cuddle?
It is unlikely that a Cocker would not enjoy your company but, as they are sensitive dogs it is always possible that you could have a nervous or cautious dog that is wary of getting too close.
This can often be true of dogs that have come from rescue centres that may have been mistreated or neglected.
The best way to encourage a dog like this is to show him affection. Get to know him and spend as much time as possible doing enjoyable things together so that he learns to trust you and enjoy being in your company.
Treat him gently and take every opportunity to make and keep him happy. Brush him, groom him and be gentle with him and he will soon come to trust you and enjoy cuddles.
Do male or female Cocker spaniels like to cuddle the most?
There is very little difference between male and female Cocker spaniels. They both love cuddles and spending quality time with their human families.
The Cocker is a naturally affectionate breed and both sexes enjoy that special time curled up next to their owners.
Can you cuddle a working Cocker spaniel?
There are many people who believe that cuddling or being affectionate towards a working spaniel will result in a dog that doesn't work well. This is nonsense.
Cocker spaniels, like all dogs, belong in a pack environment where they will feel secure, safe, protected and loved and, when a Cocker comes into your home this is what he looks for, expects and needs.
When you cuddle, nurture and spend quality time with your Cocker you show him that he is safe and loved. You can and should pet and cuddle a working Cocker spaniel, it helps to create and secure the bond between you and your dog that you will need when you are out working with him as a team.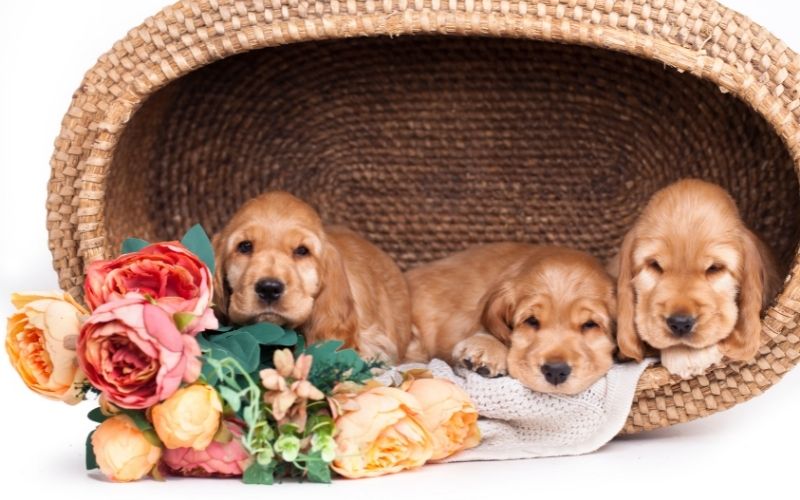 Are Cocker spaniels clingy?
Cocker spaniels can be one person dogs but this can vary according to activity and circumstances.
I've found with Cocker spaniels that they quickly change allegiance depending on who is spending the most time with them. My youngest Cocker will always sleep with my daughter, yet when it comes to training and playing then he loves spending time with my son.
They are loyal dogs but are quite happy to change loyalties around the pack to suit their own needs and desires, another sign of their intelligence and ability.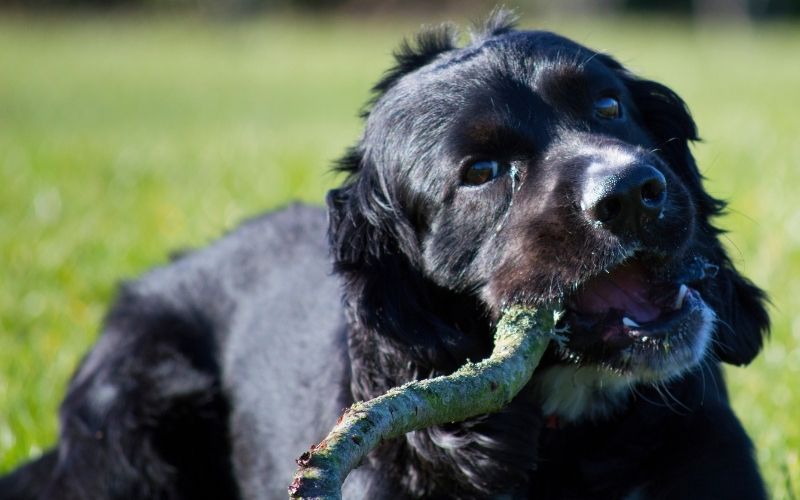 Can health affect whether a Cocker spaniel likes to cuddle?
Absolutely, a dog's health can certainly influence its behaviour, including its inclination to cuddle.
Dogs, like Cocker spaniels, who are usually affectionate and love cuddles may change their behaviour if they're not feeling well.
Here are some health-related factors that could affect a Cocker spaniel's cuddliness:
Pain or discomfort: If a dog is in pain due to illness, injury, or conditions like arthritis, it may not want to be touched or cuddled as it could increase their discomfort.
Fatigue: Some illnesses can make dogs feel tired or fatigued. In such cases, they may prefer to rest alone instead of cuddling.
Mood changes: Some health issues can cause mood changes in dogs, making them less sociable and more inclined to spend time alone.
Fear or anxiety: Certain health conditions can cause dogs to feel anxious or fearful, making them less inclined to cuddle.
Sensory changes: If a dog's senses are affected due to illness (like loss of sight or hearing), it may become more wary of physical contact.
Age-related issues: Older dogs may develop health issues that can affect their temperament or mobility, making them less likely to want to cuddle.
How can you increase the amount of time cuddling your Cocker spaniel?
Increasing the amount of time you spend cuddling your Cocker spaniel involves encouraging positive associations with the act of cuddling and providing a comforting and safe environment for them.
Here are a few tips to help you:
Create a Comfortable Environment: Ensure your dog has a safe and comfortable space to cuddle.
This could be a soft bed, blanket, or your lap. The more comfortable they are, the more likely they are to want to spend time cuddling.
Positive Association: Associate cuddling with positive experiences. For example, pet them gently while they're in a relaxed state, or give them treats and praise during cuddle times.
This can help your dog associate cuddling with happiness and relaxation.
Gentle Touch: Dogs can be sensitive to touch, so make sure your cuddles are gentle.
If your dog shows signs of discomfort when you touch certain parts of their body, avoid those areas.
Respect Their Space: Every dog has a different tolerance for cuddling. Some dogs might love to be cuddled for long periods, while others might prefer shorter cuddle sessions.
Be mindful of your dog's body language and give them space if they seem to want it.
Regular Exercise: Regular exercise can help make your dog more relaxed and thus more likely to want to cuddle.
Cocker spaniels are an active breed, so make sure your dog is getting enough physical activity.
Consistency: Try to make cuddling a regular part of your routine. The more consistent you are, the more likely your dog is to expect and enjoy these cuddle times.
Health Check-up: If your Cocker spaniel seems to be avoiding cuddling, it's worth taking them for a health check-up to ensure there's no underlying health issue causing discomfort.
Pain or discomfort can make a dog reluctant to engage in close physical contact.
Remember that each dog has its own unique personality.
Some may naturally be more inclined to cuddle than others. It's important to respect your pet's boundaries and never force them into physical contact if they seem uncomfortable.
FAQs About Cocker spaniels and cuddles
Are Cocker spaniels generally affectionate dogs?
Yes, Cocker spaniels are typically very affectionate and friendly dogs. They're known for their loving nature and usually enjoy spending time with their human companions, which can include cuddling.
Do all Cocker spaniels enjoy cuddling?
While Cocker spaniels are generally known for their affectionate nature, each dog has its own unique personality. Some may enjoy cuddling more than others. It's also important to remember that a dog's comfort with physical affection can be influenced by its early socialisation and experiences.
Are there signs that my Cocker spaniel doesn't want to cuddle?
Yes, dogs communicate their comfort levels through their body language. If your Cocker spaniel shows signs of discomfort like moving away, whining, stiffening, or displaying the whites of their eyes, it's best to give them some space.
Can I train my Cocker spaniel to be more comfortable with cuddling?
Absolutely. Building a positive association with cuddling through praise, treats, and gentle touch can gradually help your Cocker spaniel become more comfortable with cuddling. However, it's important to respect your dog's boundaries and never force them into physical contact if they seem uncomfortable.
Is there a particular age when Cocker spaniels become more comfortable with cuddling?
There isn't a specific age when this happens as it largely depends on the dog's personality and experiences. However, introducing gentle cuddles during the puppy stage and continuing to foster positive experiences with physical affection as they grow can contribute to them becoming comfortable with cuddling.
Final Words
Cocker spaniels have to be at or very near the top of the list of dogs that love cuddles.
A truly cute breed they love meeting  new people and will bend their bodies as they wag their tails furiously to make new friends.
If you enjoy licks, cuddles and generally being squashed by a dog that just really wants to sit on your knee then a Cocker spaniel is the ideal breed for you.
Loyal and faithful companions whether puppy or older dog they are delightful to have around.