Dogs are great companions and pets and will be with you for many years, so, if you're thinking about getting one then it's a good idea to ask how much do dogs cost a month?
According to research by Household Pets, the cost of owning a dog varies substantially depending on the size of your pet and it's life expectancy. See the results of their extensive research into the cost of owning a dog.
Dog Ownership – Considerations
When you get a dog you have to make sure that all of their welfare needs are met.
You'll need to house them, feed them, take them for walks, take care of any health needs which include vaccinations and veterinary treatment.
It can be expensive to look after a dog, even if he never needs to go to the vet's and it is important to understand what the costs are.
The cost of getting a dog
It's clearly exciting to think about getting a dog and most people tend to get puppies, which will add to the initial costs of dog ownership.
Some of these costs are:
The cost of purchasing the dog. This varies according to dog type and breed with pedigree dogs being more expensive.
However, recent times have seen mongrels ( crossbred dogs) selling for prices that are higher than their pedigree counterparts. Anything from £300 to well over £2000 and more.
If you get a puppy then he will need vaccinations and worming. Vaccinations are around £60.
Worming will need doing monthly – around £15 per month and he'll need wormers every month until he is 6 months old.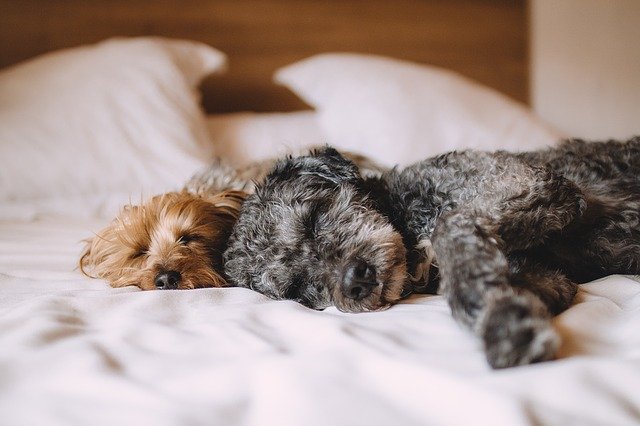 Dog equipment that you'll need
There are some items of equipment that you will need to get, some of it will need to be ready before your dog comes home:
The total costs will vary depending on the size and breed of your dog and the types of accessories and equipment that you choose to buy.
As an indicator the initial costs of these accessories could be:
Small dog – £ 300
Medium dog £ 350
Large dog £ 400
Ongoing costs of owning a dog
After you have got all of the initial equipment ready for your dog there will be ongoing, monthly, and regular costs that you need to be aware of and consider.
Your dog will need:
An annual check up at the vet's and yearly boosters for his vaccinations.
He will need flea and worm treatments regularly.
Food, there are lots of choices and you should get the best that you can afford. See our article here on dog foods.
Grooming if you choose to use a professional dog groomer.
Your monthly costs will be anywhere from around £40 for a small dog up to around £60 for a large breed.
How much is pet insurance a month for a dog?
The cost of insurance for your dog can vary widely but it is worth considering as vet fees can be astronomical for some dog injuries and illnesses.
It's always wise to get prices from different providers and to compare levels of cover as not all aspects of dog healthcare are covered by every policy.
If you are considering dog insurance then you may like to take a look at this company that we found.
Called Fluffy Pet Insurance, they offer full cover at very reasonable rates.
How difficult is it to own a dog?
Having a dog is like having a child. So, if you have children then you'll have an idea how difficult it can be.
Dogs are great fun and once you've lived with dogs you'll wonder why you didn't do it sooner.
They are great friends and companions.
THINK ABOUT WHETHER YOU CAN:
Accommodate a dog: – he needs a kennel, or bed – which cost money.
Have time for a dog: – you can't ignore him, he needs walks, play, adventures
How you will cope if your dog becomes unwell? – Can you afford insurance? Vet fees?
Can you afford the extra cost of owning a dog? – Food, car crates, leads, vet's fees etc
Is your home environment suitable for a dog? – Dogs can be like human toddlers. Is your home suitable for a dog? Can you afford to make it safe?
Owning dogs is not difficult, it's just different and requires time and thought. If you are concerned then maybe you could dog sit for a friend or take their dog out for walks before you make a decision.
Is it worth getting a dog?
It really depends on why you want to get one in the first place.
If you are wondering whether or not you'll appreciate a dog and will be able to share your life with one then it's probably a good idea to avoid making the commitment.
Maybe you could spend some time around dogs beforehand to see if you truly like them?
Owning a dog will take up a lot of your time and money and, like children, they need attention and have welfare requirements that you will be responsible for.
Dogs are great friends and companions and, on average, a dog will be with you for around 15 years.
It is a big responsibility and you need to be certain that you can meet it before getting a dog.
Recommended reading for new dog owners
Dogs For Dummies, 2nd Edition
The Puppy Training Handbook: How To Raise The Dog Of Your Dreams
Puppies For Dummies, 4th Edition
The Complete Idiot's Guide® to Getting and Owning a Dog
Dog Training for Kids: Fun and Easy Ways to Care for Your Furry Friend
Dogs For Dummies, 2nd Edition
The Puppy Training Handbook: How To Raise The Dog Of Your Dreams
Puppies For Dummies, 4th Edition
The Complete Idiot's Guide® to Getting and Owning a Dog
Dog Training for Kids: Fun and Easy Ways to Care for Your Furry Friend
Where should you buy a dog?
There are various places where you can buy dogs, countries and areas vary by local laws, so, for example it is illegal in some countries (UK being one) to sell dogs in pet stores.
You should always try to get a dog from a reputable breeder or a good shelter that seeks to re-home dogs.
The shelter will have taken care of all of the dog's health needs and they will also make sure that you and the dog are suited to each other.
A good breeder will also do the same and, both of them will be available to advise and support you if you need it.
We would never recommend that anyone buys a dog or puppy from a pet store.
Before you go
Dogs are great fun and can be wonderful companions and friends, however, they do have needs and these come at a cost.
To give you an idea of what you will need to spend your hard earned money on take a look at the Top 10 Products That You Need As A Dog Owner.
Owning a dog is a massive responsibility and, just as with children, there is a financial commitment when you take a canine into your home.
It's vital that you think about whether you can meet the needs of another living creature within your home, that depends on you for it's needs, and that you can make financial sacrifices if and when the need arises to help them ( for example in times of illness or injury ).
Be a responsible human.
Last update on 2023-11-27 / Affiliate links / Images from Amazon Product Advertising API